Al Pacino Tackles the Joe Paterno Story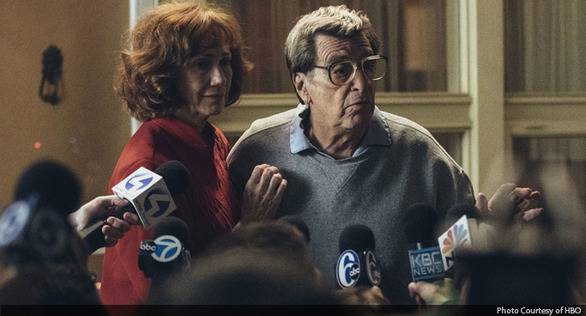 What the legendary football coach knew of the Penn State child-sex-abuse scandal — or should have known — is at the centre of HBO's biopic Paterno...
The questions that swirled around Paterno were: How much did he know, when did he know it, and why didn't he do anything about it?
Al Pacino isn't famous for giving long, detailed interviews. Sometimes you have to pry every word out of him.
That wasn't the case, however, this year in Pasadena, California, when the Oscar, Emmy, and Tony Award-winning actor took questions from a room full of reporters about his role in the HBO biopic Paterno. The movie was directed by one of Pacino's favourite collaborators, Barry Levinson.
It probably helped that the actor — famous for his trio of Godfather films — was not really facing critics, but rather was live via satellite, projected over two storeys on two giant screens.
"Big Al" has long been considered larger than life by most in the room. The surprise was that he seemed more approachable and certainly more comfortable on the big screen. Maybe it had something to do with the fact that we could see him and he couldn't see us.
Plus, he wasn't the one under the microscope on this day. Instead it was the character he plays, Joe Paterno — or, rather, the legendary college football coach's shattered legacy.
The winningest coach in U.S. college football history, a man revered on the Penn State University campus, resigned in disgrace in 2011 in the wake of the child-sex-abuse charges levelled at his defensive co-ordinator, Jerry Sandusky. The latter was charged with 52 counts of sexual abuse of boys over a period of 15 years. Convicted on 45 of those charges, Sandusky was sentenced in 2012 to a minimum of 30 years in prison.
The questions that swirled around Paterno were: How much did he know, when did he know it, and why didn't he do anything about it?
Complicating matters is the fact that Paterno was dying of lung cancer as his professional life was also ending. He died at 85 in 2012, before he could testify at Sandusky's trial.
Pacino told reporters what a lot of actors say: that he goes by the script and tries to never pass judgment on the character he is playing.
"Let's just say I don't have an opinion about it before I go in. I like to keep that canvas blank, if I can."
Pacino added, however, that "you learn as you go" on certain projects. "You absorb the role and it starts to speak to you," he explained. "It's very complex being an actor. No matter how long I've done it, it's always the same thing, you know. It's all about finding out."
Good coaches, and he has interviewed a few, have this "innate ability to focus," he says.
Pacino has played football coaches before, most notably in the 1999 Oliver Stone movie Any Given Sunday. Good coaches, and he has interviewed a few, have this "innate ability to focus," he says.
That observation comes into play in a scene where Sandusky is visiting the Paternos at their home. The assistant coach is in their pool, tossing his host's children in the air. The moment gave Mrs. Paterno pause, but the coach claimed he was too focused on his playbooks to even notice.
Paterno did, however, know there were complaints and rumours over the years about Sandusky. He suggested that others look into the situation, but Pacino says Paterno was tentative "because he was unsure of himself." And being unsure, says Pacino, was not something Paterno felt comfortable with.
Pacino, who turns 78 this month, is sure of one thing. He loves working with Levinson.
"I want to work with Barry all my life, what's left of it. He inspires me, so that's a plus. Mike Nichols directed me in (HBO miniseries) Angels in America. Great directors are the key, really."
Paterno isn't Pacino's first turn as a true-life character. This will be the fourth time for HBO alone that he has portrayed a real person.
Characters who have existed, says Pacino, are "the stepping stone. They're the thing that gets you there."
"It's even better when you've got the real guy," he says, harking back to the mid-'70s when he starred in Serpico, a movie about a real-life cop that won him his fourth Oscar nomination. "Getting stories, fresh, uninhibited, from his own experience, was the most delightful and the most enjoyable for me."
Bill Brioux is a Toronto-based freelance journalist and contributor to the Canadian Press.