Alexander Skarsgård: Getting Tarzan Down to a Vine Art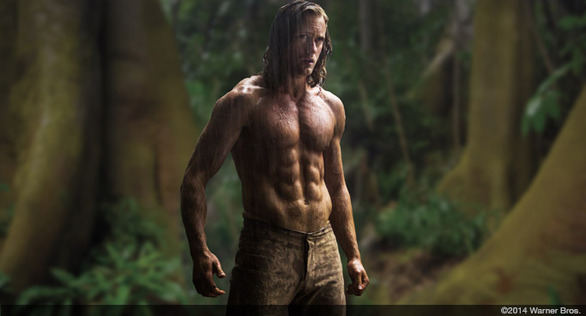 In The Legend of Tarzan, Alexander Skarsgård's Lord of the Jungle is also very much an English gentleman...
John and Jane are a very sophisticated couple.
There have been about 50 movies with Tarzan's name in the title, from 1918's Tarzan of the Apes to the latest, The Legend of Tarzan. The new spectacle stars a strapping Alexander Skarsgård and high-spirited Margot Robbie as the lead tandem.
For the majority of these films, the "me Tarzan, you Jane" trope is in full force, as such lead actors as Elmo Lincoln and Johnny Weissmüller would run yodelling into the jungle in a loincloth — often with pal Cheetah the chimp in tow. But in this engaging new version, director David Yates updates the mythical character while paying homage to creator Edgar Rice Burroughs' original 1912 serialized novel, Tarzan of the Apes, and its hero, John Clayton III, the orphaned son of Lord and Lady Greystoke.
Former True Blood star Skarsgård, whose actor father, Stellan, was a huge fan of the Weissmüller series of Tarzan movies and passed on that love to his son, excels as the orphan raised by apes but now returned as a lord to his family's ancestral English home.
Says Skarsgård, who bulked up and trained for nine arduous months to achieve his rock-hard but agile appearance: "I was excited, but thinking: 'This story's been told so many times, what's going to be unique?' Then I get the script and it's a whole different way of telling a classic story, and there was no real pressure to take over the loincloth from Weissmüller and other legendary stars, because it's so different. The movie opens in London in the late 1880s and John Clayton is drinking tea as a lord with the prime minister. It's not: 'Me Tarzan, you Jane.' And, John and Jane are a very sophisticated couple."
Adds Robbie: "Jane is a far more feminist version than previously shown."
Skarsgård's character rejects even the name Tarzan early in the movie. When U.S. envoy George Washington Williams (Samuel L. Jackson) extends an invitation to return to the Congo, he refers to Lord Greystoke as "Tarzan, Lord of the Apes, King of the Jungle. Me Tarzan, you Jane." To which the lord replies: "My name isn't Tarzan, it's John Clayton III. Son of John and Lady Alice Clayton. Fifth earl of Greystoke. A member of the House of Lords."
When "John" is finally enticed (along with Jane) to return to the Congo Free State in Africa, with its burgeoning slave trade, the traditional loincloth and chimp have no place. Even the iconic Tarzan yell is used more subtly, with Skarsgård joking: "It's a hybrid. I supply the high pitch and they added in maybe some lion roars!"
Skarsgård, whose onscreen chemistry with Robbie has fans hoping for future pairings, says this of his cultured character: "You do get to see the origin story and how he was raised as an orphan, and how John and Jane met as teenagers, but that's told in flashbacks. I loved creating my own character in this updated world. And, the main storyline is them returning to the Congo, returning to their home."
There's only one version of Tarzan in my mind and that's Alex.
The movie, Robbie says, "ticks all the boxes, as it's a load of fun — a big, sweeping action adventure with a love story at the heart of it."
One of this dynamic duo's main obstacles is the thoroughly villainous Christoph Waltz, who plays the profiteering Belgian Captain Léon Rom with his usual gusto. Rom, tasked to find diamonds and control the Congo, abducts Jane with the goal of luring John: "He's Tarzan, you're Jane. He'll come for you."
Robbie, who recently rocked her role as Harley Quinn in Suicide Squad, doesn't act like a damsel in distress. Jane, she says, defiantly "hits back, kicks, and even spits in Rom's face … She doesn't like being held captive." And sure enough, when her vine-swinging husband does turn up, "Jane is thinking: 'Hurry up, already!' "
While Skarsgård and Robbie had a ball performing alongside Jackson, Waltz, and Djimon Hounsou, their movements also had to be co-ordinated with realistic CGI animals.
"We had a very talented tennis ball that doubled and co-starred for the animals in many scenes," Skarsgård says. "It was tricky figuring out the height of them, but we really trusted our director and we knew it was going to look good."
As for working with Skarsgård, also featured in the new HBO series Big Little Lies, Robbie adds: "He's not a typical male actor — very cool, down to earth. There's only one version of Tarzan in my mind and that's Alex."
Ashley Jude Collie is a Canadian entertainment writer based in Los Angeles.