Amanda Peet's second act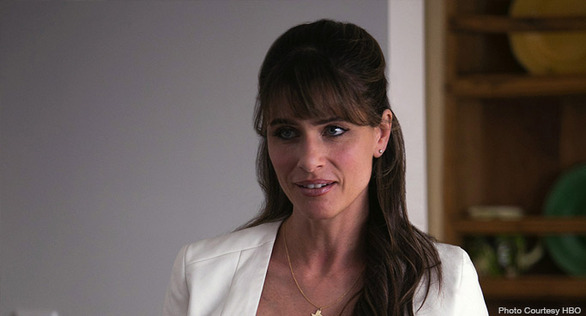 The actor/playwright returns to TV this month in HBO's new comedy Togetherness…
She hasn't won an Oscar, an Emmy, or a Golden Globe — she's never even been nominated.
Amanda Peet seems self-deprecating to a fault, the kind of actor who, having reached her forties, is satisfied with the level of Hollywood fame and glory she has achieved. She hasn't won an Oscar, an Emmy, or a Golden Globe — she's never even been nominated. But she's good at making audiences laugh (see her 2000 crime comedy The Whole Nine Yards — Roger Ebert called that performance "perfect") and she stands out in small parts (Something's Gotta Give, Syriana), stealing scenes whenever given the chance. Now that she's starring in a new series — HBO's half-hour comedy Togetherness — the actor is preparing to ride the wave of well-crafted, cinema-quality television that has begun to hit the small screen over the past few years.
Peet has done television before. She had some success with the Matthew Perry-led Studio 60 on the Sunset Strip, and headlined the short-lived 2012 sitcom Bent. She stood out as a guest star on a half-dozen episodes of CBS's highly rated courtroom drama The Good Wife in 2013. Togetherness, however, holds fresh promise for her.
We're in the midst of a second Golden Age of TV, after all, and the series has a lot of creative talent behind it. The show is the handiwork of writer/director/producer siblings Jay and Mark Duplass, the pair responsible for lovable-loser-centric comedies like Cyrus (which starred Jonah Hill as the ultimate mama's boy) and the sweetly absurd Jeff, Who Lives at Home.
"I think you have to be in an insane stratosphere in terms of fame in order to get offered really well-written [movie] scripts..."
Togetherness also features criminally underrated character actor Melanie Lynskey (Heavenly Creatures, Up in the Air). It's a TV production with a generous amount of movie-making know-how behind it. And for Peet, who has lamented that she isn't being offered the kind of film parts she'd like, it seems like a solid alternative to making features.
"I think you have to be in an insane stratosphere in terms of fame in order to get offered really well-written [movie] scripts," the actress told the New York Times in 2013. "Amanda Peet is definitely not in that group," she third-personed – a frequent habit of hers that can come off as endearing (or not).
Togetherness has the potential to be an escape from career disillusion for Peet. Which isn't to say that she has been sitting around, waiting for the Duplass brothers to call. She's been busy. The past few summers have been spent in Belfast on the set of writer husband David Benioff's show, Game of Thrones (perhaps you've heard of it). And she recently added the occupation of "playwright" to her CV. Peet's The Commons of Pensacola debuted on stage in New York a little over a year ago, an off-Broadway production fuelled by the star power of Sarah Jessica Parker and Blythe Danner. The New York Times called Peet's first play "engrossing" and praised the "rich material" of the script, which focuses on the wife of a Bernie Madoff-esque figure and her struggling actor daughter.
"Some of it was autobiographical, or an exaggeration of how I feel sometimes in this business," Peet said, explaining Parker's character during an interview with Vanity Fair. "Being an actor is really, really hard, no matter how you slice it. I have a lot of ambivalence about it, and I'm sure I was desperate to write about it."
The play isn't Peet's only effort as a writer. In addition to a second script, she is also working on a children's book. She's tending to her growing family (she and Benioff have two young children together, with a third on the way), and campaigning in support of childhood vaccinations (think of her as the anti Jenny McCarthy). And she's not giving up on film acting. Her next movie, Sleeping with Other People, is slated to be released sometime this year. It's director Leslye Headland's sophomore film (her first, Bachelorette, was a darker, arguably funnier answer to the hit Kristen Wiig comedy Bridesmaids).
Still, Peet's future might now lie with television. In her spare time, she admits to relentlessly (and only half-jokingly) auditioning for Game of Thrones — conveniently, from the comfort of her Los Angeles living room.
Corrina Allen writes for Entertainment on TheLoop.ca.