Amy Adams: Not Your Average Ingenue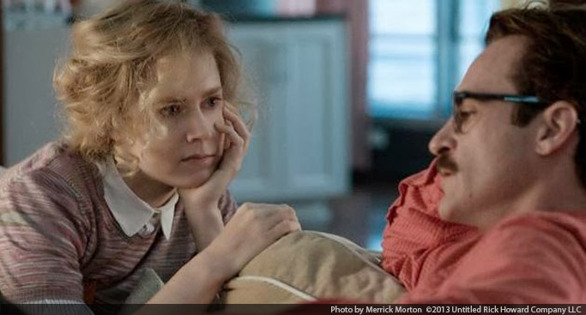 From Disney princess to Hollywood royalty, Amy Adams avoids the typecasting trap and explores her versatility.
While Disney's fairy-tale film Enchanted may have made Amy Adams a household name—two years after the comedy-drama Junebug earned her the attention of the Academy—the affable, red-headed actress has managed to avoid landing in popcorn movie purgatory. Yes, she played several guileless, girlish women in short succession, beginning with Catch Me If You Can and adding Miss Pettigrew Lives for a Day, Enchanted, and Junebug to the list. But Adams, whose career didn't take off until she was in her early thirties, has quickly gone from being the ingenue to taking her place as one of Hollywood's most lauded and versatile actresses.
"He met me and he said: 'Oh, you are so not a princess...'"
True, she has yet to win an Oscar—but she's been nominated five times in the last eight years, and this year she took home her first Golden Globe: Best Actress, for David O. Russell's 1970s-set crime drama American Hustle. It was Russell who helped Adams break out of her nice-girl mold, casting her in his 2010 film The Fighter opposite Mark Wahlberg and Christian Bale. "He met me and he said: 'Oh, you are so not a princess type—we'll have to do something about that!' " she told The Guardian in 2012.
Adams took over from there, winning one enviable role one after the other. There was Paul Thomas Anderson's triple-Oscar-nominated The Master, in which she re-teamed with her Doubt co-star Philip Seymour Hoffman. She's Lois Lane in Zack Snyder's blockbuster Man of Steel movie and its forthcoming sequel. She starred alongside Joaquin Phoenix and the disembodied voice of Scarlett Johannson in Spike Jonze's Her. And, of course, there was her second outing with Russell: American Hustle was nominated for 10 Academy Awards and merited Adams her first Best Actress nod.
The 40-year-old star seems as surprised as anyone by how her career has unfolded. "I do find it interesting that I tend to be attracted to—or the world brings me to—parts that sort of cluster together," she mused during a chat with Interview magazine last summer. "Like, when I first moved to L.A., I was just sort of playing bitchy cheerleader types. Then I went through my naïveté phase where I went from a cheerleader to playing someone with braces," she added, referring to her character in Catch Me If You Can. "Now I'm attracted to a little tougher, hard-to-handle ladies. Maybe we're just getting closer to the truth."
The truth is that it would have been easy for her keep reading for the kinds of parts she did so well with at the beginning of her career. Looking like she's just stepped out of the wholesome confines of a Sunday church service or a holiday-season Gap commercial (she actually spent her late teens working as a Gap store greeter) has served her well in lighter fare like the Night at the Museum sequel, Julie & Julia, and The Muppets reboot. But Adams has proven she's more than just a winsome face—she practically disappeared into Peggy Dodd, The Master's formidable, manipulative first lady of a fictionalized, Scientology-esque cult, and she was nearly unrecognizable as the slightly rumpled, empathetic best-friend character in Her.
It's her remarkable versatility that's mentioned again and again when critics and filmmakers discuss Amy Adams. "The thing I realized with Amy is, she can make any dialogue you write sound unwritten," Her director Jonze told the New York Times. "She just has a way of internalizing it. She's such a thinker, and you can see her thinking her way through all of that until it's all coming from within her."
"She rises to the challenge."
What some actors manage to do in 25 years, Adams has shoehorned into nine. Her relatively late success in Hollywood has perhaps driven her ambition. "Appetite has a lot to do with it. And she has an enormous appetite," says Russell, also speaking with the Times. "It's almost athletic. She rises to the challenge." But Adams says becoming famous in her early thirties hasn't had the effect on her that one might expect.
"I'd already had a whole life when nobody cared at all about me."
"I still think I'm like the poor girl from Colorado who worked three jobs to buy a car. That's still my mentality," Adams admitted in her interview with The Guardian. "Really, I've only been in the public eye since Junebug and Enchanted, and I was already 30, 32 by then. I'd already had a whole life when nobody cared at all about me. I was more used to that."
Maybe it was her opposite-of-a-spoiled-star attitude that was at play when Adams gave up her first-class seat on a flight from Detroit to Los Angeles to a U.S. serviceman seated in coach, a gesture that paid homage to her own father, a former long-serving military man. Adams brushed off suggestions that the act of kindness was the big deal it appeared to be, but this is a woman who forgets she's a movie star and hasn't forgotten that she's still Amy Adams.
Corrina Allen writes for Entertainment on TheLoop.ca.