Benedict Cumberbatch: Watching the Detective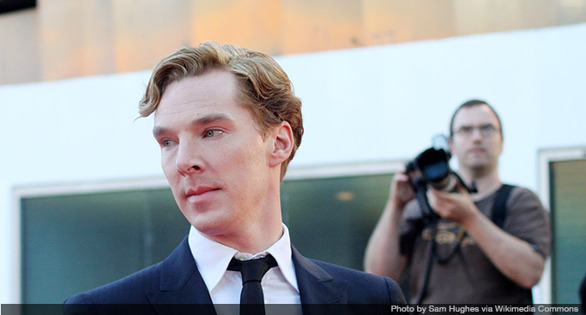 "What a fluffy old name."
The acclaimed Sherlock actor with the 'weird face' is an affable superstar with particularly fervid fans.
Benedict Cumberbatch is a funny-sounding name for a TV and film star. It sounds like the name of a snooty Cabbage Patch Kid, or a recipe combining cucumbers with eggs Benedict.
Even he has joked about his name. "Cumberbatch – it sounds like a fart in a bath, doesn't it?" he has been quoted as saying. "What a fluffy old name."
He once described his "weird face" as "somewhere between an otter and something people find vaguely attractive."
He doesn't look like your average movie star, either. Despite landing near the top of several "Most Handsome" lists, he's just as self-effacing about his looks as about his name. He once described his "weird face" as "somewhere between an otter and something people find vaguely attractive."
Yet when he arrives, late, for a press conference at a Los Angeles hotel, the banquet room is packed with reporters. Outside, autograph seekers have waited patiently for hours for a glimpse of the man who has made the BBC's Sherlock a sensation. Among them are his so-called "Cumberbitches," female fans whom the London Academy of Music and Dramatic Art graduate prefers to refer to as his "CumberCollective." After the press conference and several interviews with the electronic media, he dutifully wades into the throng, signing autographs and posing for selfies.
"It means a hell of a lot to me," he says of the feverish fan support. "As much as I'm capable of, I've got to acknowledge with gratitude the fact that they are so supportive, loyal, and by and large intelligent, and some of them normal, and committed to something that I really love doing and a character that I like playing, and other characters as well."
Even more surprising to Cumberbatch was discovering that one of his acting idols – Harrison Ford – is a fan.
"That was a genuine shock," says the actor, who, as a youngster, cheered on Ford in his iconic screen roles as Indiana Jones and Han Solo. "I've been in their audience," he says of famous actors he meets today. "For them to come up to you and go, 'I really like what you do,' it feels back to front."
Cumberbatch says he was genuinely flummoxed when he got the thumbs-up from Ford on national British television. "I was on The Graham Norton Show," he says, and was sitting next to Ford. "He just said (imitating Harrison Ford), 'You're fantastic. Sherlock is fantastic.' "
Among Cumberbatch's many talents is mimicry; he does such a mean Alan Rickman that he once was asked to imitate his fellow Brit on The Simpsons.
He has played so many superior, upper-crust characters that it is surprising to see him handle the press with wit and humour instead of disdain. "What was the first part of your five-part question?" he teases one scribe.
A fashion reporter asks him what he is wearing, and instead of naming a designer he simply replies, "A suit." He chastises one reporter for being "cheeky" in asking how he copes with acting opposite somebody when there's no obvious chemistry.
"I wish you'd stopped at, 'What is chemistry?' " he replies. "I could have said, 'Well, it's one of three scientific disciplines that include physics and biology …' "
There's no mistaking the chemistry between Cumberbatch and Martin Freeman (Dr. Watson) on Sherlock.
"They obviously have an ally in each other," Cumberbatch says of the two characters. "They're closer than their antagonism makes them appear." As for the two actors, "If we sometimes veer towards too much pantomime, that's because we're having too much fun."
A fourth season of Sherlock will return with a special at Christmastime and three episodes in the new year.
That's in addition to Cumberbatch's busy film schedule. The 38-year-old has four feature films in post-production (including The Hobbit: The Battle of the Five Armies), filming another (Black Mass) and has been booked for at least one 2016 release (Flying Horse).
This after coming off a career year in 2013 when four of the five films he appeared in were nominated for Oscars. Those films ranged from Star Trek: Into Darkness, to 12 Years a Slave to The Fifth Estate, the thriller about notorious WikiLeaks founder Julian Assange that was showcased at the 2013 Toronto International Film Festival.
Despite his busy schedule, Cumberbatch says he doesn't really set that many goals for himself. "Keep coming back and keep trying," is his career approach in a nutshell. He has formed his own production company to line up future projects. Asked where he finds the time for that, he says, "You do. [George] Clooney does. [Brad] Pitt does. I'm not putting myself in the same bracket as them, but they show it is possible."
Cumberbatch insists his life hasn't changed all that much since Sherlock made him famous on both sides of the Atlantic a few years ago. "I still take public transport," he says. When he zips around town on his motorcycle, his helmet, he feels, helps keep him anonymous. "I don't send minions out and sit at home at the top of a tall ivory tower with guns pointed at the street."
Not yet, anyway.
Bill Brioux is a Toronto-based freelance journalist and contributor to the Canadian Press.