Bill of a Lifetime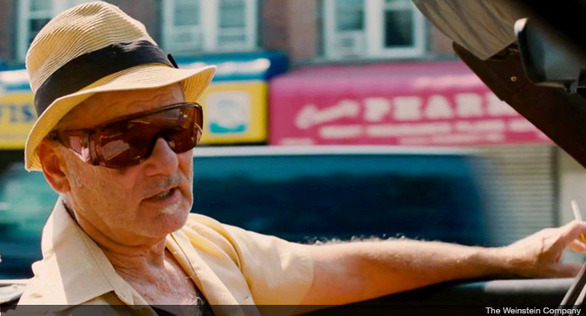 In St. Vincent, Bill Murray finds sweet spot between comedy and tragedy.
Bill Murray has been the most successful at keeping a balance of comedic and tragic.
It's no surprise that there's a sad sack hiding inside even the happiest clown. And at some point in their careers, Hollywood's funniest people have an irresistible urge to let the poor thing out.
Of his peers, Bill Murray has been the most successful at keeping a balance of comedic and tragic. Few comedy stars have made the jump to the status of dramatic lead without sacrificing all the qualities that made audiences like them in the first place. Even some of the most successful examples require a comedian to erase any sign of his or her usual manic energy — think of the eerily sedate Robin Williams in Awakenings or the despondent Jim Carrey in Eternal Sunshine of the Eternal Mind.
Sometimes earning serious-thespian cred means becoming virtually unrecognizable — just try to see traces of Michael Scott under Steve Carell's fake schnozz in Foxcatcher or any evidence of Jamie Foxx's In Living Color characters in Ray. As for Mo'Nique, well, she's just straight-up terrifying in Precious.
But for every Oscar-worthy turn like several of the aforementioned, there are many more dramatic performances by comedy A-listers that go awry. One problem arises when they go too deep into the dark side. For instance, as amazing as Adam Sandler was as the tightly wound hero of Punch-Drunk Love, not even his staunchest fans wanted to see him as a grief-stricken shut-in in Reign Over Me.
But Bill Murray, in his extraordinary run of performances since first teaming with director Wes Anderson on Rushmore in 1998, has continually blurred the usual boundary between comedy and drama thanks to his ability to put a melancholy spin on scenes and characters that still manage to be hilarious for all their bittersweetness.
St. Vincent earned Murray his third Golden Globe nomination since his win for Lost in Translation in 2003. In this feature debut by writer-director Theodore Melfi, he stars as Vincent MacKenna, a caustic war vet who spends his days drinking, gambling, and grumbling. He's hardly anyone's idea of a good neighbour. But much to his constant chagrin, he becomes an integral part of the lives of the people who move next door: single-mom Maggie (Melissa McCarthy) and her 12-year-old son Oliver (Jaeden Lieberher).
Vincent MacKenna is more like a geriatric version of the cocky loudmouths that were Murray's specialty back in the '80s.
The best thing about St. Vincent is not the fact that it gives us so many great new Bill Murray moments. (The bit with him warbling along to Bob Dylan while messing with a garden hose is one for the ages.) What matters is the kind of Bill Murray we get to see. Whereas his characters in Rushmore and Lost in Translation faced every new situation with the same deadpan air of anti-joie de vivre, here Murray gets back in touch with the wilder, more abrasive self of his younger days. Vincent MacKenna is more like a geriatric version of the cocky loudmouths that were Murray's specialty back in the '80s. In other words, he's Ghostbusters' Peter Venkman gone to seed or Nick Rivers the Lounge Singer from Saturday Night Live if he got bitter and crusty.
Memories of this now seldom-seen screen persona for Murray enrich St. Vincent's funniest moments. Yet it's just as welcome to see the capacity for pathos that is new to Murray's repertoire, especially when the reasons for Vincent's bad attitude become clear. Murray also gets to show off Vincent's softer side as he cares for his Alzheimer's-stricken wife.
This is the kind of performance that is both comfortably familiar and often surprising. Like Williams and Carrey in many of their dramatic turns, Murray sometimes runs the risk of tamping down too hard his more exuberant tendencies and losing his signature spark. He learned the dangers of that when he made his first stab as a dramatic lead in 1984's The Razor's Edge, the W. Somerset Maugham adaptation that had been Murray's passion project after breaking big in Ghostbusters.
Murray is at his best when he lands smack-dab in between the stuff that makes you teary and the stuff that makes you giddy. And that's a testament to his acting skills, something that can still be underappreciated even by the fans who wish — to borrow the name of the special event when St. Vincent premiered at 2014's TIFF — that every day was Bill Murray Day.
Jason Anderson writes about movies for Cinema Scope, FFWD, and the Toronto Star.