Bill Skarsgård's Got It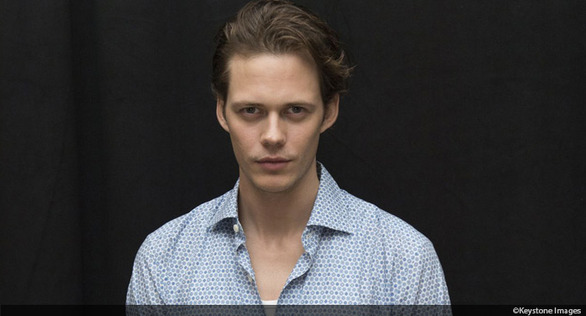 The acclaimed Pennywise actor was destined, from his birth into a beloved Swedish acting dynasty, to someday win cheers as a clown in It...
"I can be self-conscious, say I'm sorry, or be in character."
One morning in Los Angeles a few years ago, Bill Skarsgård applied his best approximation of scary clown makeup to his face and drove into Hollywood. Dressed in regular clothes, he parked his car and started walking down the street. People stared at the startling figure. "There were two ways to go about this," Skarsgård said of the experience. "I can be self-conscious, say I'm sorry, or be in character."
He was on his way to the studio where callbacks were being held for the movie It. "I chose the latter."
When you're a young member of a highly regarded acting family, it might seem natural to want to emerge from the shadow cast by your imposing relatives and stand in your own light. For Bill Skarsgård, that meant heading right back into the shadows to play one of the most iconic, scariest monsters in modern horror history.
Skarsgård, a 27-year-old Stockholm native, brought nightmares and box offices to life in 2017 with his chilling portrayal of Pennywise the Dancing Clown in the big screen remake of Stephen King's It, which went on to become the highest-grossing horror movie of all time — thanks in large part to Skarsgård's terrifying commitment to the role.
It's a commitment he learned very early in life, watching his dad and then several of his brothers work in TV and movies in Sweden and abroad. The entire family would often travel to movie locations where his father, esteemed actor Stellan Skarsgård, was working, giving Bill and his siblings a chance to see what fun it could be to essentially play dress-up for a living. "The appeal," Bill told Jimmy Kimmel, "was planted at a very young age."
Dressing up as Pennywise has thrust Bill, the fourth of eight Skarsgård siblings, straight into stardom, and despite a certain evil clown's assertion that "We all float down here," the young actor seems to have his feet placed firmly on the ground. Chalk it up to those enviable Swedish values and, as eldest brother Alexander described it to Chelsea Handler, those early days spent all together: a bohemian, noisy childhood filled with extended family, pets, and plenty of freedom.
This jibes with patriarch Stellan's outspoken philosophies on parenting, telling the Guardian in 2015 that he always wished his children to "think about what they wanted to do and try to do that. I have never had ambitions for them, other than that they should be decent people, and I have tried to show them that having a full life is not a selfish pursuit, but one that makes you of more value to your friends and family."
He has also stressed the importance of teaching his kids critical thinking skills — skills that seem to have served them well in their acting choices.
Armed with towering height, expressive eyes, and chiselled features, the Skarsgård men don't count on their Nordic (very) good looks to coast into roles, seeming to prefer bold, complex characters. And for this, Bill is no exception. After several years as a mysterious teen in Netflix's original horror series Hemlock Grove, Bill Skarsgård looks to have mastered the genre. And as Pennywise, he was able to bring a moody (that eye!), sinister (that smirk!) originality to the part.
It's a part he'll have a chance to play again, as It: Chapter Two is slated to begin filming this summer. The story follows the second half of King's novel and has Pennywise heading back to the sewers of Derry, Maine, as the members of The Losers Club return to exact their revenge on the maniacal entity 27 years later.
It's strange to say that we can't wait to have another opportunity to be scared silly, but really, what we mean is that we can't be happier than to know there's more Bill Skarsgård coming our way — even if we now have to sleep with the lights on.
Karen Green is a freelance writer and blogger based in Chatham, Ontario.