They're on Cameron's Camera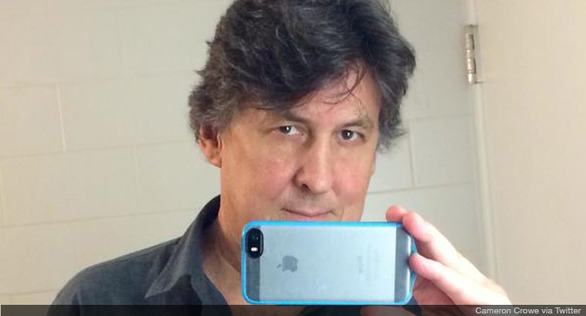 With words and music, Cameron Crowe has mastered the art of seducing actors...
Right from the beginning of his career, writer-director Cameron Crowe developed a reputation for bringing out the best in actors. The first signs of this appeared in 1982 when his script for Fast Times at Ridgemont High — adapted from his book of the same name — helped launch the careers of Jennifer Jason Leigh, Forest Whitaker, and Sean Penn. (Penn was so impressed that he tried to persuade Crowe to write a follow-up titled Spicoli: The Movie.) As a director, Crowe went on to serve a similar function in the careers of John Cusack, Kate Hudson, Renée Zellweger, and many others, routinely guiding actors to career-best performances and even the occasional Oscar nomination.
Now an Oscar winner himself (for writing Almost Famous) with a refined filmmaking process and several modern classics under his belt, Crowe had little trouble lining up his dream cast for his long-gestating Hawaii comedy, Aloha. Even with a modest budget (by Hollywood standards), he enlisted three major stars (Bradley Cooper, Rachel McAdams, Emma Stone), and a stellar supporting cast that includes Alec Baldwin, John Krasinski, Danny McBride, and Bill Murray. Attracting actors of this calibre may look easy, but it's the product of many years spent going above and beyond to build characters and performances that linger in the audience's memory.
The challenge of this approach — and Crowe's determination to succeed — was in evidence immediately with Say Anything …, his 1989 directorial debut. While several viable candidates were interested in playing Lloyd Dobler, Crowe refused to give up on Cusack, then a seasoned twentysomething who thought his high school movie days were behind him. Unwilling to compromise, Crowe travelled to Chicago to answer Cusack's questions, address his notes, and earn his trust. When it became apparent that Crowe was a different breed of director, one interested in real collaboration, Cusack slowly committed to the project, eventually describing it as the best experience of his career.
The fruits of this collaboration were apparent to the Hollywood acting community. On the strength of Say Anything … and Crowe's underrated follow-up (Singles), Tom Hanks encouraged the writer-director to make his next script a Hanks vehicle. When a prior commitment (directing That Thing You Do!) forced the actor to pass on Jerry Maguire, Crowe was lucky enough to discover that the perfect replacement also happened to be a fan of his work — and the world's biggest movie star.
Like most actors, Tom Cruise has a respect for Crowe's films that begins with his writing. When he read Jerry Maguire, he was brought to tears, and his high regard for the script was evident throughout production. While working on the film, Crowe would occasionally encourage his star to improvise, but Cruise so valued the words on the page that he refused. Like Cusack seven years earlier, he thrived in the director's uniquely collaborative environment. Crowe was willing to push Cruise further than any other director, while giving him the guidance he needed to deliver one of his defining performances.
The Jerry Maguire story is instructive, in part because it shows Crowe's ability to get the best from his cast, even if it means rethinking his vision. This kind of flexibility is irresistible to actors, as it confirms that Crowe's successes are the product of rigorous collaboration, not lucky casting. On Singles and Almost Famous, Crowe lost the actors he had in mind for several crucial roles — Brad Pitt and Sarah Polley both dropped out of the latter — but these films still lived up to their potential, thanks to performances that now seem unimaginable in the hands of anyone else.
While some aspects of Crowe's creative process remain mysterious, even casual fans are well aware of his secret weapon: an obsessive love for music. When it came time to court Matt Damon for the starring role in We Bought a Zoo, Crowe delivered the script with a CD featuring 17 handpicked tracks. This made a powerful impression on Damon, as did Crowe's decision to play music during the shooting of key scenes. "It's so brilliant because it's so emotional," Damon said of this mysterious technique. "It's not rational. It's going right … to your heart."
By all indications, music remained a powerful force on the set of Aloha, but this film introduced Crowe to a troubling new phenomenon: controversy. Upon the film's release, he received criticism for casting Emma Stone as a character who is one-quarter Hawaiian. But Crowe's intentions and his reverence for Hawaiian culture should be apparent to anyone who sees the film. Damon has jokingly compared the filmmaker's good-natured disposition to that of the Dalai Lama, and that positivity might be the overriding trait that informs all aspects of his bond with actors — and audiences. "Cameron Crowe has his finger on the pulse of something that's very special," says Aloha star Bradley Cooper. "You walk into this world he creates and you leave feeling better."
Jonathan Doyle writes about movies for Comedy, The Loop, and Space.