Charlize Theron, Action Star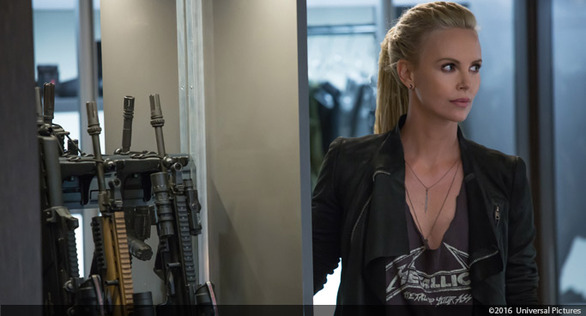 The Fate of the Furious villain fights (literally) for complex roles and gender parity in Hollywood...
"I was encouraged by everybody to be as psychotic as possible. Who wouldn't want a job like that?"
It's a fact of life in the new Hollywood that the Chinese box office ultimately decides a global hit. And when Charlize Theron talked up her debut as the first female villain in the Fast and the Furious films, it was news that broke in Beijing.
More than three weeks before the blockbuster The Fate of the Furious (a.k.a. Fast 8) opened here, Theron appeared in a Q&A that was live-streamed across China (a country that handpicks what's on the Internet) and was asked about making a career out of "complex, solitary female roles."
Theron, the baddest of butt-kickers in action movies these days (Mad Max: Fury Road, Atomic Blonde, and Fast 8, where she played the Bondian villain Cipher), gave an answer that suggested she'd already devoted considerable thought to the subject.
"I have a love and fascination for the human condition, and find there's a little bad and a little good in all of us," she said. "And I don't necessarily compartmentalize them and draw lines around them.
"The ones that people think are strong are some of the weaker, more vulnerable characters I've ever got to live. Women are complicated and complex, and … I feel like I want my characters to somehow reflect that."
As for Cipher, who has goods on the series hero Dom (Vin Diesel) that force him to do her destructive bidding, Theron said: "I think she's driven by some of the things that I think, unfortunately, a lot of the world is driven by. She's rapacious and wants a tremendous amount of power, and you're not quite sure why."
That said, she added with a laugh: "I was encouraged by everybody to be as psychotic as possible. Who wouldn't want a job like that?"
Certainly, the South African-born Theron has devoted considerable energy to getting the jobs she wants since moving to Los Angeles in the '90s. Ingenues who look like Theron tend to get pushed by the industry toward romantic comedies and girlfriend roles. But even her first speaking role, in 1996's 2 Days in the Valley, had her playing a hit-woman.
Now 42, an age at which actresses of double-standard previous eras were considered to have hit their "best-before" date, Theron is at the top of her game, and indeed knows the game very well.
She admitted she was suspicious when she considered the role of the evocatively named Imperator Furiosa in George Miller's Mad Max reboot. "I remember there were these loud whispers that George was going to re-imagine this world, and he was going to create this female character who'll stand right next to Max (Tom Hardy)," Theron said at a Los Angeles news conference held to launch Fury Road.
"At first you're like, 'That's awesome!' And then, you're like, 'I'm going to be the chick that ends up in the back of the frame in a push-up bra, with a wisp of hair in my mouth.'
"So the cynic in me was a little … well, that was why I shaved my head (for the role)," she said, to the laughter of assembled press.
"I've been doing this for a while and made a real effort to veer away from these things. And then I met George, and there was just something about him. I believed him that he wanted to do something that he felt was really truthful."
"I just want to play a woman, an authentic woman, in this or any other genre."
Of course, playing down her looks (at the peak of her "glamour girl" early years, and against all professional advice) once earned Theron the ultimate reward in her profession. In 2004, she won the Best Actress Oscar for her portrayal of serial killer Aileen Wuornos in Patty Jenkins' Monster.
"I think women are just eager to feel they're on an equal playing field," Theron says of her eclectic role-playing. "I just want to play a woman, an authentic woman, in this or any other genre."
That dedication to playing outside of the Hollywood playbook probably reached its peak last year, when — in preparation for her role as the Cold War killing-machine Lorraine Broughton in the graphic-novel-based Atomic Blonde — she found herself trading punches with Keanu Reeves.
"I had eight amazing fight trainers who basically made me puke every single day," Theron said of her training for the most fight-filled film of her career. And then she discovered Reeves was training in the same gym for John Wick: Chapter 2.
"Keanu and I would, like, spar with each other and sh-- like that," she said at the movie's opening at the South by Southwest festival in Austin, Texas. "It would be, 'I'm taking you down!' and sh-- like that. It was just, like, very macho."
Unbeknownst to Theron, her progress in the gym was being recorded by Atomic Blonde director David Leitch.
"I saw the progression of two-and-a-half months, things I never thought I'd be able to do, throwing my entire body on the floor, on my back, throwing big dudes," Theron said.
"And I said, 'We're going to pretend that, right?' And David said, 'No, you're actually going to be throwing big dudes.' "
Jim Slotek is a Toronto movie critic and freelance entertainment journalist.