There He Is, Mr. America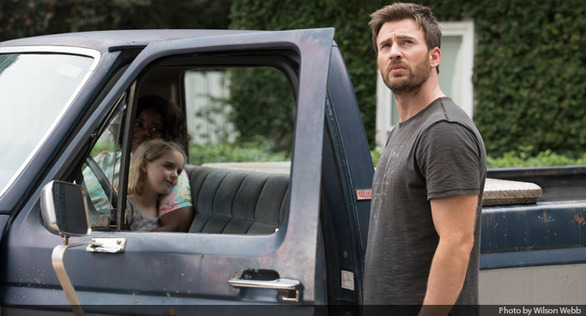 With Gifted, Chris Evans — actor, director, tap dancer, and Buddhist — shows he is more than just another superhero...
The Boston-born actor swears he never set out to become a comic-book movie king.
Chris Evans has accomplished a feat that once seemed impossible: he's made Captain America great again. Over the course of five films and counting, the 36-year-old has played the wholesome hero so convincingly you'd be forgiven for believing he actually does love wearing flight suits. So when Evans does something out of comic-book character — say, tweet "this is an embarrassing night for America" after Donald Trump wins the election or step out with an actor with the cool cred of Jenny Slate, his co-star in Gifted — the experience can be a little jarring.
Today, Evans is one of Hollywood's highest-paid actors, with Forbes estimating he earned $18 million US between June 2016 and June 2017. Yet the Boston-born actor swears he never set out to become a comic-book movie king. "If the goal is to be a giant movie star, then yeah, this is a great way to achieve that," he told the New York Times before the release of Captain America: The First Avenger in 2011. "That's not necessarily what I'm trying to achieve."
He turned down the role of the Second World War super-soldier three times, underwhelmed by his experience playing the Human Torch in two forgettable Fantastic Four films and balking at Marvel's initial offer of signing on for not one, but nine films. Even a flop would set him up for a comfy life on the convention circuit, doing what the late Carrie Fisher called "the celebrity lap dance" of signing autographs and taking pictures.
Yet it could also mean unprecedented artistic freedom. That's what got Evans to ultimately agree to a shorter contract, the result of which has been an almost annual string of superhero movies. For those keeping score, Evans' Captain America will have appeared in at least seven blockbusters: Captain America: The First Avenger (2011), The Avengers (2012), Captain America: The Winter Soldier (2014), Avengers: Age of Ultron (2015), and Captain America: Civil War (2016), with Avengers: Infinity War due in May and a final Avengers film completing his contract next year.
It was co-star Robert Downey Jr., whose Iron Man stands at the heart of the franchise, who made him realize the power of some blockbuster muscle. "In the marathon obstacle course of a career, it's just good to have all the stats on paper for why you're not only a team player but also why it makes sense to support you in the projects you want to do, because you've made so much damned money for the studio," Downey advised Evans, according to a 2012 Details magazine profile.
Seeing that bigger picture is what convinced Evans to join the Avengers. His mom was an actor who encouraged Evans, his two sisters, and his brother to be artistic, even installing a floor in their home for them to practise their tap dancing on. "We all act, we sing," he has said of his family (his brother, Scott Evans, was on the soap opera One Life to Live).
Chris Evans attended the Lee Strasberg Theatre & Film Institute, a prestigious New York acting school. Among his filmography are surprising gems, such as the critically acclaimed 2007 sci-fi adventure Sunshine. In 2008, he starred in the film adaptation of an unproduced script by the late playwright Tennessee Williams, The Loss of a Teardrop Diamond. A romantic drama co-starring Bryce Dallas Howard, it was a critical and commercial dud that quietly disappeared after its 2009 release.
But since hitting the celebrity stratosphere as Captain America, Evans has been able to shine a spotlight on more intimate, heartfelt films. He sparked a panic in 2014 after wrapping his directorial debut, Before We Go, and saying he would like to leave acting for directing (he later clarified that he would "focus a bit more on directing.")
His most recent film, Gifted, is an emotional family drama. The film follows Frank (Evans), who is appointed guardian to his niece, Mary, a seven-year-old math prodigy. When Frank opts against enrolling Mary in a socially isolating private school, he sparks a bitter custody battle with Mary's maternal grandmother. Film critic Richard Roeper named the movie one of his favourites of the year, singling out Evans' performance and his tender rapport with his young co-star, Mckenna Grace.
"Sometimes I would look at him and it would kind of break my heart..."
That he's a natural when it comes to playing sensitive characters comes as no surprise to girlfriend Jenny Slate, with whom he reunited in November. "Chris is truly one of the kindest people I've ever met, to the point where sometimes I would look at him and it would kind of break my heart," Slate told New York magazine last year, during a period when they weren't together.
To look at Evans you would think sit-ups are his happy place, yet he says he hates going to the gym. Though raised as a Catholic, he is now a Buddhist, and has long held a fantasy of escaping his city-hopping life to live in the woods.
This year he will continue to throw his Hollywood heft behind smaller productions, co-starring with The Magnificent Seven star Haley Bennett in The Red Sea Diving Resort, a Canadian-American co-production based on the true story of how an Israeli spy agency helped Ethiopian Jews escape Sudan in the 1970s and '80s.
It is a project that speaks to a newly articulated political awareness, manifested as Evans has publicly spoken out against the injustices he perceives in U.S. politics. Come to think of it, Captain America also snapped back against the U.S. government in the name of fighting for justice. Maybe Chris and Cap have a few things in common after all.
Ryan Porter is a freelance entertainment writer who contributes to the Toronto Star, Flare, and CBC.ca.