Hola, Cuba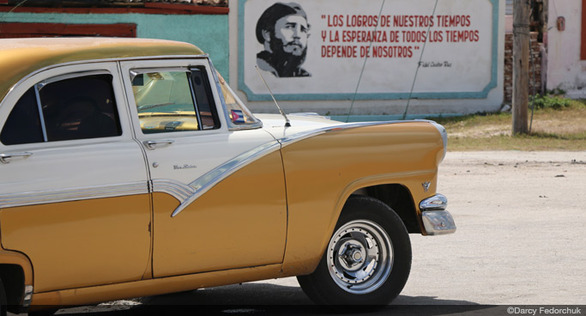 Though challenging for Hollywood, the island always returns the love of Canadian visitors...
Movie Cuba is either mid-century modern, or rough and rugged. Vacation Cuba is somewhere in between.
You'd think that Cuba's fascinating history and unique island flavour would inspire more movies. But other than Steven Soderbergh's two-part biographical epic, Che, or the renowned documentary Buena Vista Social Club, or the bizarre prequel Dirty Dancing: Havana Nights, Cuba is mostly relegated to a supporting role in action flicks like X-Men: First Class and a few James Bond movies. Even then, those scenes were shot elsewhere. Usually, Puerto Rico or Spain subs for Cuban movie locations.
But Cuba is not a mystery to Canadians. Since the 1990s, Canada has been Cuba's number one tourism partner, with about a third of all visitors to the island coming from the Great White North. Many Americans were hopeful that the U.S. embargo would be lifted by now, but with travel restrictions tightening up again, only folks like The Rock and Vin Diesel can freely rip around Havana for now. The Fate of the Furious was the first major U.S. production to film on the island, but shooting movies in Cuba — like visiting Cuba, for our American friends — remains challenging.
Movie Cuba is either mid-century modern, or rough and rugged. Vacation Cuba is somewhere in between. Havana is big culture. Varadero is big beach. We found the Holguín area to be the perfect combination of all of Cuba's personalities. It was actually the first tourist district established before the focus was put on Varadero, so the tourism infrastructure is well established in spite of the laid-back atmosphere. Holguin is a great choice for a Cuba family vacation.
Where to Stay:
Memories Holguin Beach Resort is located on Playa Yuraguanal, one of the four main beaches in the Guardalavaca area, about an hour's drive from Holguín's Frank País International Airport. It's the only resort on the beach, but the location is still within walking distance of a small petting zoo as well as Plaza Pesquero for a little shopping or even bowling. It is an excellent resort for a Cuba family vacation.
What to Do:
Definitely set aside a day or two of your vacation to do a little exploring. Cuba makes it easy with a number of day excursions that include hotel transfers and meals. Our trip to Cayo Saetia via catamaran was really fun and a totally only-in-Cuba experience. Cayo Saetia is a small, uninhabited island that is a former game reserve, with a small hotel and restaurant, horseback trail rides, and spectacular beaches. The best part for us was the "safari" via a vintage Russian military vehicle, where we bumped along the terrain and stopped to feed a banana to a tame ostrich.
A highlight of any trip to Cuba is riding around in the classic cars converted to taxis. With our driver Fidel and tour guide Oscar, we toured the nearby fishing village of Gibara and explored the city of Holguín in a refurbished '55 Ford Fairlane, complete with air-conditioning.
Don't Miss:
• James Bond rarely veers from his "shaken, not stirred" martini order, unless he's in Cuba, of course. It doesn't get any more top shelf than Havana Club rum, and there's really no such thing as a bad mojito — because even a bad mojito is better than no mojito — unless you opt for a Cuba Libre (white rum and cola with lime).
• There's a bat cave (literally) about a 15-minute walk from Memories Holguin, and the resort offers free walking excursions a few times per week. At one point the cave was converted to a bunker, so you can climb the old ladder and have a peek through the lookout. One of the caverns is swirling with bats, and if you're brave enough you can walk among them while your mom cowers in terror on the floor.
Corinne McDermott is the editor of Movie Entertainment.