Daniel Craig: Nobody's Doing it Better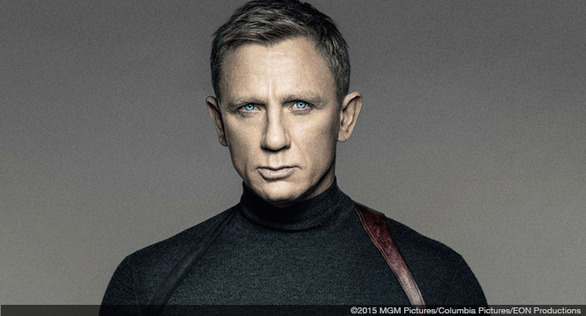 The immensely entertaining Spectre might be Daniel Craig's last turn at the wheel of James Bond's Aston Martin, but hey, never say never again.
...he's a real giggler...
Daniel Craig wears a leather jacket and jeans as comfortably as James Bond wears a Savile Row suit. And he's surprisingly funny. Comic actor Nick Frost, who worked with Craig on The Adventures of Tintin, says: "I always imagined that he'd be quite serious, but he's a real giggler." Craig is hilarious in interviews, replying to silly questions in non sequiturs.
His humour often bleeds into his Bond. But Craig, who plays the iconic British spy for the fourth time in Spectre, says he always leaves Agent 007 back on the set. Admitting that he might have "nicked some Bond suits" over the years, Craig says: "I had more fun on Spectre than the others combined. But it's a two-year process and the eight-month shoot is three times as long as many movies. While there've been many positive impacts of playing him, there's no room for James Bond in my house. He has a very solitary flat. I have a very warm house to go to."
It's a "wonderful home life" he shares with a fellow actor, wife Rachel Weisz, with whom he has found time to work on Broadway.
But it was Bond roles that put Craig on the map, and Spectre is a fun, jaw-dropping roller-coaster ride — a mixture of contemporary and classic Bond, with numerous nods to previous entries: Bond's white tux, his Aston Martin, the Spectre ring, the skeleton costume, and supervillain Ernst Stavro Blofeld's kitty and Nehru-collared suit.
Spectre, the 24th entry in the film franchise, followed Skyfall, the biggest box office hit in the series, which earned more than $1 billion U.S. worldwide. Director Sam Mendes, who directed both, says Skyfall "set up a lot of storylines — we introduced a new M, Q, and Moneypenny — and Spectre pays them off."
Mendes, who won an Oscar for directing American Beauty and also directed Craig in his breakout role in Road to Perdition, says: "For me, Daniel is Bond. We've been in sync [on] how the character develops. I'd put Bond through a real emotional journey in Skyfall, and we wanted to continue that."
Craig agrees. "There's been an arc through my four films, consistent with the character. As he's got older, he's got wiser, and that's a great pleasure to explore. Although we celebrate that it's a Bond movie first and foremost, we also discover a little bit more about him."
While working on Bond films, Craig has had his shoulder reconstructed and his knee operated on.
To which Mendes adds, "It's all about the story, and this one for Daniel is more mischievous and wittier. But amidst all the great effects, and Bond is a leader in old-school special effects, it's a great challenge to make a love story that works. But Daniel also got hurt and played through it; he was pretty heroic."
While working on Bond films, Craig has had his shoulder reconstructed and his knee operated on. (He jokes that he also has developed an "itchy crotch.")
Craig says the characters of C, sinisterly played by Andrew Scott (Moriarty in TV's Sherlock), and Blofeld, head of the villainous Spectre organization, both represent the "new world of surveillance."
Adds Mendes: "We wanted to bring in modern concerns about privacy and the erosion of civil liberties, with the theme of technology." To do that, they needed a baddie like Blofeld, who appeared in seven previous Bond movies, and who's deliciously played here by Christoph Waltz.
"Chris was at the top of our list and we were incredibly blessed to have him, such a brilliant actor," Craig says. "He and C are ostensibly trying to bring the various intelligence services together, but it's really to control the world. There's a history between him and Bond within this story and also in the context of Bond movies."
Blofeld's father helped raise Bond when he lost his parents, asking Blofeld to treat young James as his "little brother." In adulthood, Blofeld has been behind the scenes, manipulating Bond's life.
Waltz, a two-time Oscar winner, says he has loved Bond villains through the years, from Gerte Fröbe as Goldfinger, Donald Pleasence as Blofeld, and Curd Jürgens as Stromberg.
"Part of the fun," Waltz says, "is that the different actors who play Bond and the villain, together they create a new perspective. Otherwise, it would be repetitious. Because these roles are somewhat archetypical, the variations keep it interesting and gratifying as an actor."
So, enjoy the cat-and-mouse gameplay.
...as for Craig continuing as Bond, in Spectre's finale he drives off into the sunset in a vintage Aston Martin...
But as for Craig continuing as Bond, in Spectre's finale he drives off into the sunset in a vintage Aston Martin DB5 with lovely Dr. Madeleine Swann (Léa Seydoux). If Craig is indeed done with 007, as he has said, watch for him next in the new Showtime series Purity, playing the enigmatic but charismatic Andreas Wolf.
Ashley Jude Collie is a Canadian entertainment writer based in Los Angeles.