Daniel Radcliffe Falls In Love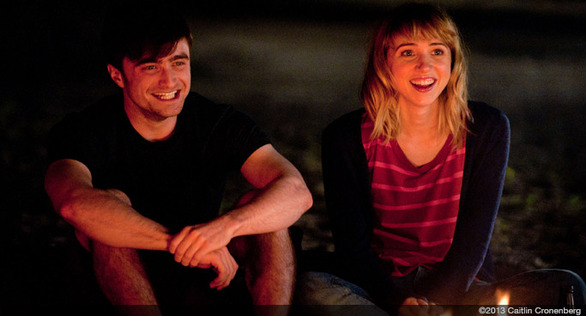 Everyone's favourite ex-wizard falls under love's spell in The F Word.
(That's F as in frustrated rom-com friend, BTW, not Floo powder magic dust, flying car, or forbidden forest)
The 21st century had just begun when I met a boy named Daniel Radcliffe at a party/press-event for the movie Harry Potter and the Philosopher's Stone in London's King's Cross station.
...for better or worse, this child actor had let go of a normal life with both hands...
He was small and chatty and preternaturally articulate – as happens when children spend a lot of time among adults. Nearby, Richard Harris – Dumbledore to Potter fans until his death in 2002 – bellowed that he would not speak to the press without champagne. Radcliffe beamed at the commotion created by his legendary new friend.
I remember thinking that, for better or worse, this child actor had let go of a normal life with both hands.
More than a dozen years (and eight Harry Potter movies) later, I found myself sitting in a Toronto hotel room with the stubble-faced young man, Daniel Radcliffe. The subject: how normalcy had begun to reassert itself in his life. Canada, arguably the most normal country on Earth, had a part to play in this transition.
"I can go days lately and only be called Daniel," Radcliffe said about the state of his public life. "Really, the only time people call me 'Harry' anymore is because they want to take the p--- out of me. And it takes a lot more than that."
With three movies to promote, Radcliffe was unusually busy and heavily caffeinated at that edition of the Toronto International Film Festival. Two of the films, the offbeat romantic comedy The F Word and the horror fantasy Horns, by Alexandre Aja (The Hills Have Eyes), were shot in Canada (Toronto and Vancouver, respectively). The third was the Beat Generation drama Kill Your Darlings, in which he played a college-age version of the gay activist/Beat poet Allen Ginsberg.
He was proud of all of three projects. But only one of them, Radcliffe allowed, reflected the real him.
Radcliffe and leading lady Zoe Kazan shot a skinny-dipping scene in Lake Ontario...
That would be the Canadian film The F Word, a profane but otherwise funny and warm-hearted rom-com from director Michael Dowse (Goon, Fubar). A typical case of boy-meets-girl, boy-finds-out-girl-has-a-boyfriend, boy-and-girl-try-to-just-be-friends-and-who-are-they-kidding, The F Word is a rare beast indeed. It's a film shot in Toronto that's actually set in Toronto. Radcliffe and leading lady Zoe Kazan shot a skinny-dipping scene in Lake Ontario (he was informed later of the Toronto beach's occasional E. coli alerts).
"I suppose this is easy to say when I'm otherwise playing a man with devil-horns or Igor (Radcliffe co-stars with James McAvoy in Victor Frankenstein, an upcoming re-imagining of Mary Shelley's story), but I don't think I've ever been in a movie where I've been more myself," Radcliffe says of The F Word.
"There's no question I've never done another movie where I've allowed so much of my own personality to be shown on the screen. I've heard my character repeatedly described as awkward. But that's just me. I stutter when the words come pouring out. I don't think of myself as awkward, but suppose I can seem awkward."
The vibe works well in The F Word, in which Radcliffe plays the unlucky-in-love Wallace, whose extended romantic dance with Chantry (Kazan) stands in stark contrast to the impulsive romantic escapades of his best friend, Allan (Adam Driver of Girls).
An ordinary guy (sort of), playing an ordinary guy in love, Radcliffe rejects the notion of Millennials as the "hook-up generation." He says his last relationship extended over three years. "I believe in relationships, and I think most people still do. I've been asked what difference there is about love today. I can't think of an answer other than 'none.'
"But what I liked about the script for The F Word (by Elan Mastai from the play by Vancouver playwright T.J. Dawe) was that it was sentimental, but the sentimentality isn't allowed to just sit there. It's undercut by some very funny writing.
"I find Canadian humour to be very much like British humour. And one of the things I liked about working with Michael (Dowse) was how he always finds humour in what he's doing. He's a great guy to work for, and the crew loves him. He's also just an out-and-out great director.
"I felt very at home there."
"From the cast's point of view, there was always an option to improvise. We didn't always use it, but knowing you could gave everyone a great sense of freedom. It was one of the most creative, fun sets I've ever been on. I felt very at home there."
The only place as fun to be, he says, was among the audience at The F Word's premiere. "There's nothing like that feeling of being in the audience and hearing the laughter," he says. "It's the ultimate affirmation."
Jim Slotek is a writer and columnist with the Toronto Sun.