Simon says: Show Me a Hero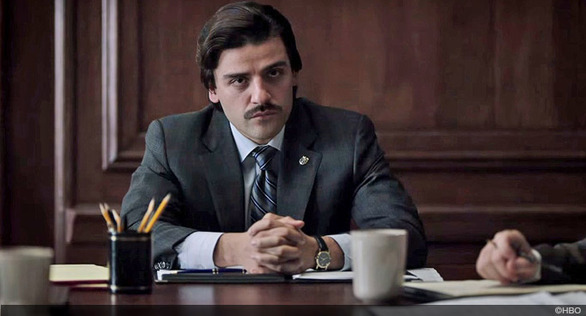 The HBO miniseries from the creator of The Wire and Treme boasts an A-list director, cast, and a timely look at race and politics...
David Simon is no stranger to drama. The former Baltimore Sun journalist has created and written some of what critics consider the most acclaimed and dramatic episodes of this new "Golden Age" of television, especially his work on Homicide: Life on the Street (1993-99), The Wire (2002-08), and Treme (2010-13).
Simon's latest project for HBO is Show Me a Hero. The six-part miniseries is based on the book of the same name by Lisa Belkin. Set in Yonkers, New York, in the 1960s, it is about a young mayor played by Oscar Isaac (best known for Inside Llewyn Davis but coming up in Star Wars episodes VII and VIII) who is forced by a federal court order to build low-rent public housing units in white, middle-class neighbourhoods.
The mayor knows this is political suicide and also knows that the tension this situation will create could spill over into the streets.
Created by Simon and co-written by The Wire collaborator William F. Zorzi, the series explores themes familiar to Simon's other TV work, in particular concepts of home, race and community. The director is Paul Haggis (Million Dollar Baby, Crash), an Academy Award winner and a native of London, Ont.
With Simon and all those drama heavyweights behind it, Show Me a Hero should boast a cast full of drama veterans. However, the cast is fairly diverse, filled with actors who have worked in both comedy and drama, including Winona Ryder, Jim Belushi, Catherine Keener, Alfred Molina, LaTanya Richardson-Jackson, and Bob Balaban.
This is true to form for Simon, who likes to mix up his ensemble casts and always seeks to avoid using actors who will pull his audience out of any story due to their celebrity status.
Simon, an engaging if sometimes intimidating interview (nobody keeps his guard up like a former journalist), told one reporter that he considers himself and his actors "misfits, and while we hope the show is entertaining enough, none of us think of ourselves as providing entertainment. The impulse is … either journalistic or literary."
In Show Me a Hero, Belushi plays Angelo R. Martinelli, a six-term mayor of Yonkers. It's interesting casting. The gregarious Chicago native brings a relatable, average-guy persona to the role. Belushi's an everyday Blackhawks and Bears fan and he's also a TV and movie star. Fans flock to his live concerts to see him perform as one half of the Blues Brothers (along with old pal Dan Aykroyd) or with the Sacred Hearts band. Belushi, cigar in hand, always looks like he's having a blast.
That was never more evident than in February, when he found himself on stage at the Saturday Night Live 40th anniversary after-party at New York's Plaza Hotel. Belushi stood next to Paul McCartney, Taylor Swift, and Jimmy Fallon as they rocked out to "I Saw Her Standing There." Eventually, he had to give the stage up to Prince.
Yet, besides that relatable every-dude quality, Belushi also carries himself with a certain shameless ease — a quality you might expect to find in a six-term mayor of Yonkers.
When it comes to acting, Belushi's approach seems to be that a job's a job. "I've been making films, been on stage, since 1980," he told critics a few years ago in Los Angeles. "So I've done all this before: dramas, comedy."
The 61-year-old actor made his feature film debut opposite James Caan in Michael Mann's Thief (1981) and also appeared in Oliver Stone's 1986 war drama, Salvador. He understands, however, that after eight seasons as a sitcom dad on According to Jim, as well as his early years on Saturday Night Live, many people "still think that's the persona that I am."
He is grateful to have been offered so many diverse parts over the years. Sitcoms, he says, are about "rewriting every day. The first script on Monday is not the script you are shooting on Friday." Drama is more about "stories, relationships."
These days, actors are showing they can play both comedy and drama. One of the most spectacular examples is one of Simon's original stars on Homicide: Andre Braugher. Deadly serious on that series, he's now the deadpan captain on the Fox cop comedy Brooklyn Nine-Nine.
Another Homicide star was considered the comic's comic back in the 1980s at clubs in New York and L.A.: Richard Belzer, who played laconic Det. John Munch on that series and just about every Law & Order spinoff.
One could argue that the FX series Louie, starring stand-up comedian Louie C.K., is one of the most dramatic shows on TV.
Show Me A Hero likely will show that, even in the tensest neighbourhood, the line between comedy and tragedy can be crossed.
Simon's next project for HBO? The Deuce, a pilot for a potential series, set in the early '70s, about the porn industry. Don't rule out Belushi for that gig, too.
Bill Brioux is a Toronto-based freelance journalist and contributor to the Canadian Press.