Dev Patel: From Mumbai Slumdog to Hollywood Lion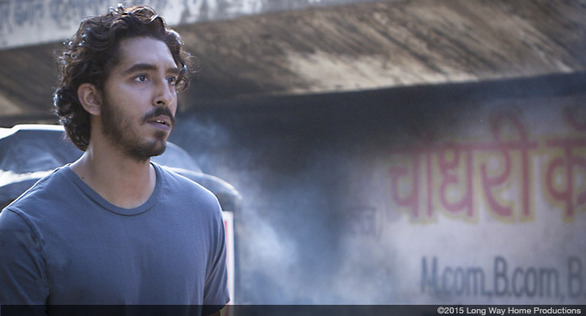 Dev Patel displays passion and craftsmanship portraying an adopted Australian looking for his lost Indian family in Lion...
"But I felt so new, I felt so unworthy..."
After 10 years as an actor, Dev Patel says he's "starting to get a grasp of my craft."
It's a typically modest observation from the 27-year-old Londoner, who landed his first big-screen job at age 17 in the multiple Oscar-nominated Slumdog Millionaire.
After such leading roles as the agreeably bumbling Sonny Kapoor in The Best Exotic Marigold Hotel franchise, Patel was recognized with a Best Supporting Actor Oscar nomination for is his portrayal of Saroo Brierley in Lion.
With Lion, audiences saw a mature actor at work, as Patel played a real-life Australian adoptee searching for his lost family in India with the help of Google Earth. He starred opposite Nicole Kidman as his adoptive mother and Rooney Mara as the girlfriend who encourages Saroo's quest.
Patel had clearly left behind him the boyishness of early roles in Slumdog and M. Night Shyamalan's critically savaged 2010 action-fantasy, The Last Airbender.
Reflecting on his start while speaking before Lion's premiere at the 2016 Toronto International Film Festival, Patel said: "In Slumdog, I felt so humbled and blessed by it all. But I felt so new, I felt so unworthy, a part of me did, for how great the film was, but for all these amazing elements I felt that weren't me."
He credited Slumdog's success to director Danny Boyle, music-maker A.R. Rahman, and cinematographer Anthony Dod Mantle. "I was just blessed to be part of it."
The first time I interviewed Patel was the morning after Slumdog opened in 2008 at TIFF, where it went on to win the People's Choice award. The lanky actor, then 18, was thrilled with the enthusiastic response — and a bit overwhelmed — hoping it meant that good things were ahead for his career. "The thing is, quite frankly, I've never been so passionate about something in my life," he said of his desire to carry on as an actor.
An admitted "classroom joker" and a practitioner of martial arts, Patel's only prior professional acting job was a year-long run on the British TV teen dramedy Skins. He owes it all to his mom, who spotted the Skins audition notice and drove him to the tryout. No wonder she was his date at the Oscars.
Patel had some critical misses after his freshman role, including Chappie, where he played a robotics whiz. But he struck gold with the box-office smash The Best Exotic Marigold Hotel and its sequel.
In 2012, Patel joined the ensemble cast of Aaron Sorkin's award-winning HBO drama The Newsroom as blogger and digital media expert Neal Sampat, working alongside Jeff Daniels, Emily Mortimer, and Toronto-born Alison Pill.
"I don't want to become one of those jaded people..."
Patel told the Guardian newspaper in 2015 that his move to the U.S. to work on The Newsroom wasn't without problems. "I was surrounded by the wrong people, going to clubs every night. I could easily have slipped into the wrong crowd."
He credited both then-girlfriend Freida Pinto and his older sister with keeping him grounded. "I don't want to become one of those jaded people," he told the Guardian. "L.A. is industry-obsessed, and people forget how to have any other conversation. I don't want to be that."
Patel committed fully to playing Saroo in Lion, turning down other work, training to gain weight to look like his athletic subject, and working with a coach to nail a "tricky" Indian-Australian accent.
His next film, Hotel Mumbai, is also based on a real-life story: the co-ordinated 2008 terrorist attacks in Mumbai. He plays Arjun, a waiter at the Taj Mahal Palace Hotel, which was under siege for more than two days. Armie Hammer and Homeland's Nazanin Boniadi also star.
It's a "really harrowing story," Patel said, and he's passionate about telling it because "it's something that really rocked India."
Linda Barnard is a Toronto movie critic and freelance entertainment journalist.