Don Cheadle: The great chameleon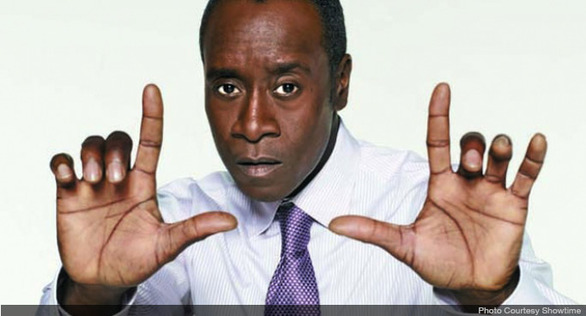 The house may lie, but the screen doesn't: Don Cheadle is a born actor
Look up "versatile" or "chameleon" in the dictionary and the photo you see is that of Don Cheadle.
These days, actors bounce between films and TV like stones skipping across a lake. Stars known for playing comedy are also testing themselves in dramas and vice versa. Think Matthew McConaughey, Seth Rogen, Bill Murray, and Kristen Wiig.
Look up "versatile" or "chameleon" in the dictionary, however, and the photo you see is that of Don Cheadle. Not only can the man make you laugh and cry, but he can sometimes do it in the same episode of House of Lies.
That Cheadle also straps himself into the exoskeleton of War Machine or Iron Patriot in the Marvel Avengers movie series is even more astounding. How many actors can go from a Best Actor Oscar nominee for Hotel Rwanda to Ocean's Eleven, Twelve, and Thirteen, to superhero action movies? Or from Boogie Nights to Crash?
At 50, Cheadle seems modest and matter-of-fact about his accomplishments. "I guess for the last 15 or 20 years, I've been going back and forth between those worlds, in a pretty facile way, which I'm very lucky and fortunate [to do]," he says during an interview at the Beverly Hilton Hotel. "And now … there are no lines, really, you know. Movie actors doing TV; TV actors are doing webisodes; web actors are on TV. You know, it's just … [that] there's a lot – the bandwidth is expanded a lot. So I don't think there are … strict lines between how we move anymore, which is nice."
The Kansas City native has crammed webisodes into his resumé; he was one of the first mainstream actors to appear in Funny or Die videos. He paid his dues doing tons of episodic TV roles, from The Golden Palace to The Fresh Prince of Bel-Air to Hill Street Blues and ER.
He finds a lot of his back-and-forth experience serves him well within the confines of House of Lies. "It's fun to have an opportunity to play all kinds of things on the show," he says. He credits his fellow actors, including Ben Schwartz, Josh Lawson, Kristen Bell, and Dawn Olivieri, with being able to roll with the tonal shifts between the comedic and dramatic moments on the series. "We have a lot of weapons and a lot of experience on the show."
Cheadle modestly suggests that his name is not at the top of any casting agent's list. Opportunities come up from movie to movie, job to job. The Iron Man roles, for example, found Cheadle stepping in after Terrence Howard, who had been in the first movie in the series, dropped out after a dispute with the producers. "I don't think I was on a short list for superhero roles, I don't think that's what was happening," Cheadle says.
Same thing with House of Lies, he insists. The role of Marty Kaan wasn't written with Cheadle in mind, but Showtime president David Nevins simply thought the actor would be great in the role. "He saw something that [House of Lies creators Matthew Carnahan and Jessika Borsiczky] didn't necessarily see," Cheadle says. "I don't think I was on a short list for people to try and get me onto cable TV."
The Golden Globe Award winner attributes his steady employment to "hustle, hustle, hustle."
Cheadle says he has always thought of himself as "a journeyman actor." His first big break came 20 years ago on television. "The first sort of big consistent role I got out of school was on Picket Fences, and I played the DA." Cheadle says his only dream as an actor was to have a job where he didn't have to wear a suit and tie to work every day. And yet — aside from those indestructible Iron Man suits — "I've been doing that pretty consistently" in movie and TV roles ever since.
The Golden Globe Award winner attributes his steady employment to "hustle, hustle, hustle." It's only in the last few years that Cheadle has given any thought to "crafting a career." He has taken that on by forming his own production company, Crescendo Productions. He's in business to invest in other projects he believes in — such as the recent Bill Murray feature St. Vincent — but also to pursue his own passion projects.
On the top of that list is Miles Ahead, a feature take on the late, legendary jazz trumpeter Miles Davis. Shot in the spring and summer of 2014, it premieres in 2015.
The film took eight years to make. Cheadle not only produced the movie and stars as Davis, but he also directed it and co-wrote the screenplay (with Steven Baigelman, Stephen J. Rivele, and Christopher Wilkinson).
In the meantime, he's happy with all the acting challenges he finds on House of Lies. He loves deceitful Marty Kaan, warts and all. "You know, we're all, everyone's struggling to come to grips with themselves, their relationships, their addictions," he says. While movie acting is all about wearing "a cape or being in front of CGI," he says, complex, flawed characters like Kaan are all over cable.
So how would Kaan react if he was hired by Iron Man billionaire industrialist Tony Stark?
Says Cheadle: "I think he would soak him for every dollar he could get."
Bill Brioux is a Toronto-based freelance journalist and contributor to the Canadian Press.