Ed Helms Thinks Inside the Box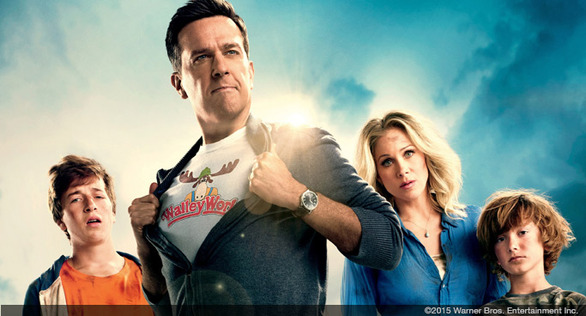 Ed Helms specializes in tapping into adolescent angst for comedic excellence, when bad things happen to earnest doofuses...
Helms displays a knack for playing well-meaning guys who don't always cope so well with the circumstances they find themselves in.
Few of us escaped adolescence without suffering through at least one awful job, but Ed Helms had it worse than most. When the future comedian and actor was 13, he worked at a concession stand at a pool in his hometown of Atlanta. Though he was ostensibly there to sell snacks, he felt more like a puppet show for all the cruel youngsters who'd ridicule him. As he'd later tell an interviewer, it was like being trapped in a "little humiliation box."
That true-life slice of teenage hell would also be perfect for a flashback to explain the personalities of the characters Helms has played since graduating from The Daily Show with Jon Stewart. Whether he's getting under the skin of his Dunder Mifflin co-workers as Andy Bernard in The Office or surviving the worst that Las Vegas has to inflict on Stuart Price in the Hangover trilogy, Helms displays a knack for playing well-meaning guys who don't always cope so well with the circumstances they find themselves in.
Vacation is Helms' latest opportunity to endure some humiliation, albeit with results that are hilarious to anyone outside the box. He plays Rusty Griswold, a character whom viewers may remember from his pimple-faced incarnation in National Lampoon's Vacation and its myriad sequels in the 1980s and '90s. (Original star Chevy Chase, Rusty's dad, has a cameo in the new movie along with onscreen wife Beverly D'Angelo.) Rusty now has a family of his own, as well as a fresh ambition to facilitate some bonding by travelling across the U.S. to the Walley World amusement park. As per the Griswold tradition, Rusty's clan faces countless calamities, including a run-in with a menacing trucker, an ill-fated rafting expedition, and some truly terrifying motel rooms. (Chris Hemsworth's six-pack abs are a more welcome sight for Christina Applegate as Rusty's wife.)
"We're maybe a little less cool..."
Yet some new wrinkles help distinguish this Vacation from its predecessor. One has to do with the difference between Helms' hapless hero and the cockier kind favoured by '80s comedy stars like Chase and Eddie Murphy. Unlike them, Helms' characters have yet to find their mojo. "We're maybe a little less cool," the actor said in an interview last year.
According to the actor, Rusty also shares something with other characters he has played: a sense of desperation. "With Rusty, it's this desperation to have fun and to keep everybody's spirits up," Helms explained. Though he believes he has more social grace than Rusty, "I do feel the way he feels quite often."
Thankfully, playing "earnest doofuses" is what Helms likes doing best.
The same quality underscores Helms' performance as the small-town insurance agent whose life comes apart during a convention in the 2011 indie comedy Cedar Rapids. At the time of Cedar Rapids' release, Helms joked with WTF podcast host Marc Maron about the suggestion he's been typecast. "I'm kind of like: 'Well, no one's gonna give me the James Bond parts! We have to be realistic about our parameters here!'" Indeed, it's harder to imagine Helms as an international man of mystery than as a super nice dude who enjoys playing banjo in his down time. (Helms really did release an album with his bluegrass band last year.)
Thankfully, playing "earnest doofuses" is what Helms likes doing best. "I feel like I move through the world a little more earnestly," he told Maron, "like always sort of not understanding what's going on around me."
It's all part of a comedic sensibility that he first began to develop when he came to New York in the late 1990s to study improv with the Upright Citizens Brigade and try his luck as a stand-up. "I love to find a way to love these awkward or scared characters, like Andy on The Office," Helms said on WTF. "He's so not lovable — if that guy really did work next to you, you'd despise him. But if you give him a good heart and make him well-intentioned, [he] can still be awful but you root for him — you want him to do it right."
That's something else Helms can relate to. "I never really questioned whether or not I was a good person when I was a kid or a teenager, but I definitely struggled with my pettiness or acting out in stupid ways."
After getting ample opportunities to work through those old neuroses by sucking up to Michael Scott or facing down Mike Tyson's tiger, Helms will do it for more dramatic purposes later this year — he co-stars with Hilary Swank in The One Percent, a forthcoming TV series by the Oscar winners behind Birdman.
In the meantime, he can stick with the business of getting laughs in the reliable guise of an earnest doofus who learns over and over that life is no Walley World ride, but who somehow never loses his pluck.
Jason Anderson writes about movies for Cinema Scope, FFWD, and the Toronto Star.