Eddie Redmayne Conquers the Universe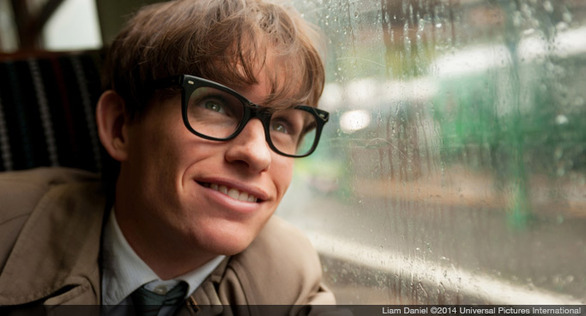 Oscar winner Eddie Redmayne brings mathematical precision to his stunning portrayal of Stephen Hawking in The Theory of Everything.
He was always surrounded by people, like some sort of rock star.
As a real-life Cambridge art history major, Redmayne was in a different orbit from the Lucasian Professor of Mathematics, Stephen Hawking. But he often spotted the cosmologist whose story would change his life.
"I'd see Stephen from across the campus," Redmayne recalled while promoting the Hawking biopic The Theory of Everything at 2014's Toronto International Film Festival. "I'd even hear his voice sometimes. He was always surrounded by people, like some sort of rock star."
Years would pass before they would awkwardly meet. The occasion came shortly after the bright young actor was hired to portray the wheelchair-bound mathematician with the boundless mind who was rewriting the history of the universe.
Hawking, whose motor neuron disease (amyotrophic lateral sclerosis or ALS) requires a delay between comments as he types answers into his speech device, left Redmayne room to chatter. The actor's opener: "Well, I understand we're both Capricorns." (Redmayne's birthday is Jan. 6 and Hawking's Jan. 8).
A raised eyebrow and an inputted response later, Hawking replied, in his signature robotic voice, "I'm an astronomer, not an astrologer."
Redmayne discovered that Hawking's dry wit was the glue that held his life together — and for many years, his marriage as well.
This year, Redmayne won the Best Actor Oscar for his portrayal of Hawking opposite Felicity Jones as Hawking's longtime spouse, Jane Wilde. But Redmayne says such accolades were secondary to winning the approval of the Hawking family.
Ironically, the math-challenged Redmayne ended up approaching his portrayal of Hawking as something of a science.
The movie was shot non-chronologically, sometimes requiring a same-day portrayal of Hawking as both a vibrant and athletic student prodigy and then as a decades-older scientist, utterly incapacitated by motor neuron disease.
It was a very unglamorous experience.
Redmayne studied his own musculature, with the help of a choreographer, "and facially especially, I learned how to sustain muscle positions for long periods of time. I'd study documentary material of Stephen on an iPad and isolate those muscles. It was a very unglamorous experience."
Eventually, he compartmentalized Hawking at every age "into kind of a dance that I could reproduce on command."
And then there was real life to absorb. "The day after I was cast, I began attending an ALS clinic in London and was introduced to 30 or so people," Redmayne recalls. "It was important for Felicity and I to understand what real people go through, their emotional and physical toll. Then meeting Stephen and Jane and the children, and understanding his extraordinary charisma and his humour, that was key."
In the end, he says, the movie is neither about a disease nor about how Hawking rewrote our understanding of cosmology.
I understood it as an examination of love itself, in all its forms...
"For Stephen, his disease is secondary; it does not inform his life. For me, this story is a love story. From the moment I read the script [adapted by Anthony McCarten from Jane Wilde's book Travelling to Infinity], I understood it as an examination of love itself, in all its forms — young love, intense passionate love, sacrifice, family, limits and failings, all in a bow, perfectly tied and ultimately brought to life by James [Marsh, the director].
"The title itself is open to interpretation. The theory of everything is like the aspiration for perfection. Maybe it is unattainable, but you should never stop trying."
Despite his nervousness going in, Redmayne was no rookie. He'd already won acclaim in two films, as Marius in Les Misérables and as the real-life aspiring (and besotted) filmmaker Colin Clark opposite Michelle Williams in in My Week With Marilyn.
"I feel like I got in on the ground floor of a rocket launching," says Simon Curtis, who directed Redmayne in My Week With Marilyn. "They cast him in Les Misérables the day My Week With Marilyn premiered. So I'm very proud of my part in that journey. He's a great man and a great actor."
As he made the rounds of film festivals and awards ceremonies, Redmayne was beginning a reunion project with Les Misérables director Tom Hooper. And it represents arguably an even bigger challenge than the portrayal of Stephen Hawking.
"It's The Danish Girl, a true story about a couple who loomed large in the art world in Copenhagen in the 1920s, Gerda and Einar Wegener. Einar would become one of the first people ever to transition and become a woman – under the name Lili Elbe," Redmayne says.
Again, an unconventional love story. "But more importantly, it's simply an amazing story. And as actors, we are all storytellers. If we're very lucky, we get to tell amazing ones."
Jim Slotek is a writer and columnist with the Toronto Sun.