The understated star power of Emma Stone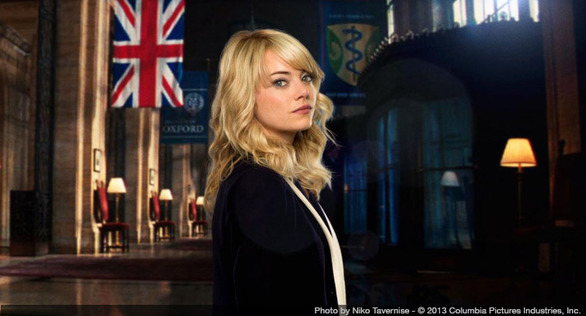 "The concept of movie star is something that you can never wrap your head around..."
There isn't much about Emma Stone that screams "Hollywood." The 26-year-old actor doesn't court tabloid attention, shuns paparazzi, and, early on in her career, quit life in L.A. for a slightly less celebrity-obsessed town — New York. In interviews, she exudes the kind of relatability you'd expect from your friendly neighbourhood barista. It'd be easy to forget that she dates Spider-Man, has made out with Ryan Gosling (all in a hard day's work, right?), and is the reigning lip-sync battle champion on Jimmy Fallon's show.
She has the kind of down-to-earth reputation that a thousand publicists cranking out PR strategies on a thousand BlackBerrys would be hard-pressed to confer on their clients.
It has been years since her career took off after she starred opposite Woody Harrelson, Bill Murray, and Jesse Eisenberg in Zombieland, but she remains surprised by — and just a tad uncomfortable with — her own fame. "The concept of movie star is something that you can never wrap your head around," she told Vogue in a 2012 interview after starring roles in Easy A, The Help, and the first Amazing Spider-Man movie. "It feels like it's happening to a different person. That loss of anonymity, not being able to just sit and watch in certain circumstances, is very strange."
That's not to say that she stumbled wide-eyed into her profession after a chance meeting at a gas station with a lost talent scout. Stone was determined from a young age to make it in the movie business. In a moment that has become something of a legend, when she was in the eighth grade she put together a PowerPoint presentation for her parents (ironically set to Madonna's celebrity-skewering 2003 single "Hollywood"— no word on whether there was any lip-syncing involved) and convinced them to move her from Scottsdale, Arizona, to California so that she could concentrate on building a film career.
"I'm not saving anyone from any life-threatening illnesses. But I get to tell stories, and that's a pretty important task."
Now that she has one, she takes it very seriously, even when her roles call for her to be anything but. A natural when it comes to comedy (she cites John Candy, Diane Keaton, Steve Martin, Bill Murray, and Gilda Radner as longtime idols), Stone has a tendency to mine the humour that comes from being self-deprecating, but she also has learned to recognize the significance of what she does. "It's such a fun job, and it can be silly and light and about making people laugh," Stone told Vogue. "I think I was doing it a disservice by thinking it's not something ultimately important. I always was saying, 'I'm not saving lives; I'm not a brain surgeon.' And that's true — I'm not saving anyone from any life-threatening illnesses. But I get to tell stories, and that's a pretty important task."
One story she nearly didn't end up telling was that of Peter Parker and Gwen Stacy. Like her friend and contemporary, Hunger Games star Jennifer Lawrence, Stone had reservations about committing to a big, career-altering franchise like The Amazing Spider-Man. A single screen test changed her mind: the actress fell in love with the script, with her character ("Gwen has a clarity that I love. It's really inspiring," she told Seventeen magazine this year) and, eventually, with co-star Andrew Garfield. The pair have been a couple since 2011, and their chemistry onscreen could be credited with a sizable chunk of the success enjoyed by the $1.5 billion-earning franchise.
Spider-Man fans like Stone so much that they're nervous about the viability of the final two movies director Marc Webb has planned for his web-slinging hero. The third instalment, slated for a 2018 release, leaves Gwen Stacy out of the story. But Emma Stone's story is far from complete. Stars of no less a calibre than Octavia Spencer, Jonah Hill, and Bradley Cooper sing her praises and attest to the wealth of options she has open to her ... that is, if she doesn't throw it all away to embark on a full-time lip-syncing career.
Corrina Allen writes for Entertainment on TheLoop.ca