Choose Ewan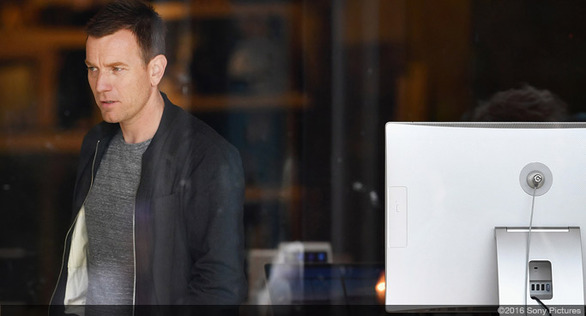 The former party boy now fuels his creativity through his family and his work...
McGregor says he ... has never been "tortured by acting."
When Ewan McGregor's drug-addled antihero Renton crawled out of a stinking Edinburgh toilet in Danny Boyle's iconic Trainspotting in 1996, the movie's cult status and box office success catapulted the mostly unknown Scottish actor into superstardom. His resumé since that breakthrough performance has included playing Obi-Wan Kenobi in three Star Wars movies, earning Golden Globe, Screen Actors Guild, and Emmy nominations, and appearing in Oscar-winning movies like Moulin Rouge!
McGregor says he loves being "on set when cameras are rolling and I'm interacting with other actors," and has never been "tortured by acting." His hard work and discipline have earned him performances for big-name directors in both blockbusters and indie hits, including: Tim Burton's Big Fish, Michel Bay's The Island, Ron Howard's Angels & Demons, and Roman Polanski's The Ghost Writer. He has also worked with Lasse Hallström, Bryan Singer, and David Koepp, to name a few more.
Two decades after his breakout role, he returned as Renton in T2 Trainspotting, again with Boyle directing. The rousing sequel, which reunited the original characters but which McGregor believed to be a "new beast," was described by Boyle as a "film really about trying to express repressed emotions."
"You really are only as good as your last success..."
Ensconced full-time in Los Angeles with his family, McGregor's goal remains to look for "the right filmmakers to work with. What inspires me is digging into stories about human nature, how we deal with different situations. It's not about firing thunderbolts out of my eyes or flying though the air, as fun as that can be, but how we deal with a situation in a human way."
Yet McGregor, now 46 and the father of four girls, admits that for all the movie cachet he has earned, "You really are only as good as your last success. And, even though I live here in L.A., Hollywood can still be pretty brutal."
In fact, the long road to T2 Trainspotting presented the challenges of doing a sequel and dealing with a long-standing personal demon.
The original film, underscored by incredible music and raw visuals, told the entertaining tale of Renton, a junkie trying to escape his awful life, and his coterie of oddball fellow drug addicts (Sick Boy, Begbie, Spud, and Tommy).
First, there was the process of developing a follow-up movie. McGregor admits he and his castmates didn't want to be involved in a "s**te sequel" that "tarnished the original, which was memorably amazing." It wasn't until John Hodge wrote a draft a couple of years ago that "we all felt, let's do this, because John has nailed the script."
Then there was having the confidence to revisit an iconic characterization, 20 years on. McGregor, who oozes confidence in person, admits he often feel nerves when approaching a project — and even more so for this sequel: "What if you couldn't 'find' Renton again or if you as a person had changed too much and he as a character didn't fit anymore? Or, having been out of Scotland since 17, what if for such a uniquely Scottish character, I didn't feel Scottish enough? But once back on the set, I soon found myself getting back into him."
McGregor, who once "loved partying far too much" and had to quit drinking, says the other big challenge was something personal between him and his mentor, Boyle, who had gone on to become an Oscar-winning director (Slumdog Millionaire).
The two had a falling out when Boyle dumped McGregor for Leonardo DiCaprio in 2000's The Beach.
Says Boyle: "While we luckily patched it up, I handled it badly and felt ashamed for not explaining myself for many years. The thing about Ewan, though, is that he's the epitome of handling things with grace."
McGregor continues to handle all challenges coming his way, including directing his first movie, American Pastoral, when other directors dropped out, then segueing to an Emmy-nominated dual role on TV in Fargo.
"I'm proud of [American Pastoral], and put 18 months of my life into it, and even though many people didn't see it at the cinema, it positively changed me. It dealt with issues in a human way. I've also watched as these types of human stories are moving to television, which is why I worked on Fargo. It was an exciting challenge to create two characters who're related but very different, and could I pull it off? I hope I did. But I like the pace of television, and it's like doing a movie extended over 10 hours."
Despite being a doting family man, McGregor maintains the old punkish attitude by taking "occasional extended sojourns" on his beloved motorcycle.
Ashley Jude Collie is a Canadian entertainment writer based in Los Angeles.