Fey & Poehler: Sisters Are Doing It For Themselves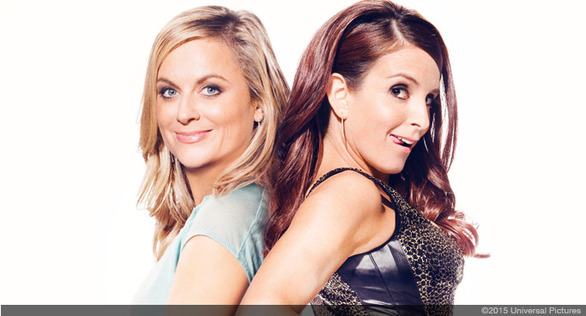 Tina Fey and Amy Poehler broke up the comedy boys' club, turned a summer vacation into a movie, and are always worth their weight in Golden Globes.
Ironically ... Fey would admit to "pulling an Adam Sandler..."
This is a piece about how Tina Fey and a handful of pals redefined comedy for women in the 21st century. But we'll start it with an anecdote about someone else.
That would be actress/comedian Janeane Garofalo. Just before her ill-fated mid-'90s stint on Saturday Night Live, I interviewed her about her new job. She wasn't optimistic. "Unlike Adam Sandler or Chris Farley, my audience isn't 14-year-old boys," she said.
By some accounts, my interview was posted on the wall at the legendary 30 Rock studios before Garofalo even arrived. I can only imagine how things went down, but she lasted five months, calling it, "the most miserable experience of my life."
Several years later, I interviewed Tina Fey just after she'd been named Saturday Night Live's first female head writer. The boys' club had been broken up. Fey was one of four female standout players on a show that did not have a stellar history of showcasing women.
Two of them, Amy Poehler and Rachel Dratch, were close friends and former castmates of Fey from Chicago's Second City (Fey and Dratch had even performed outside of the troupe as a comedy team). The other, Maya Rudolph, arrived via Second City's L.A.-based, live-comedy competitor, The Groundlings, and fit right in.
Yes, Fey knew about Garofalo's experience, though she started on the show two years after Garofalo left.
"I don't deny what she said or her experience," Fey told us then. "But Janeane was there with an almost entirely different group of people than I'm there with. I have a very different experience now because everyone I'm with on SNL is very evolved and intelligent. The women, in particular, are incredibly strong."
And Fey, whose later autobiography would be titled Bossypants, was the boss of them.
Ironically (considering his role in this story), many years later, Fey would admit to "pulling an Adam Sandler," by producing and co-starring in the movie Sisters. Fey and Poehler play two dysfunctional adult siblings who reunite for one last party on the occasion of the sale of their childhood home.
Fey's approach to the movie was patterned after Sandler's modus operandi in Grown Ups. To wit: Get a bunch of your closest friends together for a movie that mainly takes place in a big house, and party it up for the summer.
"What's the point of doing any of these things if you don't get to spend time with people you like to be with?"
In the case of Sisters, it meant Fey and Poehler being joined in picturesque Dix Hills, Long Island, by Rudolph and Dratch, as well as Canadian new kid (and fellow mom) Samantha Bee, plus such male SNLers as Ike Barinholtz and Bobby Moynihan.
"What's the point of doing any of these things if you don't get to spend time with people you like to be with?" Fey asked us after the movie wrapped.
"We did have a good time, I'm not going to lie. We had a great time for an entire summer. Amy rented a big house on Long Island and all our kids had pool parties together. And as moms who live in different states, it brought us a lot of joy to see our kids meet each other and enjoy each other all summer."
Would she continue the Sandler approach and produce a Sisters sequel/reunion? "I think we shot enough footage that we already made two movies," she said. "But you never know."
A further case for a sequel: Sisters ended up grossing more than $100 million, even though it opened on the same weekend as Star Wars: The Force Awakens.
Sisters' plot mirrors Fey's reality, to the extent that her parents still live in the same house in Upper Darby, Pennsylvania, the town where she went to high school. "It seems small now, which is always the case when you go home. But what's really amazing to me now is how the water pressure is almost non-existent. How did we clean ourselves? It's definitely not big-city water pressure."
In Fey's wake, Saturday Night Live became a veritable factory of funny women — including new Ghostbusters Kristen Wiig and Kate McKinnon. And it turned out to be a perfect platform to launch Fey's post-SNL career.
When we spoke that first time, she had just landed the movie rights to Queen Bees and Wannabes, a self-help book for teens by Rosalind Wiseman. It seemed an unlikely vehicle for a comedy. But it would morph into her screenwriting debut, Mean Girls, a movie that became to teen girls in the '00s what Clueless was to the '90s.
"I read an article about the book before it came out and was fascinated by it," Fey told me then. "It's so serious and deals with the repercussions of mean, teenage behaviour. But I don't know. I find the behaviour itself kind of funny."
When Fey left SNL, in some ways she didn't actually leave. She created and starred in 30 Rock, the thinly veiled series about life as a writer on a sketch comedy show. 30 Rock lasted seven seasons. She also returned to SNL itself on a regular basis when her doppelgänger Sarah Palin entered U.S. national politics.
Poehler, meanwhile, made her sitcom-producing debut as the star of Parks and Recreation, a comedy cauldron that gave us the likes of comedian/actress Aubrey Plaza and Aziz Ansari.
But the entertainment world really took notice of the bond between Fey and Poehler when they stepped in as hosts of the Golden Globes. The Hollywood Foreign Press Association, producer of the infamously inebriated awards, was still smarting from the scathing monologues and insults of previous host Ricky Gervais. It apparently felt Fey and Poehler would be kinder, gentler hosts.
They were wrong. The two women immediately set out to out-Gervais Ricky — with a feminist twist and lines like: "Gravity is nominated for Best Film. It's the story of how George Clooney would rather float away into space and die than to spend one more minute with a woman his own age," and, "Matthew McConaughey did amazing work this year. For his role in Dallas Buyers Club, he lost 45 pounds. Or, what actresses call: 'Being in a movie.' "
That's the kind of stuff that used to mark an actress as a troublemaker. But it was funny and cutting because it rang true. And it indicated that the bell Fey and Poehler rang at Saturday Night Live can't be unrung.
Jim Slotek is a writer and columnist with the Toronto Sun.