Frances McDormand: 'Just Shut Up and Do It"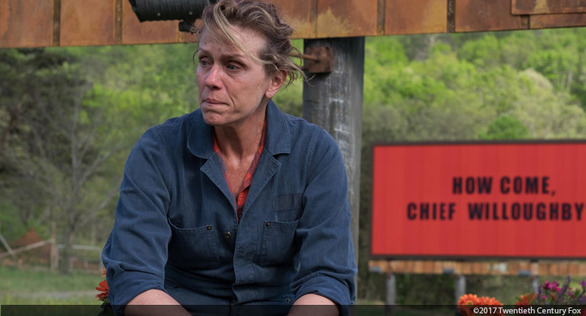 Her performance in Three Billboards Outside Ebbing, Missouri earned Frances McDormand another Best Actress Oscar, but Joel Coen deserves a nod as Best Supporting Spouse
"If she hadn't said yes, we'd have been screwed..."
Deservedly, Frances McDormand now has two Best Actress Oscars — one for a movie directed by her husband and brother-in-law, the Coen brothers' Fargo, and one for Martin McDonagh's Three Billboards Outside Ebbing, Missouri.
But this year's Oscar for Three Billboards might never have happened if her spouse, Joel Coen, hadn't snapped her out of saying no.
The acclaimed film is about Mildred, a grieving mother fed up with the local police force's inability to arrest whoever killed her daughter months earlier. She rents three billboards that read, in order, "Raped while dying;" "And Still No Arrests;" and "How come, Chief Willoughby?"
"If she hadn't said yes, we'd have been screwed," McDonagh said at the press launch for Three Billboards Outside Ebbing, Missouri at the 2017 Toronto International Film Festival. McDonagh said he had written the script in her voice, counting on her to accept the meaty role.
"Martin knew my work, not only from film but also from the theatre," McDormand said. "When I first read it, I loved it. I thought Mildred was amazing and I was flattered. But then I said: 'No, I'm sorry. I'm too old.'
"And then finally, my husband said: 'Just shut up and do it.'"
"At the time, I was 58. And I'm really interested in playing my age. I like being my age. I'm kind of political about it. I'm also from a working-class background and I was concerned, [knowing] that women from this socioeconomic strata did not wait until they were 38 to have their first child. So we debated that for quite a while.
"And then finally, my husband said: 'Just shut up and do it.' God bless him," she added, with a laugh.
"We all knew at its fundamental core it's a story about grief and trauma and all the things come out of that. And sometimes it's funny. But we just tried to never lose track of the sad, painful beginning of the story."
Mildred's awakening starts with her clash with Police Chief Willoughby (Woody Harrelson), and with his loose-wheel, brutal deputy, Dixon (Sam Rockwell, who also won a Best Supporting Actor Oscar for his role).
Eventually, we see Mildred "graduate" to even more proactive and violent means — including throwing Molotov cocktails at the police station, which McDormand recounts as a favourite experience.
"I loved throwing the Molotov cocktails. I was quite proud that I could land it across the street, because I actually have a very pussy throw. If you give me a softball, it just looks sad. But for some reason, the weight of that bottle just worked.
"And I loved the burning of the billboards," she says of her other most active scene in the movie, in which Mildred single-handedly tries to douse an arsonist's attempt to burn her message. "I had a little trouble with the running (between billboards) in that scene. At one point, I was tired, and I fell to my knees. And Martin said: 'Cut! That was brilliant. I loved the falling to the knees.'
"And I was, like, 'No, no, no. That was me. I need a break.' And he got me some water."
Until this Oscar-winner, McDonagh has been better known as a playwright than a director. Three Billboards is his third movie (after In Bruges and Seven Psychopaths). But McDormand said it was his bona fides as a writer that brought everybody together.
"Martin writes a script that stands on its own," she says. "It's not a blueprint, it's an actual literary document. Like a play. Like a novel. So, when a company can go back to something like that — I call it the bible — then even the grips and the electrics can go back to that and use it. Three-quarters of the work is done.
"I think part of what made us an automatic ensemble — not just the fact that Martin put us together — [is that] we all come out of the theatre. Woody has done theatre. Sam has. The majority of the actors have.
"That's our foundation, and it's the best foundation for any kind of acting work. So, despite his inexperience as a filmmaker, [McDonagh has] been in the room watching characters develop through an actor's process. So we don't have to talk about that much. We hit the ground running at the same speed."
Another factor in nailing the roles: "Most of us are from the working class," the Illinois native says. "I spent my entire childhood growing up in small rural towns, so it felt really close."
Her Canadian connection: "My mother's from West Lorne, Ontario, and my father's from Nova Scotia."
And if it seems like a lot of time passes between Frances McDormand films, she admits that's true. "I have the great luxury of passing on [movie] opportunities, because I have a life in the theatre.
"Recently I was offered two movie roles, both 60-year-old women. Both had recently lost their husbands. One was grief-stricken about losing her husband and the other was quite happy about it.
"I don't particularly want to do either, but if I chose one, it would be the one that was happy about it — just for fun," she says.
Jim Slotek is a Toronto movie critic and freelance entertainment journalist.