Getting On is Getting On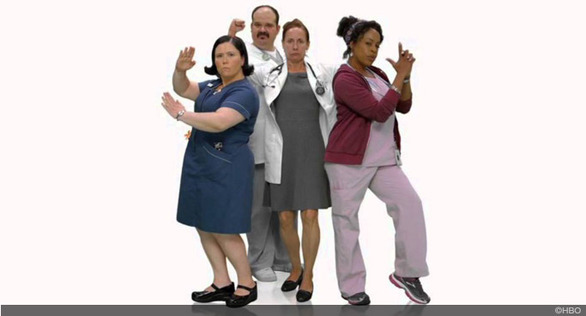 Laurie Metcalf anchors the darkly funny Getting On--a series about a dysfunctional geriatric ward with addictive staff and fascinating patients.
"Last day on set. Can barely breathe. Simply can't imagine life without these people & the words on the page."
That's how Alex Borstein (who plays head nurse Dawn Forchette) summed up her feelings on Twitter as production wrapped this past summer on Getting On. The show's third and final season airs this month on HBO Canada.
"It takes us to an arena some people might not want to dwell on right now."
The series, about life inside the geriatric ward of an underfunded California hospital, was spun off from the British original. Unblinking in its depiction of a health system struggling to keep pace with an aging population, it was always probably a tad too real for many viewers. Laurie Metcalf, who is scary good as uptight MD Jenna James, says, "It takes us to an arena some people might not want to dwell on right now."
Critics have been only too happy to dwell on it. "Fiercely smart," the New York Post praised. "Brutally funny," Time magazine lauded. "Deliciously dark comedy," said the New York Times.
Getting On is to hospital care what The Daily Show is to the news: the truth seen through a smart comedy filter. Anyone who has experienced the eye-opening and stressful world of health care as provided for the elderly will have met these women — especially grown children caring for a parent. Getting On gives us permission to laugh about it.
Accolades for the cast keep pouring in. Niecy Nash, who plays sympathetic nurse Denise (DiDi) Ortley, won an Emmy nomination for Outstanding Supporting Actress in a Comedy Series. Borstein — involved with raunchier humour when voicing Lois Griffin on Family Guy — nails the weary resignation found in nurse Forchette. Metcalf is beyond oblivious as self-centred Dr. James. Together, their performances are so real that the show feels like a very sly documentary.
Metcalf sees her character as "Anal with a capital 'A'. The bedside manner doesn't even exist. She's a workaholic who doesn't understand why others aren't the same way she is."
Dr. James sees working in the geriatric ward as a demotion, Metcalf continues. "There's no glory to it. It's the job, in her head, [that] no one else wants. So she has her research opportunities on the side, hence her obsession with feces."
Interviewed in an HBO boardroom in New York, Metcalf, 60, credits the low budget with helping to create an air of realism. "There's no lighting, everything moves around fast — which is wonderful," the three-time Emmy Award winner says.
Each episode is rehearsed as a one-act play, Metcalf says. "We get everything up to speed for two days, then we film it for three days." Working opposite Bornstein and Nash — two improv veterans — keeps stage-trained Metcalf on her toes. "They're like the wild cards," she says. "If they go off script, it's fascinating to me. I just try to keep up. Hopefully, we meet in the middle."
Metcalf is being modest. She anchors the show, just as she did with Roseanne. Her former sitcom co-star, John Goodman, used to call Metcalf the "tugboat" because she would always guide stand-up comedian Roseanne back toward the script.
Her theatre credits run deep. The Illinois native helped establish Chicago's famed Steppenwolf Theatre Company and has garnered praise and Tony nominations for her work on Broadway.
In addition to Roseanne, Metcalf has been in several TV casts, including recurring roles on Desperate Housewives and The Big Bang Theory. Last season, she starred on the short-lived network sitcom The McCarthys.
Metcalf says it will be five years before she'll watch episodes of Getting On. "It takes me that long to let it go," she says. The actress simply never likes to watch herself while she's in the middle of a production for fear she'll start second-guessing the way she read a line or tilted her head. Only now can she go back and watch Roseanne episodes, she says, "because I don't remember how they end anymore."
Another reason she can't watch Getting On now: the unflattering, if realistic, lighting. Then there's the lack of professional hair and makeup. "Zero," says Metcalf. "I'm deathly scared."
There are, however, delights to being on Getting On, she says. One has been working with the veteran actors and actresses cast as hospital patients and visitors. Harry Dean Stanton, Jean Smart, and Mary Kay Place have been scene-stealers in past seasons. Ann Guilbert — fondly remembered for her role 50 years ago as ditzy next-door neighbour Millie Helper on The Dick Van Dyke Show — showed she still had it as perpetual patient Birdy Lamb. "The women loved being a part of it," says Metcalf, who hung out with many in their trailers. "They know how much they're contributing."
The clever guest casting continues into Season 3. Checking in to Mount Palms are Rhea Perlman, Rita Moreno, Janis Ian, and Metcalf's friend from their days on 3rd Rock from the Sun, Kristen Johnston.
Bill Brioux is a Toronto-based freelance journalist and contributor to the Canadian Press.