Girls' Night In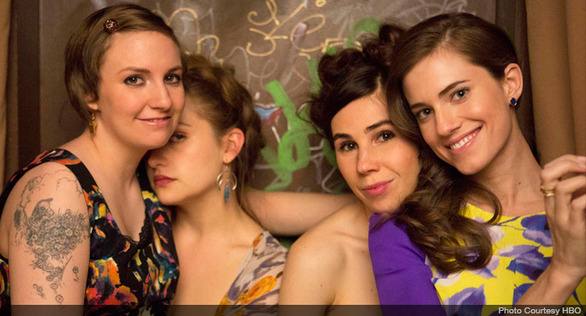 Watch Girls with style. And with pastrami.
Enjoy Girls-inspired food and drink that will make you feel like a grown-up. Almost.
Reuben Strata by Theresa Albert, My Friend In Food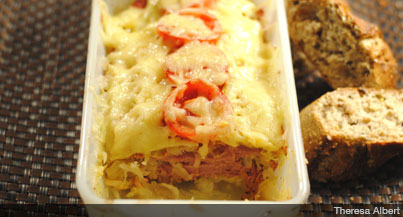 Grown-ups make casseroles and eat with a knife and fork; they don't eat sandwiches with their hands. Sheesh. But what if you are kind of in between and can't really cook? This recipe feels like a meal but is as simple as a deli sandwich. You can't beat the New Yorkiness.
Makes: 4 servings
Takes: 15 minutes
2 cups sauerkraut
½ pound pastrami
4 tablespoons yellow mustard
1 sliced tomato
½ cup grated Swiss cheese
- Preheat oven to 400 F
- Empty sauerkraut into colander and rinse under cold water; squeeze dry.
- Lay sauerkraut, pastrami, and mustard, divided into three layers, in a loaf pan.
- Top with tomato and Swiss cheese.
- Bake in 400-degree stove oven, toaster oven or microwave until warmed through and cheese melts, about 10-15 minutes.
- Serve with whole grain bread and dill pickles. And/or a Dirty Dill Martini.
Dirty Dill Martini by Dee Brun, The Cocktail Deeva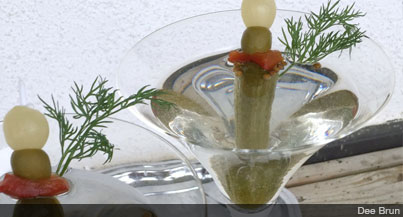 2 oz vodka
½ oz dill pickle brine
Splash of dry vermouth
10 mustard seeds
Whole baby kosher dill pickle, for garnish
A large fresh sprig of dill, for garnish
(If you like a little pizzazz, add a ½ ounce of spicy horseradish brine)
- Add vodka, pickle brine, vermouth, and mustard seeds into a shaker over ice and shake well.
- Skewer the dill pickle and add it to a chilled cocktail glass.
- Strain the martini into the glass and garnish with the dill sprig.