Heist Movies: Robbery Report Card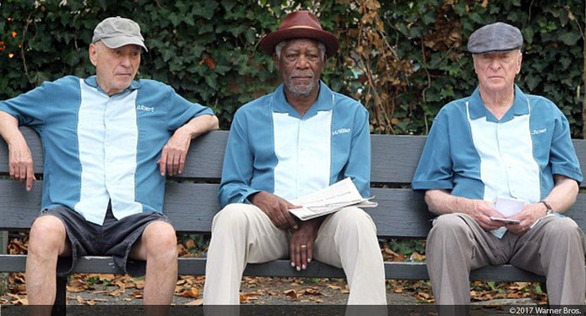 Going in Style delivers the classic ingredient in heist flicks: honour among thieves...
Here is a robbery report card, assessing the nobility and success of several iconic movie thieves.
As Going in Style illustrates, movie heists have varying degrees of nobility — and success. In this recent remake, three elderly men (Alan Arkin, Michael Caine, and Morgan Freeman) find themselves involved in a bank robbery as a result of health problems, strained family relations, and lost pensions. This isn't the first heist movie to give its characters vaguely noble justifications for their crimes, but movie thieves have a wide range of motives. With that in mind, here is a robbery report card, assessing the nobility and success of several iconic movie thieves.
Dog Day Afternoon
NOBILITY:
Inspired by the true story of John Wojtowicz, Dog Day Afternoon shows what happens when petty criminal Sonny Wortzik goes to the trouble of robbing a bank, in order to pay for his significant other's sexual reassignment surgery.
Grade: A
SUCCESS:
Far too good-natured and compassionate to thrive as a bank robber, Sonny ends up with no money, a dead partner, and a lengthy prison term.
Grade: C-
NOBILITY:
Led by a mystical beach bum known as Bodhi, the "Ex-Presidents" are a group of hobbyist bank robbers who devote most of their time to surfing and skydiving. Looking for little more than a fresh shot of adrenalin and a few more days at the beach, they bypass vaults, preferring to snatch whatever each bank has in its cash drawers.
Grade: C+
SUCCESS:
When the "Ex-Presidents" stick to their streamlined modus operandi, they are virtually unstoppable. However, it all unravels when Bodhi inexplicably forces the FBI agent in their midst to participate in a robbery against his will.
Grade: C+
Bottle Rocket
NOBILITY:
An aspiring thief named Dignan plans incredibly clumsy, small-scale robberies, targeting a book store, a cold-storage facility, even his partner's house. In truth, he and his pals are more interested in finding a sense of community and purpose than massive amounts of unearned wealth.
Grade: B-
SUCCESS:
Having already returned or given away the proceeds of their two previous heists, Dignan and company reach new lows in their final robbery. They fail to crack the safe, accidentally fire a gun, cause one of their men to suffer a heart attack, and get locked out of their escape van.
Grade: D-
NOBILITY:
At the end of the Gulf War, a group of American soldiers stumble upon a treasure map in the unlikeliest of places. (You don't want to know.) They head off in pursuit of gold bullion, but end up abandoning this objective in order to save the lives of anti-Saddam rebels.
Grade: B+
SUCCESS:
While the map turns out to be surprisingly accurate, these soldiers ultimately lose the gold — and one of their lives. Still, their unplanned humanitarian triumph is worthy of acknowledgement.
Grade: B-
NOBILITY:
Three Kings star George Clooney finds himself orchestrating another heist of pure greed, though the central victim also happens to be the new boyfriend of his ex-girlfriend, Tess (whom he desperately wants back), giving this mission a slightly romantic dimension.
Grade: B-
SUCCESS:
Thanks to the generous funding of Reuben Tishkoff, Danny Ocean pulls off a ridiculously intricate, high-tech heist that earns him abundant wealth and another chance with Tess.
Grade: A
Ant-Man
NOBILITY:
During a robbery made necessary by unsteady employment, Scott Lang stumbles upon a suit that changes everything — by shrinking him to the size of an ant. Before long, he's on a mission to steal a similar suit from Darren Cross, the villain intent on using this technology for evil ends.
Grade: A-
SUCCESS:
When Lang attempts to get his hands on the suit, he winds up captured. After a swift escape, he bypasses his original goal and settles on a more effective solution: treating his adversary to a subatomic attack; that proves fatal.
Grade: B+
NOBILITY:
Devoted to his deaf foster father and new girlfriend, Baby Driver's title character retires from escape driving and embraces a new career as a pizza delivery guy, but his old boss strong-arms him into continued criminality.
Grade: B
SUCCESS:
Given Baby's lack of enthusiasm for the film's climactic heist, it comes as no surprise that he abandons his previous virtuosity, sabotages the mission, and violently attacks his own "allies." He may end up in jail, but this failure sets him free.
Grade: F
Jonathan Doyle writes about movies for Comedy, CTV, and Space.