Baltimore Rising: The HBO Doc Goes Deep Into the Freddie Gray Story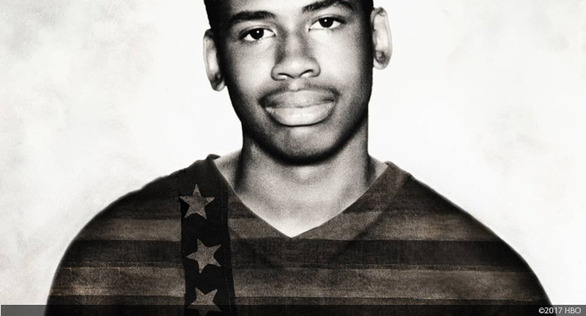 Exploring the backdrop to and fallout from the violent death of a young black man...
Gray's death sparked an unexpected conversation on the ground and eventually across North America.
On April 12, 2015, the Baltimore police arrested Freddie Gray Jr. for allegedly possessing an illegal switchblade. The 25-year-old had tried to flee, which led to a struggle, and he fell into a coma while being transported in a police van. Gray died a week later, his spine 80 per cent severed at his neck; the official cause of death was later cited as trauma to the neck and spine.
Sadly, tales of alleged police brutality are no longer rare narratives — especially as citizens and communities are given increased access to social-media platforms by which to share these stories. But Gray's death sparked an unexpected conversation on the ground and eventually across North America.
Protests, marches, and the burning of a drugstore to the ground led to a state of emergency in Baltimore, causing a media frenzy around the Black Lives Matter movement.
For Sonja Sohn, an actress (The Wire) and director, that story was only part of the conversation, yet it was dominating the landscape as the likes of Geraldo Rivera showed up to cover it. So she turned a lens on the community to create the HBO documentary Baltimore Rising, and began to spin a different portrait of what Gray's death really meant.
The result is a feature-film-length story about crime, socio-economic status, over-policing, and officers disengaged from the communities they are tasked with protecting.
"When I saw the Baltimore uprising occur, I knew exactly why it was occurring. I said to myself: 'Yep, so is this what it's going to take to address the issues,' " Sohn says. "The next day, I heard people on the street speaking about the poverty levels and the systemic injustice in town. The people of Baltimore were actually engaging in a much more sophisticated conversation than what the media was covering. We're all here for a purpose, and my purpose is to make the world a better place and to fight for justice and truth and freedom. [This project] just felt in line with that."
Sohn takes a back seat in the documentary, allowing key players to dominate the conversation. They include: activist Kwame Rose, who was arrested twice during the protests for reasons he still can't explain (he struck a plea bargain the first time and he was acquitted of three of the four charges the second time); high school student Makayla Gilliam-Price, who put her education on hold to join the uprising; and Baltimore Police Chief Melvin Russell, who to this day acts as a liaison between the force and the community. For all of them, helping others to understand the people involved, and offering a narrative that delves deeper than Gray's arrest and death, are the ultimate goals of participating in such a film.
"I want everybody to take away an inspiration inside of themselves that makes you think about humans. Makes you think about the society that we live in today — how we can have a president who has never walked through any of these communities which he is supposed to be the head of and face of," activist Rose says. "How we can have someone who hates people based on the colour of their skin, based on their sexual orientation, based on the gender they feel comfortable in. I want people to be inspired to play a part in changing society and improving the everyday life of every single individual inside of this country."
If nothing else, this cast of characters hopes the film reinstates the belief that civil rights are as important an issue as ever, and that people are still fighting for the same issues as their predecessors. Only the approach has changed.
Gray's family never did receive justice for his untimely death. (The city of Baltimore reached a $6.4-million US settlement with his parents). But perhaps Baltimore Rising offers hope as a launch pad for change and conversation on a larger and deeper level.
What differs about civil rights and this movement today is the use of social media.
"We're still fighting the same fight. We're still fighting for voting rights. We're still fighting for health care. We're still fighting for equality and basically being recognized as human beings," says Rose, who now serves as a liaison for the mayor.
"What differs about civil rights and this movement today is the use of social media. Social media has become a powerful tool where we get to control the narrative, where we get to confront journalists who come into our communities and don't recognize us as human beings. Who don't dig deep enough to find the real story about who Freddie Gray was, who Tamir Rice was, Mike Brown was, who Sandra Bland was as a person. (Rice, 12, was fatally shot by police in Cleveland in 2014; Brown, 18, was fatally shot by police in Ferguson, Missouri, in 2014; Bland, 28, was found hanged in a jail cell in Waller County, Texas, in 2015 after being arrested in a traffic stop. All were black.)
"They were more than police brutality victims. They were human beings before they ever died. That's what the power of this movement does today … we use social media and we use our fearlessness to basically confront the narrative that's been placed against us."
You have the microphone, Kwame Rose. We're listening.
Amber Dowling is a Toronto-based writer and the founder of TheTVJunkies.com.