India-inspired concoctions for The Hundred-Foot Journey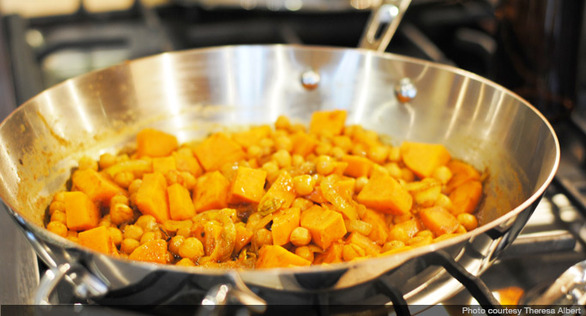 Inspired by the flavours of The Hundred-Foot Journey, add a little Indian spice to your summer eats and drinks.
Cheater Chana
There is no way you want to disgrace the ancient art of Indian cooking by calling this a true chana masala. That exquisite mixture of spices and slow simmering of chickpeas can't be beat, but this recipe takes 20 minutes, is low in fat, tasty as heck, and a total crowd-pleaser. A simple side of sautéed spinach and an extra bottle of beer is all you need to make this weeknight meal a true treat.
Serves: 6 Takes: 20 minutes
1 tablespoon butter
1 onion, sliced
1 medium sweet potato, peeled and chopped
1 tablespoon curry powder
1 teaspoon cardamom – pods
2 28-oz cans of chickpeas, drained
1 bottle beer
½ cup tomato sauce
Pinch hot pepper flakes (optional)
Warm a large skillet or wok over medium-high heat and add butter. Add onion, and allow to brown. Add sweet potato to onion. Stir in curry powder. Smash cardamom pods with the back of a knife and add, stirring to coat. Add chickpeas to the mixture and douse with beer. Simmer uncovered for 5 minutes to reduce liquid, then stir in tomato sauce as well as hot pepper flakes (if desired).
Simmer uncovered for 5-10 minutes to soften potatoes and thicken sauce.
~Theresa Albert is a food communications expert and author of Ace Your Health.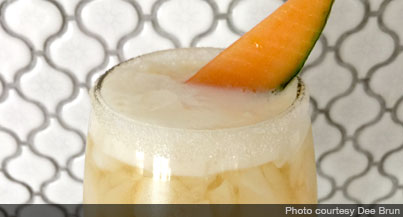 Bonjour India Cocktail
Fresh and fruity, sweet and salty, this cocktail epitomizes India in a glass, especially with a dash of spice.
¼ cup mango and ¼ cup cantaloupe, peeled, pitted, and puréed
2 tsp freshly squeezed lime juice
1 (12-ounce) chilled light beer
½ ounce tequila
1 lime
Coarse salt
Hot sauce (optional)
Fresh fruit for garnish
Combine mango and cantaloupe purées, lime juice, beer, and tequila. Rub a lime wedge around the rim of a tall glass and then press into salt to create a rim. Fill glass one-third full with ice and add fruit mixture. Add a few dashes of hot sauce if you like some spice, and garnish with additional fruit.
~Dee Brun is a cocktail stylist and author of Libations of Life, A Girls Guide to Life One Cocktail at a Time