Flights, Camera, Action! Inferno's Italy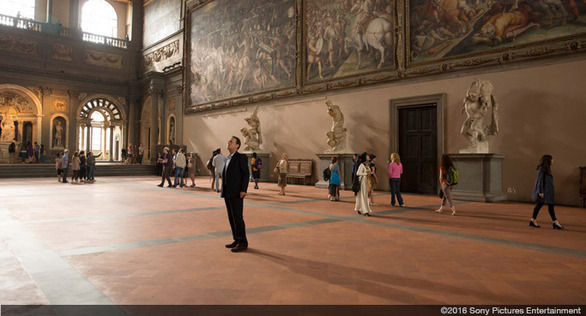 Inferno inspires travel to Italy's hottest destinations. See what we did there?
What do you want to be when you grow up? If you love travel, try putting yourself on track for a position as a Harvard University professor of religious iconology and symbology (even though "symbology" isn't actually a thing).
It's really worked out for Robert Langdon, the central character in Dan Brown's novels Angels & Demons, The Da Vinci Code, and Inferno. Played by Tom Hanks in the movie adaptations, Langdon traipses through Paris, London, and Rome in The Da Vinci Code, through Rome again in Angels & Demons, and heads back to Italy for Inferno: this time exploring locations in Florence and Venice before jetting off for a quick stop in Turkey.
Inferno will likely inspire you to visit the birthplace of the Renaissance and the Floating City. But if the decade or so of post-secondary education is a tad daunting, a valid passport and a few vacation days from your regular gig are all you really need. And no fretting over tenure, either.
Florence
Boboli Gardens
Professor Langdon and Sienna Brooks raced past the Boboli Gardens' 11 acres of ancient trees, sculptures, and fountains in record time. Too bad they couldn't just sit and enjoy the spectacular views of Florence, with its famed Duomo and red tile rooftops, while being surrounded by the glorious combination of art, architecture, and flora located behind Palazzo Pitti — the former residence of the grand dukes of Tuscany.
Palazzo Vecchio
Dante's death mask, or one of them anyway, is actually based at Palazzo Vecchio, Florence's town hall/museum that's filled with glorious art and cool secret passageways, plus a 95-metre-high tower that boasts incredible views of the city. Family-friendly tours of the secret passages are fascinating for even the youngest of budding symbologists and, in 2018, tours of the Vasari Corridor will begin again after an extensive renovation of the passageway that connects Palazzo Vecchio to the famed Uffizi art gallery and extends across the River Arno to the Boboli Gardens.
Venice
St. Mark's Square
At sundown, the west-facing façade of Venice's Basilica di San Marco positively gleams. The cathedral's exterior is adorned with gold mosaic tiles that reflect the light from the setting sun, so the bustling St. Mark's Square — with its cafés and musicians and tourists and gazillion pigeons — is bathed in a glow that can only be described as ethereal. And inside the basilica, the walls and vaults are decked out in more than 8,000 square metres of mosaics. Hopefully, the next time Professor Langdon heads to Venice, he'll be able to linger a little longer. When planning your visit, maybe don't include saving humanity from a billionaire geneticist on your itinerary.
Corinne McDermott is the editor of Movie Entertainment.