The Many Faces of Jack Black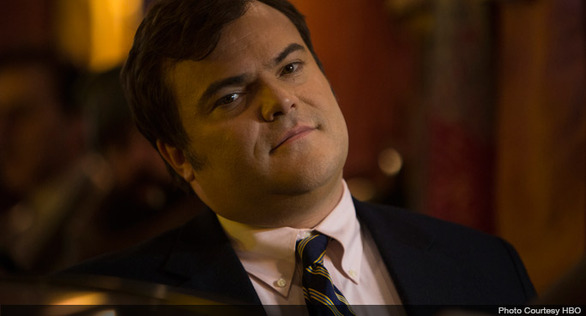 He may seem like Hollywood's go-to guy for 'lovable loser,' but a closer look at Jack Black's resumé reveals a wonderfully versatile actor.
But he trades in his signature slacker shtick for comparatively higher-brow fare, not to mention a suit and tie, co-starring as a U.S. Foreign Service officer (alongside Tim Robbins and Pablo Schreiber) in HBO's dark geopolitical satire, The Brink. Going from big-screen comedies, such as the mega-hit School of Rock, to this small-screen series about a trio of men trying to thwart a Third World War may seem like a stretch, but it really isn't. Over the years, and in roles large and small, Black has carved out a rather impressive and diverse career for himself. Here's a look at a few of the talented actor's many incarnations.
The Action Star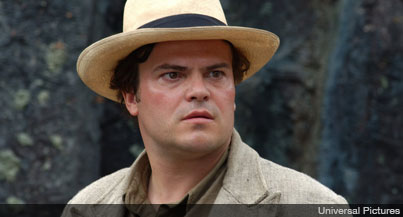 Sure, he might not be performing death-defying stunts, but Black has certainly dipped a supportive toe into the action-film genre. In 1997's The Jackal, he's a skilled gunsmith who makes the mistake of being too big for his britches when he encounters the titular assassin (Bruce Willis). His computer-hacking geek in the Will Smith action-thriller Enemy of the State (1998) plays a key role in the government-conspiracy proceedings. In the 2005 King Kong remake, Black battles an enormous gorilla (and dinosaurs!) as a director more interested in getting the shot than getting the heck off an island that's home to an enormous gorilla (and dinosaurs!). By contrast, his Lemuel Gulliver in the 2010 adventure-comedy Gulliver's Travels is the lumbering behemoth terrifying a land full of teeny-tiny humans (including Emily Blunt and Jason Segel).
he epitomizes "directionless stoner"
The Goofball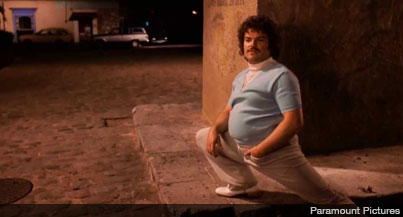 Hands down, this is Black's money-maker. His list of credits in this regard is long (Saving Silverman, High Fidelity, Year One, Nacho Libre, and, in some way, just about every film he makes), his skill unmatched, and his success can be chalked up in large part to the relatable heart beating under his characters' bumbling, slovenliness and unconventionality. He's always lovable in a rumpled, awkward, goofy way. A couple of his best turns might be two of his least seen, though. In 2002's Orange County, he epitomizes "directionless stoner" as the undershirt-clad slacker older brother of Colin Hanks. And, as a magnetized film fan who accidentally erases the entire contents of a video store in Be Kind Rewind (2008), he demonstrates a keen knack for nailing writer-director Michel Gondry's whimsical sensibility.
The Romantic Leading Man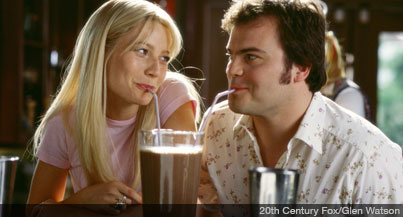 Though this remains somewhat unexplored territory for Black, his first major rom-com forays prove it's a face audiences love. After all, is there anyone who isn't charmed by his endearing work in Shallow Hal (2001), in which his character goes from superficial cad to Gwyneth Paltrow's super-sweet boyfriend once he learns to see the beauty inside others? (Cue: awww.) And as Miles, a Hollywood composer helping Kate Winslet forget the heel who broke her heart in 2006's The Holiday, he easily rivals co-star Jude Law in the swoon-worthiness department. (Two words: Iris' melody.)
The Serious Actor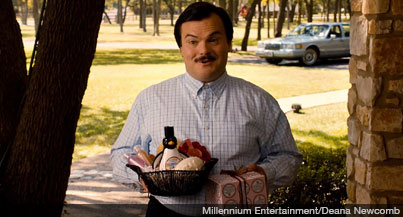 As with many big-screen funnymen – see: Robin Williams, Tom Hanks, and Steve Carell, for starters – Black possesses great comedic timing and some serious acting chops. He's terrifically creepy as the obsessed fan of Tim Robbins' Republican Senate candidate in 1992's Bob Roberts (1992), and eschews laughs as Craig Poncelot, the younger brother of Sean Penn's death-row inmate, in the Oscar-winning drama Dead Man Walking (1995). But perhaps his best, most nuanced work comes in director Richard Linklater's Bernie. Though the 2011 film is ostensibly a comedy, Black's performance as the real-life funeral-home director who befriends – and then murders – a wealthy curmudgeon (Shirley MacLaine) is unlike anything else he's done. In a good way. (It also landed him a Golden Globe nomination.) Fans take note: he'll also star as author R.L. Stine in the highly anticipated big-screen adaptation of Goosebumps later this year.
The (Cartoon) Voice
Who says your face has to be seen onscreen in order for a performance to be memorable? Black's distinctive voice and speech cadence make his work in animated features just as strong and easily identifiable as his live-action roles. He's the volatile, chatty, sabre-toothed cat Zeke in 2002's Ice Age, and also the sensitive, vegetarian shark Lenny, who's rejected by his ruthless family in the underwater family film Shark Tale (2004). Two different turns, same great delivery. And, while those films were successful, Black struck gold with 2008's Kung Fu Panda. In it – and its two sequels (the third film in the series is expected to hit theatres in 2016) – he's Po, a portly, kung-fu-and-food-loving panda who becomes a uniquely gifted warrior despite seeming, on the outside, completely unfit for the job. In a way, it's the perfect metaphor for Black's own rise through the Hollywood ranks.
Vickie Reichardt is a freelance entertainment and lifestyle writer.