Jay Pharoah Is White Famous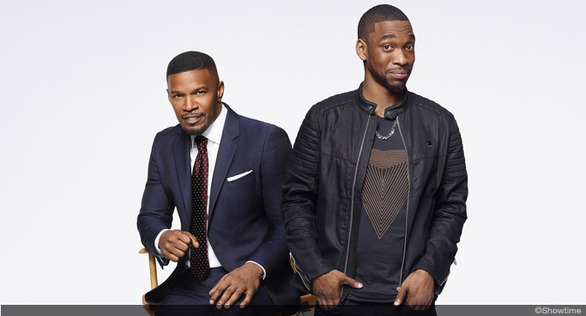 The SNL alumnus stars in a new Showtime comedy about break-out celebrity...
"This very proud brown man is trying to make you a very successful black man..."
"Don't you want to be so famous that you transcend colour?"
It's a question posed right off the top of White Famous, a comedic, cautionary tale about Hollywood that stars Jay Pharoah.
Pharoah, who shone on Saturday Night Live with his spot-on impersonations of former U.S. president Barack Obama, plays a young African-American comedian named Floyd Mooney.
The guy asking the question about colour is Mooney's go-getting agent, Malcolm (Utkarsh Ambudkar from Pitch Perfect).
"This very proud brown man is trying to make you a very successful black man," Malcolm tells his reluctant client, citing some celebrity examples: "Obama. Tiger Woods. Will Smith before the Jada s***."
Add Jamie Foxx's name to that list. The Oscar winner hatched the idea for White Famous, basing it roughly on his own rags-to-riches story. He took it to Tom Kapinos, the writer, producer, and driving force behind David Duchovny's Californication. White Famous landed at Showtime, with executive producer Foxx doing double duty as himself in the pilot.
It's Pharoah, however, who is getting the big boost up the Hollywood ladder as the star of this series. The 29-year-old says working with and for Foxx — whom he has imitated for years in his act — is like a dream come true.
"I was such a big fan of Jamie Foxx when I was younger," he says on the phone from Los Angeles. "Getting to work with the man is surreal. He's a good guy."
Pharoah might never have aimed to get "white famous," but he always knew he "somehow wanted to end up where I am now."
He started out, like Foxx, doing stand-up in local clubs as a teenager. In Pharoah's case, it began when he was 15 in his home state of Virginia. Pharoah quickly made an impression with his impressions, including his whip-smart takes on Will Smith, Jay-Z, 50 Cent, Eddie Murphy, Chris Rock, Kanye West, and, in a scene largely improvised in the White Famous pilot, Denzel Washington.
"When I was a kid, I wasn't a typical 'I'm gonna sit down for 30 hours and become a physicist or a rocket scientist' or something like that," Pharoah says. "That wasn't me. I was a creative young dude who would just imitate [celebrities]. How do you spin that into something substantial?"
Pharoah found a way, starting with community-theatre efforts, hitting the comedy clubs, and testing his rap music chops.
In 2010, when he was 22, he landed on Saturday Night Live. A season or two later, he took over the Obama role from Fred Armisen, a move that often put him in the cold opening sketch of the show. Critics took note of his many celebrity impersonations; Rolling Stone called him the "Jimmy Fallon of 2 Chainz impressions." After six seasons, his stint on SNL ended — abruptly and, some felt, prematurely — in 2016.
In making his transition from impressionist and stand-up comedian to actor, Pharoah is drawing inspiration from Jim Carrey. "He can still probably do a gazillion impressions," says Pharoah, "but at the end of the day, you can't deny that he's a great actor." Pharoah would put Foxx and Eddie Murphy in the same category.
"I feel like everyone involved in the show, we're on a trajectory of stardom together."
He credits White Famous director Tim Story (Think Like a Man, Ride Along), as well as his co-stars (including Michael Rapaport, Cleopatra Coleman, Jacob Ming-Trent, and Ambudkar), for helping him find his feet as an actor. "I feel like everyone involved in the show, we're on a trajectory of stardom together."
Pharoah believes his performances improve as the series progresses — a notion that was confirmed when he received kudos from his boss, Showtime president David Nevins.
If Pharoah does become more famous, he has Foxx around to keep him humble. "Don't forget where you came from — no matter how big you get," was Foxx's advice. "Don't lose yourself, and have fun." Pharoah's character, Mooney, gets similar advice from a limo driver (played by John Witherspoon) in the series' first episode.
What makes him laugh on TV today? "I like Atlanta, I'm definitely watching that," Pharoah says. "Damon Wayans is really good on Lethal Weapon.
The guy who makes him laugh the most?
"This may sound ridiculous, but Jon Taffer," says Pharoah, who's hooked on the food and beverage reality show Bar Rescue. "He is freakin' hilarious. That guy needs to run for president!"
Pharoah has other acting gigs lined up, including starring opposite English actress Juno Temple in Steven Soderbergh's Unsane, which will hit cinemas in 2018.
He has no intention, however, of abandoning his stand-up career. Pharoah performed a year ago at Montreal's Just for Laughs comedy festival, declaring it, "a great experience. I had a lot of fun."
He returned to Canada in September of 2017 for his first show in Toronto as one of the headliners of #JFL42.
Who knows? Someday he might even become Great White North Famous.
Bill Brioux is a Toronto-based freelance journalist and contributor to Canadian Press.