Jeff Daniels… Dumb—and Smarter, Too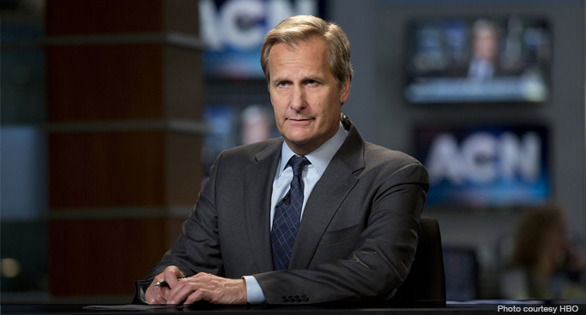 Jeff Daniels morphs easily from the intellectual Will McAvoy to the less-than-intellectual Harry Dunne.
'I admire Jeff Daniels as William McAvoy—he does the news the way it's supposed to be done.'
As the charismatic Will McAvoy, he removes his microphone, steps away from his ACN anchor desk and the cameras, and strides through the hyperkinetic newsroom to his office sanctuary. Plopping into a cushy chair after a hard day, in front of a photo of him with President Barack Obama, McAvoy cracks a smile and easily morphs into the actor Jeff Daniels, star of The Newsroom.
Relaxing in his character's office, Daniels—who has won an Emmy for his portrayal of anchorman McAvoy—chuckles at the fine line between reality and appearance, between real drama and television entertainment. Outside the office is an authentic-looking newsroom, with extras acting like assistants. But this isn't New York, where the fictional ACN is based. This is Hollywood, right off of Sunset Boulevard.
The Michigan-raised Daniels, a very youthful 59, tells a story about the annual White House Correspondents' Dinner that demonstrates the line Hollywood straddles: "They were handing out the journalism awards and asked each winner who they admired, and one of the journalists says, 'I admire Jeff Daniels as William McAvoy—he does the news the way it's supposed to be done.' The whole room laughed. What a compliment!"
With Drama Desk and Obie awards for his stage appearances, both on and off Broadway, Daniels has done everything from the Oscar-winning 1983 film Terms of Endearment and Woody Allen's The Purple Rose of Cairo in 1985 to blockbuster comedies like 1994's Dumb & Dumber. And yes, Daniels' numbskull character, Harry Dunne, is back with Dumb and Dumber To.
But The Newsroom is his first television series, and Daniels wants to talk about the challenge of not only playing a trusted anchor, but also showcasing Sorkin's gift for dialogue. (Sorkin won an Oscar for Best Writing, Adapted Screenplay in 2011 for The Social Network.)
There's a whole art to what anchors do with a teleprompter.
"I admire several news anchors and Brian Williams [of NBC Nightly News] is a good one. But the guys on Fox, who get all amped up, the guys on MSNBC, they're really good at what they do. There's a whole art to what anchors do with a teleprompter. And there's a way to do it that fits into their world of anchoring that I had to learn. Then there's a rhythm to Aaron's dialogue, like to Neil Simon, David Mamet, and back to Shakespeare. They write to a rhythm, it's almost musical. Once you find the rhythm, it becomes easier to learn and retain. And when you can get on top of it, then it becomes like singing a song—a very good song, in The Newsroom's case."
As for working on television, Daniels has enjoyed the experience: "It's so different than a movie where you have the beginning, middle, and end, and it's 120 pages, and you know exactly what happens. But with The Newsroom, we wouldn't know what happens the next week, and only found out when the script landed on the desk and we did the table read. But it was like Christmas coming every two weeks! And HBO is the Cadillac of networks!"
Fans of Harry Dunne will think Christmas has come early with Dumb & Dumber To. The versatile Daniels says "comedy is harder to do as you have to hit a smaller target." He likes being one of the guys who can do both, saying it's "fun to go back and forth."
He's jazzed about the follow-up to the comedy classic, saying that for 20 years, random fans have been telling him about their favourite scenes. Well, Lloyd (Jim Carrey) and Harry are back, and Daniels assures us that they're "still oblivious to their own stupidity." He adds that working again with his Canadian co-star was a thrill.
Like the original, the sequel was directed by Peter and Bobby Farrelly (Bobby went uncredited the first time around).
We left nothing in the locker room. It was like two pals going down the road.
"It took a while, but the Farrelly brothers said: 'Let's treat them like they're middle-aged and they're still clueless.' Jim, who's one-of-a-kind, helped with the script, and because he and I are friends, we had a great time filming. We left nothing in the locker room. It was like two pals going down the road. And if one of us needed some help with a setup or making a line work, the other was there for him. Truth is, that kind of working together doesn't always happen."
As for morphing into Harry from the intellectual, rapid-fire McAvoy, Daniels says it was surprisingly easy: "You sort of dump everything you've learned in the other room because you're not going to need that here!"
Ashley Jude Collie is a Canadian entertainment writer based in Los Angeles.