Jennifer Garner Goes Back To Work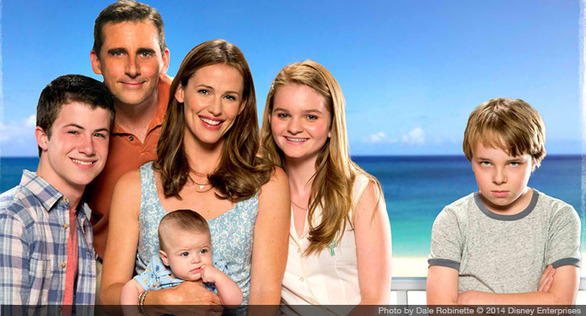 After a year of full-time parenting, this mother of three is set to return to the screen.
I've been home for a long time. It's my turn and I'm going to go to work.
2016 is shaping up to be Jennifer Garner's year. The mother of three, Girl Scout troop leader, and wife of the new Batman is going back to work this summer after taking a year-long break so that her husband could go to work pretending to save the world in a rubber onesie, hunt down his missing onscreen spouse in David Fincher's wildly popular adaptation of Gone Girl, and crunch numbers by day while snapping necks at night as a mild-mannered assassin in the upcoming action-thriller The Accountant.
The decision that Ben Affleck, Garner's other half since they fell for each other on the set of 2003's Daredevil, would spend a year working nearly non-stop while she stayed home to dive headfirst into her role as mom to the kids, ages nine, six, and three, was a strategic one. "I chose to stay home this year and just said, 'Go for it babe. Do it all. Do Gone Girl, do Batman, do The Accountant. Do everything.' I want that for him and I'm happy for him. And he says the same to me," Garner told Us Weekly in March. "I've been home for a long time. It's my turn and I'm going to go to work."
Pre-hiatus, the actor's last roles were eclectic: she starred opposite Kevin Costner in the sports drama Draft Day, played a frontline doctor during the early days of the AIDS crisis in Jean-Marc Vallée's multiple-Oscar-winning film Dallas Buyers Club, and goofed around with Steve Carell in Disney's Alexander and the Terrible, Horrible, No Good, Very Bad Day. "I really choose by what I like," Garner explained. "I thought Alexander was a super smart script. Just Steve [Carell] alone would have been enough. Gosh, I love working with that guy; he's just the best."
In that light-hearted comedy she plays the mother in a chaotic, disaster-prone family of six. It's one of only a handful of times that Garner has taken a mom role, which is a little surprising since the former West Virginian — who describes her no-makeup, no-pierced-ears, and no-bikinis upbringing as "just a step away from being Amish" — gives off such a palpable family-values vibe when it comes to her public image.
Or, maybe that maternal image comes from the fact that, until quite recently, we were inundated with online and grocery store checkout-line images of Garner walking her kids to school, dropping them off at dance class, buying them an ice cream, or taking them to a farmers' market. Garner/Affleck (and their non-famous kids) are a favourite subject of the L.A. paparazzi.
Garner has reported counting as many as seven cars following her when she exits the gates of her Pacific Palisades home in the morning. It was that level of harassment that motivated her to fight to get a bill passed in California that made it illegal to photograph or film a child without the permission of a guardian. It was enacted in September 2013. "It's been over a year, and there isn't a day that we don't talk about how different it is," she said in an interview with Yahoo. "If they're right outside your house, then when your kid wants to learn to ride a bike, it's very uncomfortable. They don't want to go biking in the middle of a photo shoot."
I'm ready to be on set and talk to grown-ups...send Batman in.
The new law likely gives Garner some peace of mind when it comes to her return to work. Before she was a mother, she'd planned on bringing babies (and, no doubt, nannies and tutors) to film shoots with her, but in practice found it wasn't a realistic way to raise kids. The tag-team parenting strategy is what works for her and Affleck, and Garner is eager for him to step into the ring. "I'm ready to be on set and talk to grown-ups," she told People recently: "Send Batman in."