Jim Carrey Was Dying Up There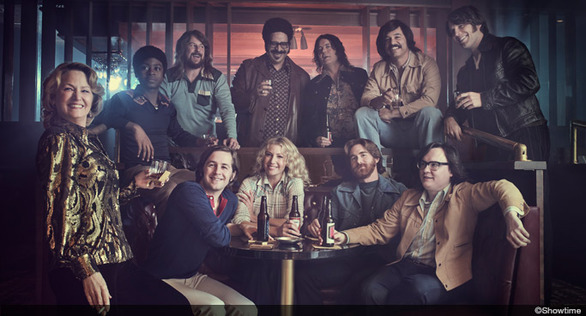 Jim Carrey produces a comedy-drama series set in the golden era of L.A.'s 1970s stand-up explosion...
Carrey was in a league of his own.
Jim Carrey is one of the most famous comedians on Earth. Yet, believe it or not, there was a time when he said to himself, "I'm dying up here!"
Which just happens to be the title of the new comedy-drama he is executive-producing for Showtime. Based on a bestseller by William Knoedelseder, I'm Dying Up Here is really about the birth of the stand-up comedy scene, specifically in L.A., in the '70s. It was a golden time when a new generation of comedians found their feet at such places as The Improv and The Comedy Store.
"It definitely was a phenomenon in the '70s and the early '80s, where so many stars, so many personalities, were born," Carrey says. He saw it all explode as a young kid from Canada who arrived on the scene in the early '80s. He remembers being awed watching so many "solid guys" on stage, people like "Letterman and Leno and Pryor."
Mixed in were dozens of lesser-known but sometimes even more outrageous comedians, including Sam Kinison, Andy Kaufman (whom Carrey later played in Man on the Moon), and Andrew Dice Clay. The goal for most was to get booked on The Tonight Show Starring Johnny Carson — the ultimate sign you'd made it. The explosion of talent eventually led to one of the most influential and enduring TV shows of all time: Saturday Night Live.
Carrey's comedy baptism had come earlier in Canada. In 1977, when he was 15, he braved an open mic night at Yuk Yuk's comedy club in Toronto. He bombed, but a year later tried again — and wowed the crowd.
When I first encountered him, he was already a sensation at a place called Tickles in Barrie, Ont. I was doing stand-up with a buddy from high school. As Bullock & Brioux, our fame spread over several streets in Etobicoke.
We thought we were pretty good, but when we saw Carrey own the crowd at Tickles, we basically quit. Carrey was in a league of his own.
Even as a teenager, he was a master impressionist. He would do both the Paul McCartney and Stevie Wonder parts on "Ebony & Ivory." He did hour-long sets, and between the laughter, you could hear a pin drop. There was no doubt he'd soon follow another Toronto comic — Howie Mandel — to Hollywood.
"Howie was the first guy that I saw go to L.A. and start doing pretty well," Carrey told me this year outside The Ice House, the famed Pasadena, Calif., comedy club that dates back to the early '60s. "And I went, 'Oh wow! — I can do this. I can actually go to L.A.' So Howie making it in L.A. was a big deal for me."
Carrey, of course, went on to become a comedy superstar, emerging first on the Wayans brothers' sketch comedy series In Living Color. He then had a string of hits including the Ace Ventura series, Dumb and Dumber, and The Mask.
Before that, however, he went through a phase where he was "dying up there."
"I stopped doing the impressions and I started doing straight stand-up," he says.
"I can't follow a road when I know where it's going and I don't want to be where it leads."
This baffled audiences as well as the manager of The Comedy Store, Mitzi Shore. (The ballsy comedy club owner portrayed by Melissa Leo in I'm Dying Up Here is somewhat modelled on Shore).
Imitating Shore's nasally voice, Carrey says: "She was one of the people who came to me and said: 'Whaddya doing? You're the king of impersonators, you're the man of a thousand faces, you're gonna be the greatest.' "
Carrey's reply: "I can't follow a road when I know where it's going and I don't want to be where it leads."
It wasn't that he didn't want to be the next Rich Little, says Carrey, referring to the Ottawa-born impressionist who used to kill on Carson. "I love Rich Little! I just didn't want to spend my life doing other people's material and other people's characters. And so I started experimenting with my own characters, my own stuff, in my own way."
He recalls one six-month stretch where he performed "without repeating a word I said the night before."
Where did he find the courage to take the harder road? "I dunno," he says, "I've just always been kinda nuts that way."
I'm Dying Up Here is about a group of young people in the '70s taking a similar leap.
Carrey is older now, and his grey beard makes him look more Duck Dynasty than Duck Factory (the short-lived series he did for NBC in 1984).
He can still relate, however, to a story about new kids looking for their big break. Some situations in the series come directly from Carrey's life.
He's also, at 55, ready for his next leap. Into television production? Allriiiighty then!
Bill Brioux is a Toronto-based freelance journalist and contributor to the Canadian Press.