J.K. Rowling's Magical Report Card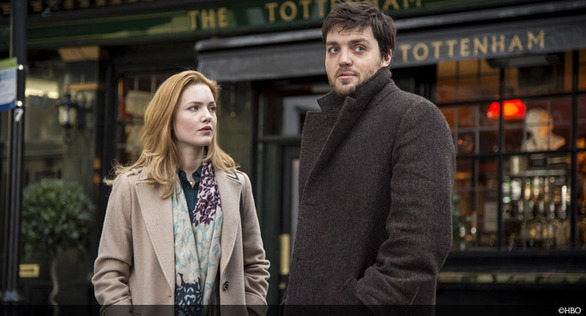 The new TV crime series C.B. Strike is grounded in gritty reality; other efforts by the Harry Potter creator, not so much...
Following up on the Harry Potter series has been a tall order for author J.K. Rowling. Given the fanatical success of the boy wizard and his Hogwarts cohort, Rowling's adult followups have met with critical eyes. Perhaps that's why she penned her Cormoran Strike detective novels under the pseudonym Robert Galbraith — to take some of that pressure off.
It seems to have worked. C.B. Strike, a seven-part series based on "Galbraith's" three novels (The Cuckoo's Calling, The Silkworm, and Career of Evil), debuts following a British release and plenty of critical praise. Tom Burke (The Musketeers) stars as private investigator Cormoran Strike, an army vet who puts on his gumshoes to solve cases in and around London. He and assistant Robin Ellacott (Holliday Grainger, The Borgias) take on some of the biggest mysteries around, putting themselves in danger in the process.
The series is proof that Rowling might finally have found the perfect balance between the magic formula that makes a series or film special, and writing that's grounded in reality and relatable. Speaking of which, here's how her other big- and small-screen projects stack up.
The Harry Potter series
Magic Formula
There's everything magical about a boy wizard and his friends attending wizard school while fighting off an evil presence intent on taking down humankind. These films were a smashing success both in story and in Rowling's amazing world-building, which captured imaginations everywhere. The fact that the movies followed the same child actors as they grew up made viewers even more invested in their fates.
Grade: A
Grounded in Reality
Although kids wouldn't instantly pick up on some of the movies' underlying themes of race, class, and human rights, Rowling intricately wove them into a classic battle of good versus evil. Of course, when problems can be solved with wands and potions, you tend to lose some of the reality of the situation.
Grade: B-
Magic Formula
This 2015 miniseries was a much more adult offering than Rowling's previous works, as it explored the relationships and conflicts among the citizens of a small English village. It was the strong cast of characters and their complex backgrounds that wooed audiences this time around, although that character-study format was criticized by some as being a little too slow.
Grade: C
Grounded in Reality
So long as there are human beings there will be conflict — and politics to help push that conflict along. Rowling perfectly encapsulated this with a parish council election and characters willing to go to great lengths to win.
Grade: A-
Magic Formula
People weren't quite ready to leave the wizarding world once Harry Potter's story wrapped up, so Rowling continued the journey with this prequel featuring the shenanigans of one Newt Scamander. By moving the plot from England to New York, creating a new lexicon, and introducing a range of magical creatures, Rowling managed to birth an entirely new world while still fostering that special aura her audiences expect.
Grade: A
Grounded in Reality
This was the first flick of what is to be a five-film franchise, so it's hard to say just how real things are going to get. But for now, fear of the other or unknown is the predominant underlying theme for Newt and his companions. The inaugural film slowly introduces some of the title beasts and creates a magical world set in the 1920s. Naturally, that doesn't leave much room at all for reality.
Grade: C-
Amber Dowling is a Toronto-based writer and the founder of TheTVJunkies.com.