J.K. Simmons: Good Enough To Be Bad Enough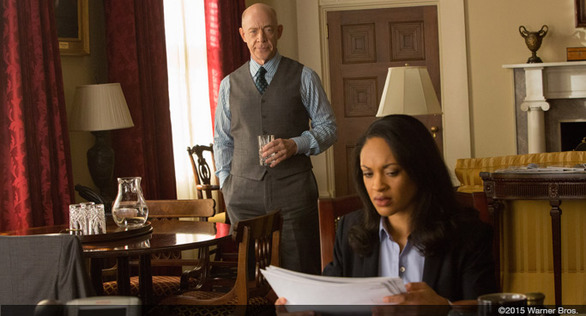 The Accountant's J.K. Simmons proves that the end justifies the meanies...
Even now, with an Oscar on his shelf, J.K. Simmons self-deprecatingly describes himself as a, "bald, journeyman character actor of a certain age." On that note, while promoting his role in The Accountant as an obsessed Treasury agent on the trail of an autistic hit man played by Ben Affleck, he repeatedly joked about the bravery of casting him, Jeffrey Tambor, and John Lithgow in the same movie.
But Simmons — who worked as a stage actor for 20 years before anybody saw him in any significant role onscreen — carries more badass gravitas these days than his self-assessment implies.
Look no further than a role he turned down on account of his busy schedule (which includes the role of Batman's pal, Commissioner Gordon, in this year's Justice League). When he said no to Kong: Skull Island, the producers went straight to their equally tightly wound second choice — Samuel L. Jackson.
That's when you know you've been typecast as a badass.
It's all at odds with the good-natured, avuncular guy you meet when you interview him (who is much more like the understanding dad he played in Juno). But the image of J.K. Simmons as either a bad guy or good-bad guy is easy to trace.
His face might put you in mind of Vernon Schillinger, the neo-Nazi inmate he played in HBO's prison drama Oz, arguably one of the scariest characters in television history. You might have watched him for years as no-nonsense psychiatrist Dr. Emil Skoda in Law & Order, or on the big screen as the hollering Daily Bugle editor J. Jonah Jameson in the Tobey Maguire Spider-Man movies.
Or you might remember him for his Oscar-winning role as Terence Fletcher, the sociopathic jazz teacher who literally beat the timing into his students in Whiplash. After all the years of heaviness, Simmons says it was the muscular Fletcher who first brought fear into the eyes of people on the street.
"A few years before Whiplash, I'd put on weight for a movie, and I was just a fat piece of crap," he told me. "And when I got the script, I decided to get healthy and get fit again. It fit the character. He was very meticulous and very together. He's a guy whose intimidation has always been partly physical.
"His apartment was spartan. The only thing he has in his life was his exercise equipment. So about the time I was getting ready to film Whiplash, I was doing A Few Good Men on Broadway. And one day I remember I was walking three or four blocks to the theatre. I wasn't consciously trying to be intimidating, but at one point some guy says: 'Damn, I'm getting out of your way!' "
...it was all about sticking in and hanging in there, because there didn't seem to be anything else I was capable of doing.
The exact opposite of an overnight success, the Detroit-area native — born Jonathan Kimble Simmons — says he was less than motivated early in his life. After an injury sidelined his high school football career, Simmons entered what he has called his "hippie" phase, during which he became a music major at the University of Montana and then moved to Seattle.
"I went ahead and got my [Actors'] Equity card in Seattle for the Seattle Repertory Theatre. I had no idea this was what I wanted to do until I woke up and found myself doing it in my twenties. For me, it was all about sticking in and hanging in there, because there didn't seem to be anything else I was capable of doing.
"In New York, I was starving and I couldn't even get a job waiting tables. Seriously, if I'd had any other saleable talent, I'd have gone ahead and done that. I wouldn't be sitting here talking to you right now."
Being one kind of nasty authority figure or another has turned out to be a pretty good gig for J.K. Simmons. Ray King, the about-to-retire Treasury agent he plays in The Accountant, is nonchalant about blackmailing a young agent (Cynthia Addai-Robinson) to do his dirty work. "He's an alpha male, which is something I play a lot," he says. "And most of the characters I play are a lot smarter than I am."
He admits he's a lot more laid-back about the dark side he's called upon to play these days. "Earlier in my career, when we were doing Oz and things like that, I tended to take stuff home with me a lot. If I was doing something dark and heavy, it stuck."
But by the time he was in Whiplash, he'd changed his approach. "After Miles [Teller] and I would finish a take, we'd joke around and have a good time — after I'd got done spitting in his face for five minutes."
In real life, he says, "I want to live like Paul Reiser, the dad in that movie, who's just a nice guy who wants his kid to be happy. That's much more the camp that I fall into as a dad and as a person."
Jim Slotek is a Toronto movie critic and freelance entertainment journalist.