Oliver's Twist: The savvy satirist is at it again on Last Week Tonight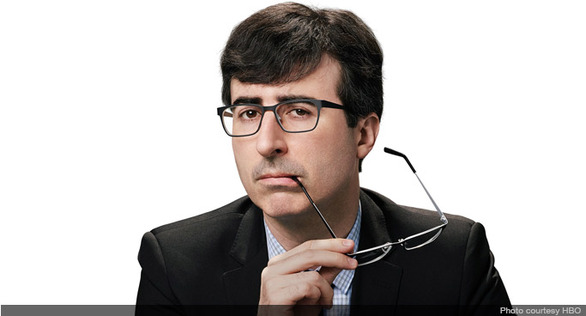 Ricky Gervais is many things: comedian, actor, writer, producer, and fearless awards show host. Add talent spotter to that list.
Several years ago, Jon Stewart was talking to Gervais. Stewart was down a correspondent or two on The Daily Show, and asked the British comedian if there were any up-and-comers who should be on his radar.
Gervais had never met John Oliver, but was a fan of his comedy work in the U.K., especially as an occasional guest panelist on the topical quiz show Mock the Week. He told Stewart that Oliver was his man.
There's no evidence Oliver ever paid Gervais 10 per cent of his earnings, but that would be a tidy sum by now. Oliver aced his audition, moved to the United States, and quickly established himself on The Daily Show as the cheeky "Senior British Correspondent." As part of the show's writing staff, the Cambridge University grad won three Emmy Awards in four seasons.
This led to various other acting jobs, such as his recurring role on the NBC sitcom Community, and his cameo in Mike Myers' The Love Guru. When Stewart stepped away from the The Daily Show's desk in 2013 to direct his film Rosewater, Oliver was asked to keep the host seat warm for eight weeks.
I'm sure some people thought, 'Get that British imposter off my favourite TV show.' "
That he did and more, drawing rave reviews for his summer stint. "Jon Stewart who?" declared Salon.com. "John Oliver's Daily Show is almost too good." The New York Observer added that "Oliver is the best thing to happen to Late Night since [Stephen] Colbert." Oliver himself was much more modest about his accomplishments. "I set myself the achievable goal," he told critics last summer, "of just not destroying that particular franchise. I'm sure some people thought, 'Get that British imposter off my favourite TV show.' "
Oliver was the first to make fun of his outsider status on The Daily Show. He had moved to New York, but getting a green card as a landed immigrant took years. He would appear to take umbrage during segments when somebody else insulted America, and in the next breath say, "You're right. They are crazy, aren't they?"
"You can kind of play it both ways," he says, "because I'm of no real fixed address at the moment. I'm a green card recipient, which means I can't vote and I am taxed." It's the very definition of taxation without representation, he realizes. "Now I get why you got so pissy about it all those years ago."
Buzz began to build that Comedy Central had found a successor if and when Stewart was ready to step off the "Daily" grind. While that never happened, other changes in late-night television — specifically, the news that David Letterman and Craig Ferguson were both abandoning their posts — led to speculation Oliver might be CBS-bound. Talks with CBS apparently took place. Three months after hosting The Daily Show, however, Oliver signed a deal with HBO to launch the new weekly satire Last Week Tonight with John Oliver.
"That's the equivalent of needing a babysitter and hiring a dingo."
The series began in April of 2014, but it was Oliver's rant in June exposing efforts to end Net neutrality that really launched the series. "Yes, the guy who used to run the cable industry's lobbying arm has now been tasked with running the agency regulating it," said Oliver. "That's the equivalent of needing a babysitter and hiring a dingo."
Where this message was heard loudest, ironically, was on the Internet. HBO — ever protective of its premium pay content — took the unusual step of posting large chunks of Last Week Tonight online. As of mid-December, Oliver's Net neutrality remarks had been viewed more than 7.3 million times on YouTube, about seven times the weekly audience for the series on HBO.
Over the next six months, Oliver hit viral bull's eyes on several other targets, including FIFA (international soccer's governing body); Dr. Oz; the Michael Brown shooting in Ferguson, Missouri; and even the Toronto municipal election. "Toronto, please, please," he urged, "let us laugh at your [mayor] for another four years."
The 37-year-old told the critics gathered in Los Angeles last summer that there are important differences between his show and Stewart's. Being on just once a week gives Oliver "extra time to have a different perspective on things," he says. "That's the attractive thing about being on at the end of the week — you can look backwards and forwards at the week coming." Instead of merely reacting to issues in the heat of the moment, he says, "We'll have a chance to take one step back. And I hope we'll make a virtue of that."
...since he moved to the U.S. in 2006, the nation "has been very generous in what it has offered up as joke subjects over the years.
The freedom to say what he wants and not worry about alienating potential sponsors was a big factor in Oliver's decision. "HBO, I think, is almost … the best sandbox you could possibly play in," he says. Oliver has seen the kind of freedom Bill Maher has enjoyed through 12 seasons of Real Time. He's happy to be unburdened of potential corporate backlash, and has been told that HBO officials are firmly in his corner.
Oliver expects he'll have no shortage of targets for continuing his brand of satire. He points out that since he moved to the U.S. in 2006, the nation "has been very generous in what it has offered up as joke subjects over the years. And American politics in particular is a circus of crazy that is unparalleled around the world."
Oliver waits a beat while that point sinks in with reporters. "And you can take that as both a compliment and an insult — I mean it as both."
Bill Brioux is a Toronto-based freelance journalist and contributor to the Canadian Press.