Johnny Depp Goes Rogue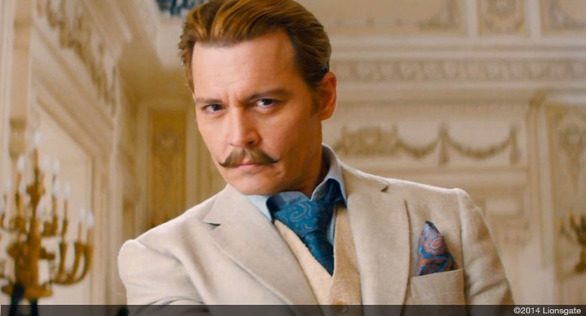 The hit-and-miss actor serves up whimsy with a debonair nod to Clouseau in the cutthroat art-world setting of Mortdecai.
Do you like charming yet unscrupulous lead characters in a throwback farce masquerading as a heist film? Are you still captivated by Johnny Depp, once the beguiling title character in Edward Scissorhands? If so, then forget what you might have heard. Mortdecai is much better than most critics declared. If you like your movies frothy and served up with a dash of Inspector Clouseau, you'll be pleased.
As Depp himself has said about Mortdecai: "Mort plays an art dealer, who is without question as sleazy as you can be. A rogue. And there are farcical Peter Sellers-Pink Panther qualities in this romp."
And Depp still has very good comic timing, regardless of what disguises he dons these days — from his insanely craggy Keith Richards look as Captain Jack Sparrow in the Pirates of the Caribbean series or Tonto's crow headdress in The Lone Ranger to his lush handlebar moustache in Mortdecai.
Mortdecai is based on the first instalment (Don't Point that Thing at Me) of a cult series of comic thriller novels by English author and champion swordsman Kyril Bonfiglioli. The 1970s series tracks the sometimes preposterous but always hilarious adventures of a dissolute, fey, and aristocratic art dealer, Charlie Mortdecai, who's accompanied on his escapades by his minder/manservant Jock Strapp.
The movie revolves around Depp's dodgy and almost broke lead character being hired by Inspector Alistair Martland, a former school pal played by Ewan McGregor, to help find a missing painting by Spanish master Francisco Goya. Martland is in love with Charlie's wife, Johanna (Gwyneth Paltrow), and the two vie for her affections. Cue the laughs and hijinks!
The scenes between Depp and the disdainful McGregor are wickedly seditious. As the thuggish but faithful-to-a-fault Jock, Paul Bettany silently steals some scenes. But the movie is about Charlie, and Depp nails his foppish antihero with charm.
Until then, he'd "basically been known as a television actor...
In many ways, Mortdecai's character is in Depp's sweet zone, the one we the audience created by wanting more offbeat, quirky characters since he enthralled us in 1990 with Edward Scissorhands. Depp has called that role his "most important of all." Until then, he'd "basically been known as a television actor and it put me on the road that I wanted to be on."
Despite Depp's otherworldly, Dorian Gray-like looks, Marlon Brando once called him "the most talented actor of his generation." Indeed, Depp chalked up some unforgettable portrayals in What's Eating Gilbert Grape, Ed Wood, Dead Man, Donnie Brasco, and Blow.
But except for Sleepy Hollow (with a worldwide gross of more than $206 million), none of his films hit box office nirvana … until he started playing Captain Jack in the Pirates franchise in 2003. "Prior to Pirates," he once said, "I'd been known within the confines of Hollywood as box-office poison. I'd built a career on 20 years of failures. Then you do a pirate movie and that buys you an island — the irony of it all!" (Depp bought a small island in the Bahamas in 2004 for $3.6 million after spotting it while shooting a Pirates of the Caribbean movie.)
However, some say Depp, 52, has become a caricature of himself, over-playing his offbeat whimsy, and that his idyllic Dorian painting in the attic has lost its lustre. Some of his recent movies, like The Rum Diary (with a worldwide gross of $24 million) and Transcendence ($103 million), have not done well financially. The Lone Ranger grossed about $260 million worldwide, but cost an estimated $375 million to produce and market.
People may be tiring of Depp's Ichabod-Crane / Jack-Sparrow / Willy-Wonka / Barnabas-Collins / Mad-Hatter / more-Captain-Jack shtick. But box-office success demands more of the same, and Depp will dust off both the Mad Hatter and Jack Sparrow in new movies.
So, do we need Depp to return to the future by going back to playing memorable characters like Gilbert Grape, George Jung, Ed Wood, and Mort Rainey?
The answer may be at hand. Depp's most recent release is Black Mass, the highly anticipated crime drama about South Boston's infamous mobster, Whitey Bulger. Reviews credit Depp with a terrifyingly realistic portrayal. Co-star Joel Edgerton simply said, "The way he captures Whitey Bulger is chilling."