Crashing Judd Apatow's Party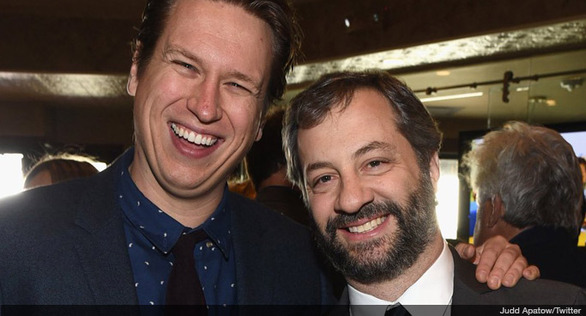 The king of comedy directs Crashing, a new HBO series about a New York stand-up comedian whose wife leaves him for an Italian boxer. Preposterous. A TV series about a New York stand-up comedian would never work...
Apatow still pinches himself over his success in the crazy world of show business.
Who has had a bigger impact on the world of comedy in the past 30 years than Judd Apatow?
From Freaks and Geeks to Funny People, from Knocked Up to Bridesmaids and Trainwreck, from The 40-Year-Old Virgin to Girls and now his new HBO comedy with Pete Holmes, Crashing, Apatow is the common denominator to what makes us laugh today.
In the past year, besides reviving Pee-wee Herman's career on Netflix with Pee-wee's Big Holiday, he also found time to re-test his own stand-up comedy chops. It was fitting, therefore, that he received the 2016 Generation Award last summer in Montreal at the Just for Laughs comedy festival.
And to think it all began with teenage Apatow bluffing his way into the homes of his heroes back when he was a comedy nerd.
"I would cold-call them and pretend I worked for a real radio station," he says of his teen years, "and then show up with my giant tape recorder and ask them everything I needed to know to help my career."
Now 49, Apatow still pinches himself over his success in the crazy world of show business.
The launch of Crashing comes during a particularly fertile streak for the writer/producer/director. Written by stand-up comic Holmes and directed by Apatow, the series features Holmes in a semi-autobiographical tale about a young New York comedian whose wife leaves him for an Italian boxer. Lauren Lapkus, Artie Lange, and T.J. Miller co-star.
Many of Apatow's projects are now headlined by women, including Girls, heading into a sixth and final season with Lena Dunham in the lead. Trainwreck, starring Amy Schumer, and Netflix's Love, starring Gillian Jacobs (Community), also have the Apatow stamp.
The women on all of those projects fearlessly delve into areas that aren't always flattering. Jacobs, in particular, pushes the envelope as to how far you can take an unlikable character in comedy.
"I've been a big fan of hers for a long time," Apatow says. "You're always afraid that you'll never find the actress who can play that part. Women who are amazing actresses, who can play drama and comedy, are rare … I was tracking her Community contract very carefully."
Apatow says he has been spoiled by working for HBO and Netflix. "I would never take anything to the networks," he says. He feels you just can't be in a creative collaboration with network executives — especially those who have suddenly replaced the guy who hired you.
He's been in situations where, he says, "I'm with some new guy who doesn't really like what I do — and that's the next year of my life."
Besides, he adds, the pressure that network executives are under to attract viewers "is impossible for my style to navigate. I've just never been able to do it."
Then there's the creative freedom. Episodes of Crashing and Girls on HBO or Love on Netflix can be as short as 25 minutes or as long as 40; Apatow enjoys the freedom to tell stories at his own pace.
He started his career by making comedies for the networks. First was The Ben Stiller Show on Fox (1992-93). A few years later came his breakthrough show for NBC: Freaks and Geeks. The series was cancelled halfway through its first season, yet — as he told his comedy idol, Jerry Seinfeld, on Comedians in Cars Getting Coffee — Apatow felt he had lived his dream and would have been satisfied if that had been his only shot.
The casting on Freaks and Geeks still makes him very proud. So many young, complete unknowns went on to careers in front of and behind the camera.
"We had a sense at the time that it was an amazing collection of people," he says. "The other day I did a brief cameo on a film James Franco is directing, and it's just fun to go: 'Wow, look at James, he's directing.' " Also part of the Freaks and Geeks cast were Jason Segel, Busy Phillips, and Linda Cardellini (Bloodline).
He's just as proud of a couple of Canadians whose careers he boosted: Seth Rogen (on both Freaks and Geeks and Apatow's follow-up Fox sitcom, Undeclared), and Rogen's fellow Vancouverite Evan Goldberg (who co-authored Superbad and Pineapple Express). Apatow's Undeclared also boosted the career of another Canadian: Jay Baruchel (Man Seeking Woman, Goon).
Some of Apatow's comedy collaborators live under his same roof, including his wife, Leslie Mann. They met on the set of the Jim Carrey movie The Cable Guy in 1996; Apatow was co-producing and Mann was acting. They worked together several times, including on Apatow's 2012 directorial effort This Is 40, where their two daughters, Maude and Iris, played the children of Mann's character.
"We don't want them chasing it," Apatow says of his teen daughters' careers. "We just try to do it very slowly and to always have them work with people that we know and trust."
Making it hard for Apatow to say no: "They're hilarious."
Bill Brioux is a Toronto-based freelance journalist and contributor to the Canadian Press.