Don't Call Kate Winslet a Movie Star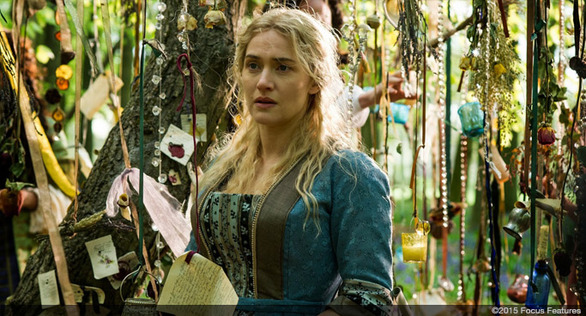 Even in the Gardens of Versailles, the star of A Little Chaos is resolutely down to earth...
...she's not as tough as she thinks...
"Kate is someone to learn from," Jim Carrey once said, espousing an attitude common among Kate Winslet's co-stars. "She is just so good at what she does, and so smart.
"And the best thing of all," he added, "is she's not as tough as she thinks."
That may sound like a backhanded compliment from Carrey, but it isn't. He knows there's no doubting her talent or her toughness — indeed, Carrey's proximity to Winslet in Eternal Sunshine of the Spotless Mind was a big reason why the funnyman delivered his career-best dramatic performance in Michel Gondry's sad, surreal love story.
Yet inside Carrey's affectionate observation is an astute comment about Winslet's thoroughly unpretentious off-camera demeanour, a product of her working-class background in Reading, England, where she grew up the daughter of a barmaid and a swimming pool contractor. That seemingly tough attitude might be her means of protecting herself in an industry that can be very rough on sensitive souls.
In any case, there's no lack of strength or vulnerability on display in Winslet's huge range of performances over the last two decades. Her ability, energy and sensitivity as an actor were obvious even in her breakthrough part in Peter Jackson's Heavenly Creatures as one of two teenage friends whose vivid fantasy lives and passionate bond lead to murder.
Barely stopping to rest in the intervening years, the now 40-year-old Winslet seems just as formidable as a crucial ally of the Apple mastermind portrayed by Michael Fassbender in Steve Jobs, a movie that may add to Winslet's Oscar tally of five nominations and one win. And that's just one in a spate of new showcases for Winslet — audiences can also expect to see her in the Australian drama The Dressmaker, the crime thriller Triple 9, and an adaptation of Nick Hornby's bestselling novel Juliet, Naked.
In A Little Chaos, a witty and engaging period drama directed by Winslet's fellow thespian Alan Rickman, Winslet plays Sabine De Barra, an unconventional gardener in the employ of Louis XIV. Tasked with transforming a patch of wilderness into an outdoor ballroom in the legendary Gardens of Versailles, Sabine displays the same degree of diligence and dedication for which Winslet is revered by her peers.
But for all the acclaim she has garnered thanks to her seemingly tireless efforts, Winslet has retained a wary perspective on the stardom she achieved while still so young. Though already an Oscar nominee thanks to her supporting turn in Sense and Sensibility in 1995, she was relatively little-known when she auditioned for James Cameron's Titanic. Having doggedly pursued the role of Rose — the well-born beauty who falls for Leonardo DiCaprio's scrappier Jack — she knew it was a big opportunity. Yet she'd later admit she wasn't prepared for all the attention it brought. "I had to learn self-protection quite quickly," she said.
A different actress might've been content to coast after headlining one of the highest-grossing movies of all time. Instead, Winslet displayed a seemingly inexhaustible drive to challenge both herself and viewers who would've been content to see her in more romantic circumstances.
"My skin crawls if you call me a movie star," she once said. She's just as queasy whenever a fan asks her to sign a homemade drawing in the style of Jack's iconic nude portrait of Rose, which happens far more often than she'd like.
I'm not the pedigree kid. I'm not classically trained. I didn't come from the fancy home...
Though she's proud of her achievements, she regards her success with an air of disbelief. "This wasn't supposed to happen to somebody like me," she told Vanity Fair in 2008. "I'm not the pedigree kid. I'm not classically trained. I didn't come from the fancy home."
Perhaps as a result, she places more value on her family and her work ethic than anything else. That could be why she gave what may be her most powerful performance in Mildred Pierce, the HBO mini-series adaptation by director Todd Haynes of James M. Cain's Depression-era drama. Getting one letter closer to the entertainment world's fabled EGOT (Emmy, Grammy, Oscar, Tony) status — she's missing only the Tony — Winslet won an Emmy in 2011 for her wrenching portrayal of the title character, a hard-working waitress turned entrepreneur who becomes the epitome of maternal suffering thanks to her torturous relationship with her fame-hungry older daughter.
Unglamorous in just about every respect, the role of Mildred Pierce was perfect for one of the few A-listers who could plausibly claim that "I feel like I'm playing more of a role walking down the red carpet than when I'm playing an ordinary woman covered in sweat."
Despite being set in 17th-century France at its most lavish, A Little Chaos gave her another chance to strive for earthy authenticity. She was also bound to get a little sweaty in all those corsets, having been several months pregnant with her third child during the film's shoot.
Of course, that became just another opportunity for Winslet to show off her fabled fortitude. Jim Carrey may believe she's not as tough as she thinks, but she's still more than tough than enough to handle anything a movie shoot can dish out.
Jason Anderson writes about movies for Cinema Scope, FFWD, and the Toronto Star.