Kevin Hart: The Best Man Wins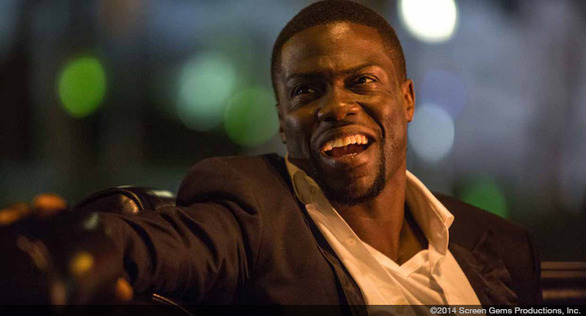 The Wedding Ringer's Kevin Hart is happy to buddy up but doggedly insists on putting business before friendship...
Already the biggest little man in Hollywood, Kevin Hart has a master plan to be everybody's best friend. Onscreen, that is.
"When I was growing up in Philadelphia, that was the golden age of the buddy movie," Hart told me on the eve of the release of his comedy The Wedding Ringer. "Richard Pryor and Gene Wilder, those were two guys on a pedestal. Eddie Murphy, anything he did with anybody. Then there were the Rush Hours and the Lethal Weapons; and then there was a void, for some reason."
The recent resurrection of the buddy movie, he submits, came in the form of two hit films: 21 Jump Street and Ride Along. The former, of course, was the 2012 Channing Tatum/Jonah Hill cop comedy, a reboot of the 1980s TV series that launched the career of Johnny Depp.
The latter was the 2014 comedy that starred Ice Cube as a surly cop who tries to scare off a guy (Hart) interested in his sister by taking him on the scariest ride of his life.
"Ice Cube and me, our connection is dope, man," says Hart, who is preparing to film Ride Along 2. "Our characters are partners now. There's a bond that's been built that people are going to love."
Not that that should surprise. As Hart notes, the secret of his success is: "I'm cool with everybody."
Is Kevin Hart actually someone who'll be best friends with anybody for money?
The past year has seen him in The Wedding Ringer, where he's a professional "best man." His job involves pretending to be anyone's best friend for a price (until he actually finds himself in "bro-love" with a particularly pitiful client, played by Josh Gad). In the spring, we saw Hart and Will Ferrell forge a bond in Get Hard, in which white-collar criminal Ferrell gets toughen-up lessons from a guy (Hart) he mistakenly believes to be an ex-convict.
Is Kevin Hart actually someone who'll be best friends with anybody for money? It's starting to look that way. As Get Hard was released in theatres, Hart began filming Central Intelligence with Dwayne (The Rock) Johnson (and at 6'4", won't he make a great sight gag alongside the 5-foot-4 Hart?).
"Dwayne is one of the best guys," he says. Their respective physiques notwithstanding, "we both are kind of the same person, hard workers. We want the most out of what we're doing. It's a combination for success."
In the film, Johnson "is a CIA agent who's being chased by the CIA after something happens. My character went to high school with him. We meet at a high school reunion and he uses my services to basically hack into the CIA. And we end up on the run together."
As if that's not enough friends for one lifetime, Hart has signed on to yet another pedigreed buddy flick. He'll co-star with Colin Firth in a remake of the French film The Intouchables — based on the true story of the relationship between a quadriplegic billionaire and his street-savvy African-born caretaker (which just happens to be the highest-grossing French-language film of all time).
"You're not going to be the hot new guy forever. Somebody else will come along."
When the Hollywood rights were first sold, the caretaker was to be played by Rush Hour's Chris Tucker. And therein lies a lesson Hart claims to have learned about Hollywood. On Jerry Seinfeld's podcast, Comedians in Cars Getting Coffee, he first expounded the theory behind his motto, "L.A. is undefeated."
"L.A. always wins," he says. "You're not going to be the hot new guy forever. Somebody else will come along."
The implication is that he's the guy who replaced Tucker in certain roles, and somebody else will eventually get the kinds of roles Hart has now.
So Hart hedges his bets. He has steadfastly continued to push his standup career, and is now one of the few comics who can distribute his live show profitably in theatres. His last concert film, Kevin Hart: Let Me Explain, took in $30-plus million.
He also bargains hard. During the North Korean cyber-attack on Sony, private executive emails were dumped online. And in one of them, it was revealed that Clint Culpepper, the president of Sony's Screen Gems division, had called Hart "a whore."
The reason: Hart demanded to be paid extra to use his Twitter account to promote Think Like a Man Too.
For his part, Hart shrugged off the leak and said there were no hard feelings. "I know my brand and I know my self-worth. It's hilarious that I'm considered a new face by some people. Nobody knows how long that road is. God, man, I started in 1998, and it's 2015 now. I've got 17 years in the business.
"But the road to getting to where I am now was so worth it — bumps, bruises, pain, heartache, ups and downs. It all literally prepared me for this level of success."
Jim Slotek is a writer and columnist with the Toronto Sun.