Kim Cattrall Is Comfortable In Her Own Skin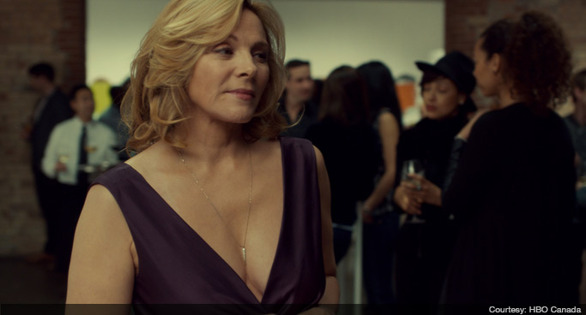 The star and co-executive producer of Sensitive Skin stands out in an industry where being female and over 40 can still mean being ignored.
Canadian actress and former Sex and the City star Kim Cattrall calls her new show, Sensitive Skin, "a half-hour comedy about a woman going through a midlife crisis," but don't expect 30 minutes of clichéd jokes about women and aging. There are no menopausal mood swings, and Cattrall's character is no "cougar." What Sensitive Skin promises is an honest and uncommon look at a woman in her 50s. Yes, it's a comedy, says the star, but the humour is heavy on irony and light on slapstick gags about hot flashes and lagging libidos.
The show, a Don McKellar-directed adaptation of a mid-aughts BBC series — that version starred Absolutely Fabulous's Joanna Lumley — sees Cattrall stepping into the shoes of Davina, a fiftysomething former suburbanite recently relocated to the heart of downtown Toronto. While SATC's Samantha Jones ruled Manhattan from atop a pair of towering Manolo Blahniks, clad in shoulder-padded Dior power suits, Davina explores her own urban jungle in Eileen Fisher-esque cashmere cardigans and silk singlets (with a black leather motorcycle jacket thrown in when she's feeling experimental). It's not just a different look for Cattrall — playing Davina has allowed her to inhabit an entirely new kind of character.
I mostly play very strong women who don't have this contemplative quality to them, but this character does.
"I'm always interested in telling a story that's from a woman's point of view — of course, I am a woman," says Cattrall, taking a break on the set of Sensitive Skin to talk about the new show. "I mostly play very strong women who don't have this contemplative quality to them, but this character does."
It's hard not to contrast the contemplative and unsure Davina with Sex and the City's Samantha. The latter is, after all, the character for which Cattrall is best known. Famous for her brash one-liners, Samantha redefined what it meant to be a single woman in her mid-40s. She was powerful and independent. She celebrated her sexuality. She knew what she wanted and never thought twice about going after it.
Davina, by comparison, is a little lost. In Sensitive Skin, we're looking at a woman in search of herself.
More significant than the differences between Cattrall's two character studies, however, are the similarities in the types of roles she takes on. She recalls trying to get Sensitive Skin made: "Everybody was interested in it, but nobody could really understand what it was, much like Sex and the City, in the sense of, 'Well it's a half-hour show about these single women in New York, so what happens then?' Well, it wasn't just about sexual exploration. That show, like this show, is not just about middle-age crazy. It's much more than that — it's based in truth — some of it's my truth, some of it's the writer's truth — about relationships, about love, about loss, about confusion, about isolation, all of those things."
What Cattrall is chiefly concerned with is portraying women of a particular age — the over-40 (and-seemingly-forgotten-by-Hollywood) age — in ways that engage an audience while making plain the fact that women in their 40s, 50s, and beyond have important, compelling, and funny stories to tell.
"We might consider them out of date, or that they don't have something to say, that they're not viable and vibrant, and that's just not the case in your 50s," Cattrall says. "In your 50s, what I have been experiencing, is a tremendous amount of growth and exploration. And the satisfaction of knowing who I am and what my life has been about."
With Sensitive Skin, Cattrall continues a practice she started with Sex and the City: pushing back the arbitrarily imposed boundaries of age and explore territory largely untouched by mainstream Hollywood.
"For me, especially in this point in my career, in my life," she says, "I want to take on things that I haven't tried before, and I want to discover not just my strengths or weaknesses as an actress, but to explore really what it is to be human."
Corrina Allen writes for Entertainment on TheLoop.ca