Game of Thrones' Kit Harington Dodges Hot Lava in Pompeii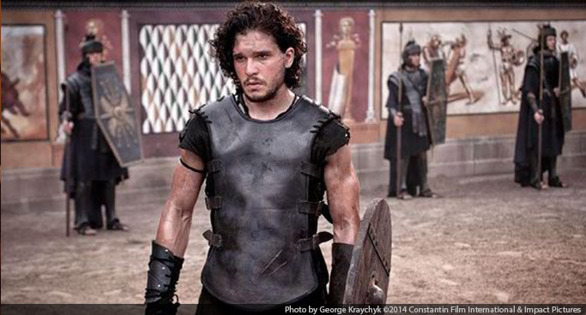 "I thought, 'This guy looks like a movie star.' "
When Pompeii director Paul W.S. Anderson first saw Kit Harington on Game of Thrones, he didn't just see Jon Snow, bastard son of Ned Stark and member of the Night's Watch. He also saw a star on the rise.
"It's a terrific show and it's got a terrific cast," says Anderson, who got hooked on the show after bingeing on the first two seasons with his wife, Milla Jovovich, the face of the British filmmaker's Resident Evil franchise. "But for me, there was one person who I felt really popped and that was Kit. I thought, 'This guy looks like a movie star.' "
Anderson chose Harington to be his leading man for Pompeii, and is hardly the only viewer to be impressed by the young Londoner, who was a virtual unknown when he was cast for the HBO series. Indeed, Harington's only professional gigs up to that point had been for the stage – he earned his first raves for starring in War Horse just as he was finishing drama school.
"I've got a very baby face underneath all of this fuzz."
Obviously, taking on the mantle of playing one of George R.R. Martin's best-loved characters was a daunting challenge for any young actor. Then again, Harington was surprised to have such an opportunity at all. As he confessed to GQ this year, "I didn't really think I'd be a leading man in any respect whatsoever. At drama school in my third year, I was resigned to the fate of being Young Male Rape Victim No. 2. That was the kind of category I was put in. I've got a very baby face underneath all of this fuzz."
But over the course of Game of Thrones' four seasons, Harington's rugged charisma and brooding good looks have helped make Jon Snow the most compelling of the show's heroes (at least of those characters who still have their heads on their shoulders).
Now, like many of the series' breakout performers, Harington has demonstrated his talents beyond the borders of the Seven Kingdoms. In Pompeii, he starred as Milo, a Celtic warrior who is enslaved and brought to fight as a gladiator in the ancient Roman city of Pompeii. As the nearby Mount Vesuvius gets ready to blow its top, Milo must not only do battle in the arena but also woo the highborn maiden Cassia (Emily Browning) and rescue her from a powerful general (Kiefer Sutherland at his most wicked).
To get fit for the movie, the five-foot-eight Harington trained six days a week and stuck to what he calls "a fierce diet." As he learned from his days battling the elements while shooting Game of Thrones in Iceland, he knew that achieving the right physicality for Milo was the key to creating a plausible performance of a man on "a mission of vengeance."
"You see at the beginning of the film how his family was slaughtered before him. And because of that, he doesn't believe in anything," Harington says of Milo. "He's on a path–a death wish, really. I kind of liked that about him. He's gonna kill as many Romans as he can–he doesn't really care about anything until he meets Cassia. But, of course, the volcano goes off and everything goes wrong!"
A trouper to the last, Harington committed himself fully to the business of creating Pompeii's brand of blustery mayhem, which he describes as "lots of fights and lots of explosions and lots of excitement."
"I was an idiot..."
Fortunately, he escaped the shoot with his limbs intact, which is no small thing given his rockier history with Game of Thrones. Just before shooting for the third season began in 2012, he shattered his ankle while trying to climb into the second-floor window of his apartment. "I was an idiot," he said at the time of the injury, chalking it up to too much drink and the usual delusions about the "invincibility of youth."
Having described his role on Game of Thrones as "a pipe dream for an actor," he seemed embarrassed to have taken such a foolish risk. And even as other opportunities for big movie roles have come his way, he remains committed to doing right by all the readers and viewers who care so much about Jon Snow. As he says, "I know I'm having to live up to high expectations."
That he's done so while maintaining a self-deprecating brand of humour and evident sense of discipline has further endeared him to Thrones fans. And with yet more big roles on the horizon – like the fantasy action flick Seventh Son with Jeff Bridges and the British drama Testament of Youth, not to mention Game of Thrones' Season 5–he's not letting his imminent stardom get in the way of what matters to him.
"I don't do Twitter because I don't want to talk about myself more than I already have to," he told Rolling Stone magazine this year. "I don't want people thinking they know me instead of the character."
Jason Anderson writes about movies for Cinema Scope, FFWD, and the Toronto Star.