Marc Maron and building a better podcast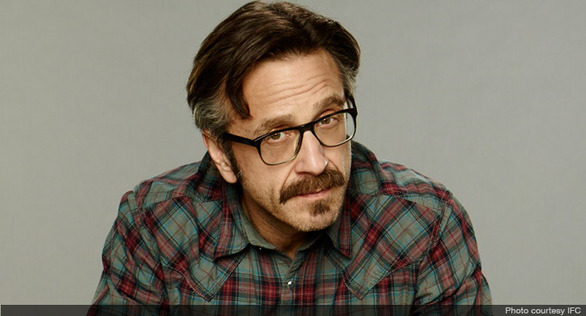 Smart talkers like Marc Maron create must-hear hits.
The result was the kind of candid showbiz shoptalk that regular folks rarely get to hear.
And if he weren't so good at evading security guards, he might not be where he's at today. Back in 2009, the stand-up comedian and future star of the TV sitcom Maron was at a low point in his career after the cancellation of his third show for the radio network Air America. But when his bosses neglected to ask Maron to hand in his keycard, they inadvertently enabled the funnyman's real breakthrough.
Maron secretly recorded the first episodes of his WTF podcast at a studio at his former place of employment. Early guests included comedian friends like Patton Oswalt, as well as other performers he admired, all of whom were invited to ramble, rant, dish, and do whatever else they wanted. The result was the kind of candid showbiz shoptalk that regular folks rarely get to hear. No wonder so many people wanted to hear more – WTF would soon top the podcast charts, tallying more than 100 million downloads.
The furtive nature of WTF's beginnings points to a big reason that podcasts inspire loyalty: The best are made out of their makers' passion for what they do and what they care about, regardless of commercial considerations.
Still, it takes a lot to stand apart from the innumerable gabfests that have cropped up in the decade since Apple added podcast support to iTunes, thereby turning a peripheral Internet pursuit into a pop-cultural phenomenon. While great podcasts often break the mold, aspiring masters of the medium are wise to abide by these rules if they want listeners to stay loyal.
1. Go deep with your interview subjects: Whether his guest is Louis C.K. or Anthony Bourdain, Maron has a knack for getting subjects to open up. Indeed, the informal circumstances (he now records in his garage) often elicit the sort of exchanges that could never happen if the speakers had to worry about time constraints and restrictions on profanity. Actually, given Maron's fondness for the f-bomb, a censored version of WTF would be one long bleep interrupted by cackles. Which would still be pretty funny.
2. Be wicked smart: Thanks to the podcast boom, it's never been easier to become an instant expert on any subject. But so what, if it all leaves the listener's brain two minutes after the show is done? For fascinating journeys into the worlds of science and philosophy, try Radiolab, the podcast institution that won a coveted Peabody Award in 2010. With Hardcore History, Dan Carlin puts a fresh take spin on world-changing events. And even if the guests on TED Radio make you feel stupid and lazy, you'll still be happy to have their company.
3. Tell great stories: This American Life has built an earnest media empire on this principle, making celeb authors and speakers out of Sarah Vowell, David Sedaris, and Mike Birbiglia. Then there's The Moth Podcast, the online incarnation of a movement that encourages people to get onstage to tell their own stories and tell them well. Sometimes it's even more fun when the stories aren't so great – the Canadian series Grownups Read Things They Wrote as Kids celebrates the most cringeworthy juvenilia that we all hide in our drawers.
4. Try to solve a murder: A riveting series by two This American Life producers that delved into the murky circumstances of the murder of a Baltimore high schooler and the conviction of the victim's boyfriend, Serial became a must-hear phenomenon last fall. As a result of the surge of public attention, the legal team for convicted killer Adnan Syed made significant gains in their quest to get a court to hear the same evidence as Serial's listeners.
5. Cover the stories that the mainstream media won't: That's the mission of Jesse Brown with Canadaland, a fearless critique of media and politics in Brown's home and native land. The podcast played a big part in the downfall of Jian Ghomeshi, Brown having paved the way for other reporters with his investigation of allegations against the CBC host months before the story broke elsewhere.
6. Geek out and geek out hard: It used to be a lonely life being a nerd. Now there's no excuse for misfits not to feel included, thanks to geek-fests like The Nerdist Podcast. Comedian Chris Hardwick hosts this weekly love letter to all the obsessions that used to get you beaten up in grade school. That's just the tip of the nerd iceberg – you can get even geekier with DLC, an insider's look at the gaming world, and 11 O'Clock Comics, which breaks down the comics scene in forensic detail.
7. Be famous already: As in nearly every other facet of life, name recognition counts for a lot. That's not to say celeb podcasters like Kevin Smith, Ricky Gervais, and Bret Easton Ellis don't have the necessary chops. More surprising is how the podcast format's looser style makes certain media personalities seem much more palatable. For instance, fitness guru Jillian Michaels is far more likable on her podcast than she ever was on The Biggest Loser. Her dieting tips are way better than Marc Maron's, too.
Jason Anderson writes about movies for Cinema Scope, FFWD, and the Toronto Star.