A Sexual Revolution for the Masters of Sex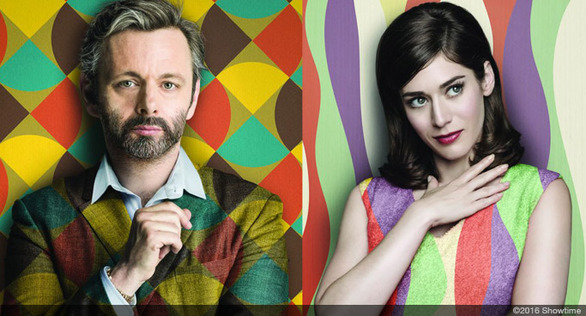 The series that began in the button-down Eisenhower era swings into the go-go Sixties and disco-ball Seventies...
The show is called Masters of Sex. The people who make it, however, might be called masters of time.
Loosely based on the real-life exploits of pioneering sexual-relationships researchers William Masters and Virginia Johnson (as played by Michael Sheen and Lizzy Caplan), Masters of Sex began airing in 2013. By the time it returns for a fourth season this month, it will have jumped ahead to the late 1960s and into the '70s.
That's quite a leap, not just in time and years but in styles and standards. Going from the staid Eisenhower era to the decade of disco would test any Hollywood set designer and costume department, not to mention any actor's range.
Few series, in fact, have attempted this back to the future trick before. Period shows such as Mad Men, Downton Abbey, and even The Wonder Years have followed characters through the years, but never raced decades ahead. The gap between Season 2 and Season 3, for example, was six years.
For Season 4, Masters and Johnson will have gone from being underground taboo breakers to full-fledged sexual celebrities. Landing on the cover of Time magazine in 1970 was definitely a breakthrough.
Sheen, 47, knew from the beginning that the series would move through time as the seasons went on. "Otherwise," he says, "we'll spend the whole time in the early '60s — and we've got a long way to go yet."
Interviewed on the set, the Welsh actor points out that the series began in "what we think of it as a very repressed time." Ads for titillating French movies starring Brigitte Bardot were banned in American newspapers. Pictures of semi-nude women in Playboy magazine, launched in the mid-'50s, were being denounced in pulpits across North America. You couldn't even say the word "pregnant" on television.
Flash forward to Season 4 and it is a much more permissive time. The new season will see Masters and Johnson, for example, teaming up on studies with Playboy founder Hugh Hefner. By the mid-1970s, even the conservative medium of television had moved into the "jiggle era" with shows such as Three's Company and Charlie's Angels.
Getting to act in these different eras, all in the same show, is a kick for Sheen. He gives full credit for the way Masters of Sex moves through the decades to production designer Andrew Jackness. "We're very lucky production design is so great on the show," Sheen says.
Jackness has earned an Emmy nomination for his work on the series. He had to concoct sex tools from scratch for the series, including the ultimate probing pleasure machine, "Ulysses."
Among the challenges he had to face on a larger scale was re-creating life in St. Louis in the late '50s/early '60s. He first had to do this in New York, where the original pilot was shot, then on soundstages in Los Angeles.
In the original pilot for the series, the interiors of Masters' home were shot inside a house on Long Island. "Outside was the river and it was beautiful," Sheen says. "We were filming at night and I remember seeing the moon reflected on the water."
The new Los Angeles-based studio set was stocked with all the latest kitchen appliances, including a dishwasher and an RCA TV set in the raised living room. Old school touches were the doctor's typewriter and notes.
Sheen feels Masters of Sex has to jump ahead through time in order for viewers to get the full story.
Jackness and his team also had to find classic cars to fit each character's personality. For Masters, he found a white, 1959 MG convertible — a bit daring and open for the otherwise buttoned-down doctor.
For the fourth season, the producers could probably just use Sheen's own classic British automobile — a 1969 Jaguar Type 2E.
Jumping through time means juicy roles for plenty of guest stars. Masters of Sex has seen star turns from Beau Bridges, Allison Janney, Josh Charles, and Sheen's current girlfriend, Sarah Silverman.
Season 4 will be no exception, with Canada's own Erin Karpluk (Being Erica) scoring several episodes as a patient whose marriage is in trouble in the bedroom.
Sheen feels Masters of Sex has to jump ahead through time in order for viewers to get the full story.
"The first season was about setting up a question," he says. "I suppose the question with Bill Masters is: 'How can a man who is so in control, so impenetrable and so imprisoned by this, get out? How can he leave this prison that he seems to want to stay in so much?' "
Maybe in that little white MG, or the Jag, but then again, maybe not.
Sheen sums it all up: "As the story goes on, life conspires — as it always does — to force you into looking at the very thing you are trying to escape."
Bill Brioux is a Toronto-based freelance journalist and contributor to Canadian Press.