Portraits of the Artists on the Big Screen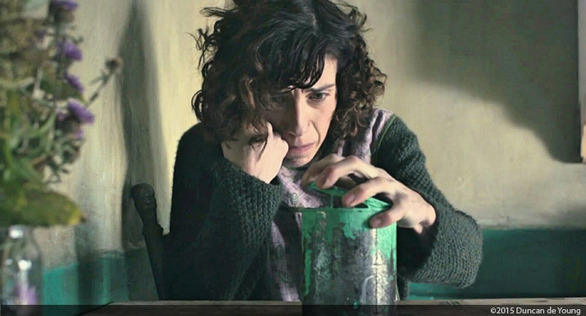 Maudie is the latest addition to a palette featuring towering talents trapped in surreal situations...
Art flicks are typically far from cheery.
Artist and muse, or more simply artist and provider — it's a familiar tale and one that's hardly new to the big screen. Maudie is the latest take, with Sally Hawkins in the role of Maud Lewis, a self-taught folk artist in the tradition of Grandma Moses, and Ethan Hawke as the fishmonger (later her husband) who grudgingly takes her in, telling her he's "the boss." There's a Canadian twist, too, with the film set in the artist's home province of Nova Scotia (but shot in Newfoundland).
Facing hard times, Maud takes up with the rough-and-tumble Everett Lewis, responding to his ad for "a woman to help around the house." He's quick to establish a pecking order, which finds Maud at number 3, behind his dogs and chickens. Needless to say, it isn't always smooth sailing for the pair — a situation not helped by their cramped quarters, a tiny shack. That home, painted inside and out by Maud, is now in the collection of the Art Gallery of Nova Scotia, along with a number of her other works.
Though crippled by arthritis, which made painting a struggle, Maud Lewis' simple themes and bright colours proved irresistible. As her art began to sell, Everett came to appreciate her efforts, though not the attention, their shack even becoming a popular roadside attraction. In an abrupt about-face in the film, he confesses to being unworthy of her, saying, "You can do much better than me."
She says no, she has everything she wants with him, putting a positive spin on an at times challenging film. Maudie will make you squirm a little, but its uplifting moments will get you through, just as the real Maud Lewis persevered despite all the hardships she endured. That's kind of the norm, however, as art flicks are typically far from cheery.
Lust for Life set the stage in 1956, with Kirk Douglas as Vincent van Gogh and Anthony Quinn as sometime pal Paul Gauguin, the latter earning an Oscar despite appearing on screen for all of eight minutes. They briefly shared a house in the south of France, where van Gogh peaked as an artist before things began to crumble. He famously relieved himself of a chunk of his ear, causing Gauguin to hightail it. It got worse, with van Gogh subsequently shooting himself, hardly the happiest of endings.
Surviving Picasso (1996) was also on the edgy side, hardly surprising considering that the prickly Spanish-born painter was portrayed by none other than Anthony Hopkins, who famously played Hannibal Lecter. This Merchant Ivory film tells of Picasso's relationship with the one woman who refused to bend to him, Françoise Gilot. She's played by Natascha McElhone, who now appears as Kiefer Sutherland's spouse and America's First Lady on TV's Designated Survivor.
That same year saw the release of Basquiat, with a fully coiffed Jeffrey Wright in the title role and the late David Bowie playing his mentor, none other than pop art giant Andy Warhol. Again it ends badly, Warhol's untimely death plunging Jean-Michel Basquiat into despair and eventually a fatal overdose.
Pollock (2000) was another hard watch, with longtime admirer Ed Harris both starring in and directing the film about abstract expressionist Jackson Pollock. But it was co-star Marcia Gay Harden, as his wife and fellow artist Lee Krasner, who took home the Oscar. The film finishes with a bang, literally, Pollock perishing after a drunken joyride.
And of course there's 2002's Frida, with Salma Hayek and Alfred Molina as artists and lovers, Molina playing Diego Rivera. After a life of ups and downs, the underappreciated Frida Kahlo dies young, just 47.
The next year saw the release of Girl with a Pearl Earring, with Colin Firth as Dutch master Johannes Vermeer and Scarlett Johansson as his muse and model Griet, the subject of his most celebrated painting. Hardly surprising that he subsequently abandons her.
Modigliani (2004), with Andy Garcia in the title role and French film star Elsa Zylberstein as his muse, Jeanne Hébuterne, also ends tragically. Just two days after the artist's death at a mere 35, the pregnant Hébuterne throws herself from a fifth-floor window.
Which brings us to 2014's Mr. Turner and Big Eyes. In Mr. Turner, Timothy Spall of Harry Potter fame plays the revolutionary landscapist, with Dorothy Atkinson of the BBC drama series Call the Midwife as his lover/housekeeper Sarah Booth (shades of Maudie). Turner managed to keep her under wraps for 18 years before his passing.
Tim Burton's Big Eyes features five-time Oscar nominee Amy Adams and Christoph Waltz, he of several Quentin Tarantino bloodbaths, as painters Margaret and Walter Keane. Only problem is, she's the real deal while he's not, which he resents, slapping his name on her work. Happily, she prevails in the end.
Larry Humber writes about art and artists and, like Maud, has shown at the Art Gallery of Nova Scotia.