Melissa McCarthy Gets the Last Laugh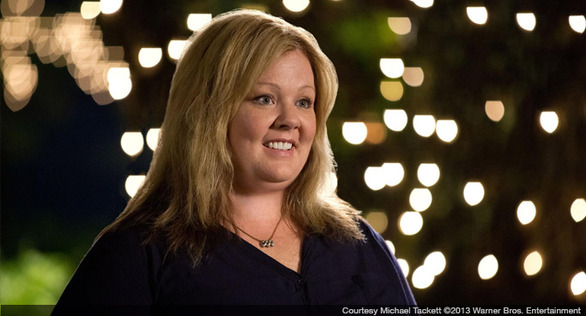 More funny, more problems … less 'women aren't funny' stereotype...
The comedy landscape these days boasts a prodigious group of funny women. Veterans like 30 Rock creator Tina Fey, Parks and Recreation's Amy Poehler, and Saturday Night Live favourite Kristen Wiig, as well as relatively new talents like standup comic Amy Schumer and the stars of the subversive Broad City, Ilana Glazer and Abbi Jacobson. And then there's the multi-tasking Melissa McCarthy — a key figure in the recent tsunami-like wave of female comedic talent that may (finally) crush a tired old cliché for good.
It's a notion that passed its best-before date sometime in the previous century: that women aren't funny — or at least aren't as funny as men; that women working on the comedy side of show business have little impact. Somehow it survived, lingering like some unkillable stench in the back of a refrigerator, no matter how many times women have come forward to provide evidence to the contrary (in the form of Lucille Ball, Lily Tomlin, Joan Rivers, Phyllis Diller, Sandra Bernhard, Gilda Radner, etc., etc.). But McCarthy and her tight-knit crew of funny friends like Wiig and Bridesmaids screenwriter Annie Mumolo seem like the established stars best equipped to flush it away for good.
She didn't even want to act.
It's curious, then, that the Academy-Award-nominated actor didn't start out with comedy in mind. She didn't even want to act. When she moved to New York City from Plainfield, Illinois (speaking of clichés, could a town sound more like the perfect place to spawn an unwitting star?), McCarthy intended to study fashion. Roommate and future big-time shoe designer Brian Atwood insisted that his naturally funny friend give standup a try. When her first time on the stage proved a modest success, she decided to pursue acting, yet was initially drawn to drama. It wasn't until she moved from NYC to LA that she discovered sketch comedy and joined The Groundlings — the legendary troupe whose alumni include Wiig, Will Ferrell, Maya Rudolph, Lisa Kudrow, Paul Reubens, Jack Black, Will Forte, Jon Lovitz, and Jennifer Coolidge, among many others.
A recurring role on The WB's beloved comedy-drama Gilmore Girls put McCarthy on the public's radar in 2000 and led eventually to her own show, the CBS sitcom Mike & Molly, which premiered a decade later. Bridesmaids won her an Oscar nod (as the masculine and uninhibited sister of the groom). From there, she proved to be something of a force of nature, landing lead roles in comedies The Heat and Identity Thief.
Last summer, Rolling Stone called McCarthy "just about the only comedian around who can almost single-handedly carry a movie to a $35 million opening." Note: they don't slap the word "female" in front of comedian. Her drawing power isn't qualified by the fact that she's a woman. Now 44, she has brought in more than half a billion dollars worldwide with her last four starring roles (Identity Thief, The Heat, Tammy, and St. Vincent). All were relatively low-budget movies (at the top end of the scale, The Heat was made for $45 million whereas Tammy, which McCarthy co-produced with Ferrell and his frequent collaborator Adam McKay, cost $20 million to make).
Hollywood, after all, is like any industry: It's all about the bottom line, and women are generally expected to demonstrate bankability before studios are willing to gamble on them. And there's the catch: how to prove it when so few will give you a chance.
McCarthy and other comics like Wiig, Schumer, Sarah Silverman, and Tig Notaro – whose comedy album Live sold more copies than the latest Kiss record – are creating opportunities of their own. For Tammy, McCarthy acted as star, producer, and co-writer alongside her husband, Ben Falcone, who also directed the movie. The film was the first project out of the couple's own production company, which has at least three forthcoming McCarthy-starring films on its slate.
"She's beautifully reckless and does things you've never seen a woman do."
There's increasingly little reason to listen to "women aren't funny" cranks such as Jerry Lewis, the easily forgettable Adam Carolla, and Joseph Gordon pretty-girls-can't-make-me-laugh Levitt when the likes of Wiig, Ferrell, and Judd Apatow are in the opposite corner.
"I think [McCarthy's] thrilling to watch," Ferrell, a man who knows from funny, told Variety last June. "There's a sense of excitement and danger with her performances. She's beautifully reckless and does things you've never seen a woman do."
Corrina Allen writes for TheLoop.ca.