Michael Fassbender: Twice as Nice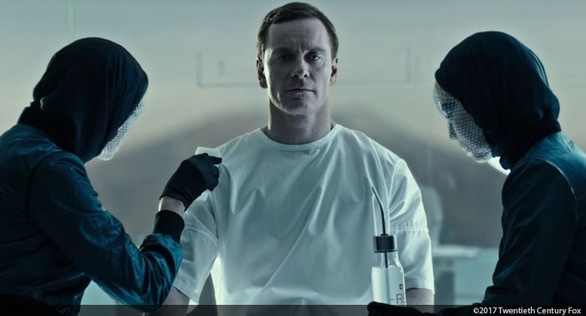 He might be the hardest-working hunk in show business — and the least afraid to take chances...
...The actor is pleased for people to take his performances as they wish...
Michael Fassbender recently got to do something on screen that so many women and men have also long dreamed of doing (along with some other activities). That is, he got to kiss Michael Fassbender.
Regardless of whether that smooch qualifies as hot, historic, or just another feat of FX wizardry — a body double, special camera technology, and some clever CGI did the trick — it inspired a wave of attention for Alien: Covenant, Sir Ridley Scott's new chapter in the franchise he launched with Alien in 1979.
The German-born, Irish-bred Fassbender made his debut in the Alien-verse as a duplicitous android in 2012's Prometheus. Fassbender raises the stakes here by taking on two roles, starring as both David from the previous film and Walter, a newer, more compliant model of "synthetic." Both have a pivotal importance in humankind's latest encounter with ETs who love to suck on the faces of unfortunate intergalactic travellers before bursting out of their chests.
David has at least the first part on his agenda when he plants one on Walter in the film's most provocative moment. The entire Alien franchise might not have yielded anything as strange as the sight of Fassbender relishing the homoerotic tension he develops while co-starring with himself. No wonder it sent the movie blogosphere into a tizzy. As for Fassbender's reaction to the reaction, the actor is pleased for people to take his performances as they wish.
"I don't even take it that seriously," he recently told an interviewer. "I take it seriously in terms of: I come to work well-prepared and I want to do my best, and I definitely put my heart and soul into my work. But I don't think it's something that needs to be respected and revered and taken seriously. It's fun — and if people are getting pleasure out of it, then cool."
...Rather than rely on his natural charisma, Fassbender prefers roles that often work against it.
The kiss is yet more proof of a quintessential quality for Fassbender: a love of roles that demand daring moves and unusual extremes. And that's surprising because stars who look like him typically don't need (or want) to work so hard. With his steely blue eyes, rugged 5-foot-10 build, and perfectly chiselled jaw, he seems every bit the modern leading man; the roguish Irish charm he exudes off-camera can't hurt either. But rather than rely on his natural charisma, Fassbender prefers roles that often work against it.
That makes him very different from other varieties of male movie star, especially those with an insatiable craving to be adored — think of Tom Cruise and his perfect teeth or Brad Pitt doing his best to look hot even as he takes a punch to the face.
Fassbender prefers to take things further, whether that means going down to 127 pounds to play hunger striker Bobby Sands in Hunger — the 2008 drama that was his first of three collaborations with director Steve McQueen — or yelling until he's literally frothing at the mouth in the role of a brutal slave owner in 12 Years a Slave.
In his most notorious move, he let it all hang out while playing a sex addict in Shame, a revealing moment that few major actors would do even if they were as, ahem, well-equipped as Fassbender. (One of many peers who joked about the actor's asset, George Clooney told him from the stage of the Golden Globes that he could still play golf "with your hands behind your back.")
"I have never, ever, seen an actor work so hard."
Other actors have been awed by his dedication to his craft. Tom Hardy, who was two years behind him at drama school, says Fassbender was a legend among his classmates due to his deep immersion in his roles. Said Kate Winslet of her Steve Jobs co-star: "I have never, ever, seen an actor work so hard."
Fassbender has described his methodology as a matter of going over the words "again and again and again and again." Given that practical-minded approach, it's not so surprising he considers himself more of a "tradesman" than an artist. That means he uses his body not as an object for display but as a tool of expression.
In developing his synthetic characters for Prometheus and Alien: Covenant, he spent a long time getting the physical vocabulary right — the movements of U.S. Olympic diver Greg Louganis were one inspiration. The result is convincing yet also a little off: it's a robot's too-perfect impression of humans in motion.
"...I always have that fear of failure. But I don't want to be imprisoned by it."
Of course, Fassbender's roles are not always so idiosyncratic. His turns as Magneto in the X-Men series and a suave Allied officer in Inglourious Basterds prove that he can handle action just fine. Likewise, he's been an effective romantic in Jane Eyre and The Light Between Oceans (which teamed him with Alicia Vikander, whom he married last fall). Yet he has continually strayed from the expected paths, following Hollywood blockbusters with offbeat projects like Frank, a comedy about a deluded novelty-act singer that required Fassbender to spend almost the entire film wearing an oversized papier-mâché head. Again, it's a move that Cruise would never have made and proof of Fassbender's refreshing lack of vanity.
"You have to take risks," he said at the time of Frank's release. "It's not like I want to fall, and I always have that fear of failure. But I don't want to be imprisoned by it."
Jason Anderson writes about movies for Cinema Scope, FFWD, and the Toronto Star.