The Burning Ambition of Michael Shannon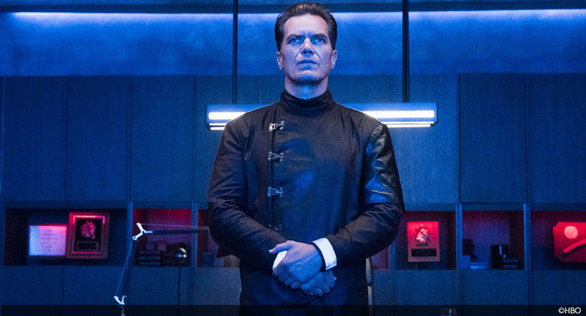 He burns books in Fahrenheit 451 but in real life he plays it cool…
He says he doesn't want to sound obnoxious, "but I never intended to be a movie actor."
You have to find a way to get Michael Shannon talking. Get him warmed up. It isn't easy, and he hates "wasting time," explaining: "Because it takes a lot of energy to act like someone else, energy is at a premium." And, he jokes, "I also don't like small talk." The first time we met, he pulled out an old flip-phone, saying: "Yeah, it's for phoning, I leave stuff like texting to others."
Shannon often plays intimidating characters, including: the paranoiac obsessed with conspiracy theories about bugs and government in the disturbing but eminently watchable Bug; the tyrannical Colonel Strickland (cue the "hisses") in the Oscar darling The Shape of Water; and now, the fanatical book-hating Captain Beatty (cue the "boos") in HBO's adaptation of the quintessential dystopian novel, Fahrenheit 451 by Ray Bradbury.
Moreover, the imposingly tall actor can come across as scary — will he bite my head off? — but he'll say with a smirk, "Oh, I'm just tired." He says he doesn't want to sound obnoxious, "but I never intended to be a movie actor." His accolades for his film and TV work include Oscar nominations for Revolutionary Road and Nocturnal Animals, and three Screen Actors Guild nominations for Boardwalk Empire and 99 Homes.
But ask the doting father of two about his music — "music is my favourite thing after my kids" — or about Steppenwolf Theatre Company or A Red Orchid Theatre, which he helped found in Chicago, and he'll warm up. Ask him about The Shape of Water ("it was thrilling on Guillermo del Toro's staggering sets") or the television film adaptation of Fahrenheit 451.
They get his attention.
Bradbury's iconic novel, which was released during the height of McCarthyism in the U.S., spins a tale in which books are outlawed and burned to prevent any unapproved opinions from getting out. In our "Trumpian" world where alternative facts are proclaimed as the only truth and where social-media forums for "fake news" are the go-to drug, a modern adaptation of Bradbury's prescient tale is timely.
Shannon was intrigued by the story's sociopolitical aspects as well as the intense pas de deux between the male leads.
In director Ramin Bahrani's take on Fahrenheit 451, Shannon plays fanatical fire chief Captain Beatty. He commands Guy Montag, played by Michael B. Jordan (Black Panther), a fireman who begins to question his motives and his mentor's "fire-burning" actions. Beatty proclaims that a "book is a loaded gun." Shannon was intrigued by the story's sociopolitical aspects as well as the intense pas de deux between the male leads.
Bahrani and Shannon had worked together on the real estate drama 99 Homes, where Andrew Garfield's family man dances with the devil, namely his broker boss played by Shannon.
"In 99 Homes, Ramin focused on the relationship between my character, Carver, and Andrew Garfield as Nash," Shannon says. "I enjoyed my collaboration with Ramin and wanted to work with him again. So, here it's about digging deeper into the relationship between Michael, who's fantastic as Montag, and me as his boss, Beatty. It's intense. And, while Ramin wants to tell a modern version of Fahrenheit 451 with a socially conscious take, he also wants to mine that relationship."
Legendary director François Truffaut first helmed a film adaptation of the book in 1966. Shannon felt the time was ripe to revisit the story, adding: "This version is not as pristine as the original Truffaut movie, this is dark and gritty. Ramin has also modernized it — there was no Internet when Bradbury wrote it, which adds whole new layers."
Bahrani, who has always loved Bradbury's prophetic novel, says the update concerns the issue of us giving our lives over to technology. Bradbury once suggested that we "have too many cellphones … too many Internets."
Shannon doesn't limit himself to heavy characters. He was hilarious in The Night Before (2015), produced by the Canadian comedy tandem of Evan Goldberg and Seth Rogen.
"My friends kept saying, 'Why don't you do a comedy?' " Shannon says. "So I did and had a lot of fun playing Mr. Green, the former high school pot dealer of childhood buds, and I get them supplied for their holiday festivities. The director, Jonathan Levine, says I was kind of like the character Clarence from It's a Wonderful Life, who plays an angel setting the table." Here, it's a table of pot-fuelled shenanigans.
Shannon's love of music stems from his stepfather: "I didn't like my stepdad much, but he had a big vinyl collection, and I remember as a kid sneaking into the basement to listen to Sgt. Pepper and Tommy. And, my mom and I would dance to Stevie Wonder's 'Part Time Lover.' "
Later, he founded his own band, Corporal, and playfully says: "When we perform, which is pretty irregularly, I'm lead choreographer ... and singer. I started music way before acting, and I really do love playing when I can."
Ashley Jude Collie is a Canadian entertainment writer based in Los Angeles.