Michael Sheen: Masters of his own domain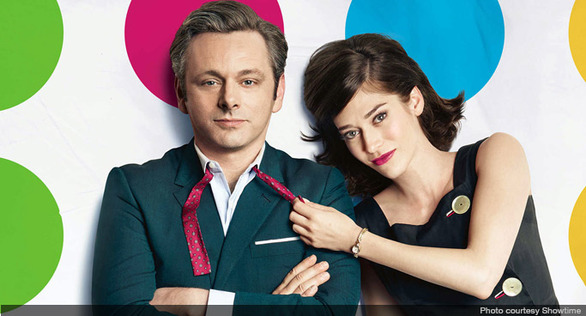 Michael Sheen nailed roles as Tony Blair and David Frost, but is free in Masters of Sex to put his own spin on a conflicted therapist.
The actor seems right at home on the set of Masters of Sex. But this is, after all, where his character – pioneering sex therapist William Masters – lives.
Reporters have been invited to the Hollywood soundstage that houses the interior. Inside, the roomy, ranch-style suburban bungalow has all the comforts of a well-to-do home from the early '60s. There are copper kitchen appliances and even an early dishwasher. Masters' sporty white 1959 MG convertible is parked next to the stage on the studio lot.
"I learn about sex by having sex, not by doing a TV show!"
Sheen, 46, fields questions in the living room, next to the sectional couch and the 25-inch Zenith console TV. One woman asks a zinger Masters himself might have broached: What has the actor learned about sex from doing this show?
"What have I learned about sex?" responds Sheen, somewhat aghast. "I learn about sex by having sex, not by doing a TV show!"
Everybody laughs, but as the articulate Welshman keeps talking, it quickly becomes clear that he has thought a great deal about what this series has to say about relationships, sexual and otherwise.
"I think that what the show ultimately says, more than anything, is that sex cannot be separated from intimacy, from the challenges of relating to one another," Sheen says.
This was apparently an enormous challenge for the real William Masters, who began his study of human sexuality in 1957 at Washington University in St. Louis. During the first two seasons of the TV series, viewers watched the character struggle with separating his work from his personal life, especially as it related to his partner at the institute, Virginia Johnson (played by Lizzy Caplan).
"He's difficult, but he's human, he's not a monster," Sheen says. "I think that's partly why people have a hard time liking him, because he's all the things that we don't like about ourselves."
"I'm not interested in playing a nice character or a likable character because I don't find people are that way."
Sheen studied acting at London's Royal Academy of Dramatic Art (RADA) and was stage-trained in classical roles. He says he loves playing complicated characters. "I'm not interested in playing a nice character or a likable character because I don't find people are that way.
"Most of us," he continues, "if we're honest, spend most of our time trying to get other people to like us, and we do that by pretending that we're something that we're not." He sees Masters as "a character who is about as difficult and impenetrable and unlikable on first viewing as is possible."
Sheen feels the big question the series raises is: "How can a man who is so in control, so impenetrable and so imprisoned, get out? How can he leave the prison he seems to want to stay in so much?"
That Masters begins to change and face all the things he fears allows him to be more of a human being, Sheen says. The actor, who was nominated for a Golden Globe in the first season, feels it is a challenge we all must face. "How do you relate to another person? How do you deal with intimacy? That is the challenge of life," he says.
Sheen is less expansive about his own relationships. He says nothing about former loves Kate Beckinsale, Rachel McAdams, or current flame Sarah Silverman, who appeared as Helen in the second season. Sheen and Beckinsale have a 16-year-old daughter and she's a big reason the actor has lived the past 15 years in L.A. – and why he's starring in an L.A.-based TV series. "I was looking for something so I wouldn't have to go away from my daughter," he says.
"Home is a complicated concept," says Sheen, who was born in Wales and moved to London in 1988 to train as an actor. No wonder he looks so at home in a fabricated living room setting on a California sound stage.
Sheen is a master when it comes to playing real people. He practically cloned talk show host David Frost in Ron Howard's 2008 feature Frost/Nixon, and has played former British Prime Minister Tony Blair in three projects, including The Queen (2006).
With Blair and Frost, he was dealing with big personalities regularly seen and heard on TV. He had to look and act like the real men. Not so with Masters, who was rarely on TV and looked nothing like Sheen.
"No one's watching this and saying: 'He didn't move like that, he didn't sound like that.' "
"There are different challenges to playing characters that are very, very familiar to people," Sheen says. "No one's watching this and saying: 'He didn't move like that, he didn't sound like that.' "
Sheen did a lot of reading about Masters but says he used the facts simply as a springboard toward the performance. "I made an imaginative connection with him and I got a sense of who this man is, who I'm going to play," he says. "Ultimately, I'm off on my own road now."
Bill Brioux is a Toronto-based freelance journalist and contributor to the Canadian Press.