Michelle Pfeiffer is Madoff to Measure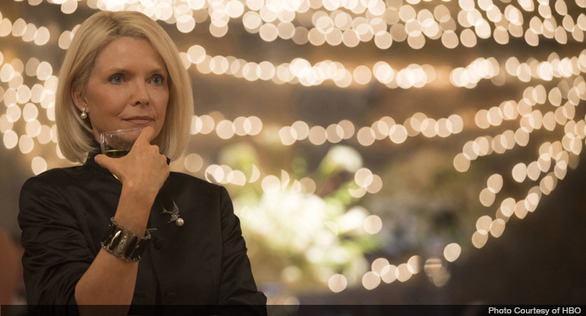 Michelle Pfeiffer transforms herself into the wife of the biggest fraudster in U.S. history in The Wizard of Lies.
In the early 1990s, there were few pre-teen or teenage bedroom walls that weren't plastered with posters of a woman with bright red lips and heavily made up green eyes, wearing a skin-tight, black latex bodysuit with white stitching and a mask adorned with cat ears.
Michelle Pfeiffer's turn as the purring, yoga-twisting Catwoman in Tim Burton's 1992 Batman Returns wasn't just a standout performance, it was a role that showcased complex female characteristics while also celebrating the flawlessness of Pfeiffer's undeniable beauty. It also happened to be the role that altered the trajectory of her career.
Sure, the actress had done an admirable job in the role of the drug-addled, bone-thin Elvira Hancock in Scarface, and as the lead in Grease 2 she drew inevitable comparisons to Olivia Newton-John. She even stole scenes away from Jack Nicholson, Susan Sarandon, and Cher in The Witches of Eastwick, and made award voters notice her work on The Fabulous Baker Boys. But it wasn't until Catwoman came along that viewers en masse and, subsequently, casting directors, really took note of Pfeiffer's big-screen potential … and sex appeal.
A slew of notable roles followed, including a turn as LouAnne Johnson in the cult classic Dangerous Minds and gigs in such award-nominated films as Love Field and The Age of Innocence. Pfeiffer banked more than a dozen feature films (and a couple of TV guest appearances) in the next decade, before seemingly falling off the map entirely as she entered her mid-forties.
"The toughest thing for me has been balancing being a working mom. I learned early on that you can have it all but you can't do it all..."
Later, the actress explained that her hiatus was self-imposed, a result of her wanting to spend more time with her two children (Claudia Rose and John Henry) and her husband, the prolific TV producer David E. Kelley. It's a narrative that women have repeated over the decades, thanks to mom guilt and the realization that "having it all" isn't pragmatic — not if a parent wants to excel in all areas of life. But the break inevitably affected Pfeiffer's options for roles when she did return to the limelight, more than five years later.
"The toughest thing for me has been balancing being a working mom. I learned early on that you can have it all but you can't do it all," Pfeiffer once told Ladies Home Journal. "I sacrificed some things in my work to be a better parent — but I also sacrificed some parenting in order to do what I love."
Despite being feted with a star on the Hollywood Walk of Fame in 2007, Pfeiffer found that the roles she landed as she approached and entered her fifties were vastly different than her earlier ones, as parts for women "of a certain age" tend to be. There were the cartoonish villainesses (Velma Von Tussle in Hairspray, Lamia in Stardust); the lusty older woman (Lea in Chéri); and the matriarchs (Lillian in People Like Us, Elizabeth Collins Stoddard in Dark Shadows). It was during the final stretch of this run, in a film called The Family, that the actress first played opposite Robert De Niro in a comedy about a Mafia couple who relocate to France under the witness protection program. It would be her last film for another four years.
That not only makes this month's release of The Wizard of Lies a reunion of sorts for Pfeiffer and De Niro, but it also marks a third comeback for the 59-year-old actress; she's poised to have a huge year with four movies on her docket, including Agatha Christie's Murder on the Orient Express.
In The Wizard of Lies, Pfeiffer plays Ruth Madoff, the wife of infamous investment banker and Ponzi scheme convict Bernie Madoff, played by De Niro. Ruth supposedly knew nothing of her husband's illegal financial dealings during the decades he executed them. While the film, based on a book by Diana Henriques and directed by Oscar winner Barry Levinson, is a De Niro showcase to be sure, Pfeiffer nails the subtle nuances of her own performance with aplomb.
"Michelle is great," De Niro emphasized at a press engagement in January. "We've done two movies together and I always love working with Michelle. She's great, she's committed, and we have a lot of fun."
As part of that commitment, Pfeiffer — who is 14 years De Niro's junior — went full-out with a physical transformation, lightening her tresses and donning black spectacles over minimalist makeup to replicate Ruth's signature look, and to age her roughly 10 years to that time in the real Ruth Madoff's life. Given all of the pressure Pfeiffer faced to look young and vibrant in the earlier years of her career — from her time as a beauty pageant contestant onward — that part of the process probably came as a relief.
"Having to watch yourself age on a giant movie screen is simply not natural. It can wreak havoc on your psyche," Pfeiffer said to the Ladies Home Journal. "Once you get over a certain hump, there actually is less pressure [to look a certain way]. You can begin to look great for your age. You don't have to look young anymore. I've moved over to that other side … looking great for my age is OK now."
Meow.
Amber Dowling is a Toronto-based writer and the founder of TheTVJunkies.com.